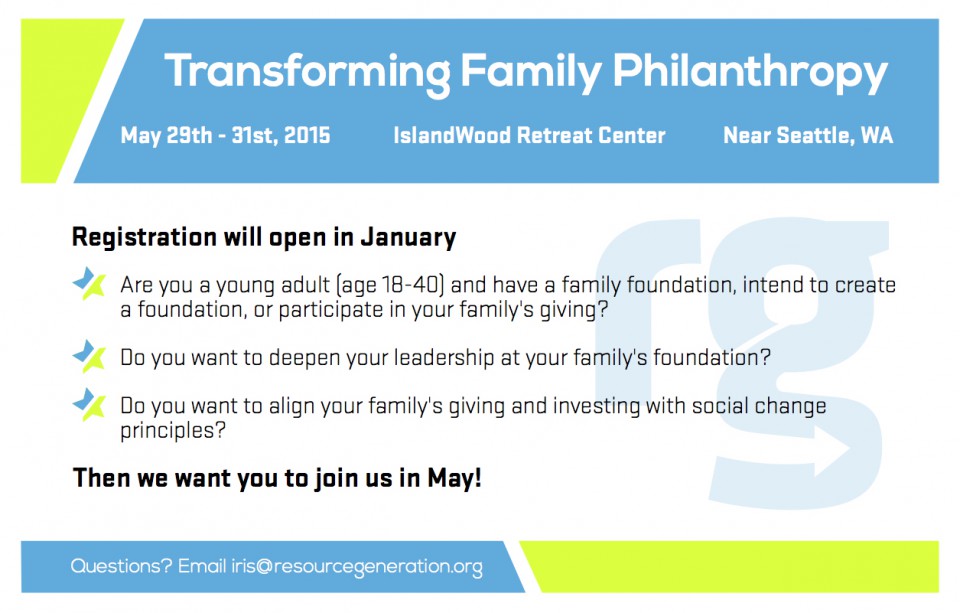 I discovered RG three years ago after a frantic online search for information following a frustrating phone call with my mother. During the call, I was informed that, upon turning 21, I would be named as a trustee of a private family foundation. Without going into too much detail, the thought of engaging with four family members with varying degrees of interest in the process and only a few intersecting values felt challenging to say the least.
My initial research affirmed that foundations have a role in both contributing to social change work and perpetuating the need for social change work. RG's resources affirmed and expanded upon this for me in a very personal and relevant way.
When I attended MMMC, for the first time in 2013, I hoped to better understand the ways that I could incorporate social change values into my personal giving decisions – setting aside, at the time, the opportunity to incorporate the same practices into our family foundation's decision making process. Now that the Transforming Family Philanthropy Conference (formerly CCTFP) is back after a two year break, with a framework for developing and supporting leaders focused on family philanthropy – I am excited by the opportunity to be on the planning committee.
There are many good reasons to join us at Transforming Family Philanthropy at the end of May – here are a few to spark your interest.
By being actively engaged in this work, we demonstrate that we care about this process and the people connected to it (in this case, family). We will learn how to invite family to join us on this journey.

Learn concrete ways we can work collectively to restructure the roles that we hold and to redistribute resources alongside family members utilizing social justice philanthropy principles and practices – and TFP 2015 is the ideal space to envision that change. One workshop that I'm particularly excited about has to do with navigating grantee relationships; the ways we can establish them and maintain them while considering larger power dynamics that arise.

Developing a clear articulation of why you are, or want to be, connected to your family's foundation is much easier to accomplish and articulate in the company of others with familiar and shared experiences. You are not in this alone. There is a breadth of wisdom and experience to draw from within RG's community and network. TFP offers a space to (re)commit and be excited to be doing this work utilizing the tools and relationships offered. TFP will include a significant amount of time spent in small groups that will be focused on building relationships with one another as well as opportunities to explore your intentions for family philanthropy work while getting support to clarify your vision.

Gain a deeper understanding and connection to RG, its leaders and members, its ally organizations and to the purpose of our work together. RG's impact and power is growing and there are many ways for RG constituents engaged in family philanthropy work to help grow our collective impact. There will be resources available at TFP to better understand the vision of RG's work and an opportunity to connect with people regionally.

Bainbridge Island in May is in bloom beautiful! The IslandWood Retreat Center is 225 acres that has been conserved and cultivated for visiting groups like RG to utilize as a nature-filled nourishing space for personal and communal transformation.
The 2015 TFP Planning Committee consists of RG members Zarina Parpia, Matthew Allen, Rebecca Balter, and Rachel Gelman and RG staff Iris Brilliant and Tiffany Brown with lots of support from additional RG staff and allies. If you have any questions at all about TFP please reach out to RG's Family Philanthropy Organizer Iris Brilliant at [email protected].