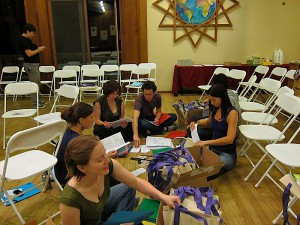 Hey there fellow MMMCers!
I am real excited to reach out to ya'll as the new Retreat Director for Making Money Make Change 2011!
Last year marked the first time that MMMC was fully lead by Resource Generation, cementing it as the signature gathering for RG's national programming. This year as the Retreat Director, I am committed to continuing the tradition of a dynamic, thought-provoking, revelatory retreat for young people with wealth who believe in social change. I would love for you to join me in making it happen!
We are exited to invite you to apply for the Making Money Make Change 2011 Organizing Team! Step up and join me, RG's Jessie Spector, and other outstanding members of the RG community in making MMMC 2011 spectacular.
Please, take a moment to remember your experience at MMMC… a connection that you made with another participant or presenter, a flash of insight when a piece of your money puzzle fit into place, a skill that you learned and have carried with you, a contradiction that you recognized as part of your story. Remind yourself of what you felt in your heart, in your head, in your stomach. What are the things that you most loved, and what are the things that you would change? Join us on the team that will be making MMMC an even more powerful event in 2011!
The Organizing Team is open to all previous MMMC participants who are young people with wealth. We are looking for people who have or would like to learn a variety of skills including outreach, communications, fundraising, retreat program planning, facilitation, young donor organizing, and inclusivity working with diverse groups. Please consider applying! Details are below.
If you have any questions about joining the Organizing Team, need more time to submit an application, or would like the application emailed to you, feel free to contact Sarah.
In Community,
Sarah Schwartz Sax
Retreat Director, Making Money Make Change 2011
Jessie Spector
National Organizer, Resource Generation
———
DETAILS:
In addition to putting on a stellar retreat, Organizing Team members will also:
Participate in personal and team-based development of a class, racial, and economic justice analysis
Become amplifiers for the cause of young people with wealth involved in social change movements, as well as the mission and goals of Resource Generation
Be in a supportive environment to experiment with being open about their wealth
Receive monthly one-on-one support from the Retreat Director in reaching individual goals.
**If you have been to MMMC and do not identify as a young person with wealth but would like to support the planning process, please email Sarah about joining our Advisory Council.
Time commitments:
* Organizing Team Conference Calls: 3-6 hrs/month, beginning the week of April 25th (1.5 hour calls once every two weeks, and then once a week as the retreat approaches, plus follow-up calls post retreat.)
* Working Group Calls: 3-10 hrs/month, increasing as the retreat approaches
* One weekend-long in-person meeting (tentatively in New York City, over the weekend of May 21st-22nd)
* Commitment to be at MMMC, including the day before and the morning after. We are looking at the first weekend in November, based on retreat space availability. The retreat will take place within driving distance from Boston or New York.
Compensation
This is a volunteer Organizing Team, so all time is volunteered. However, we also know that we value other things besides time. This opportunity is certainly one of growth, skill-building and teamwork. Concrete, resume-building, non-monetary compensation includes skills such as leadership in national retreat organizing for 100+ participants, program design, being public about wealth and access, development of a class, race, and economic justice analysis, donor organizing, media content and dissemination, communications and outreach campaigns, fundraising, and individual goal achievement.
We also have a limited number of travel stipends. If you would need financial assistance to participate on the Organizing Team or attend the retreat, please let us know.
Young people of color with wealth, people with wealth involved in family philanthropy, and people under the age of 25 are especially encouraged to apply.
Applications are due MONDAY, APRIL 18, 2011. Begin filling out the online application here! If you would like us to email you the application form, please ask Sarah.