Take action for systems change!
​
At the local and national levels, we engage in issue-based campaigns to win long-term shifts that will benefit all communities and move us towards our mission of wealth, land, and power being shared equitably.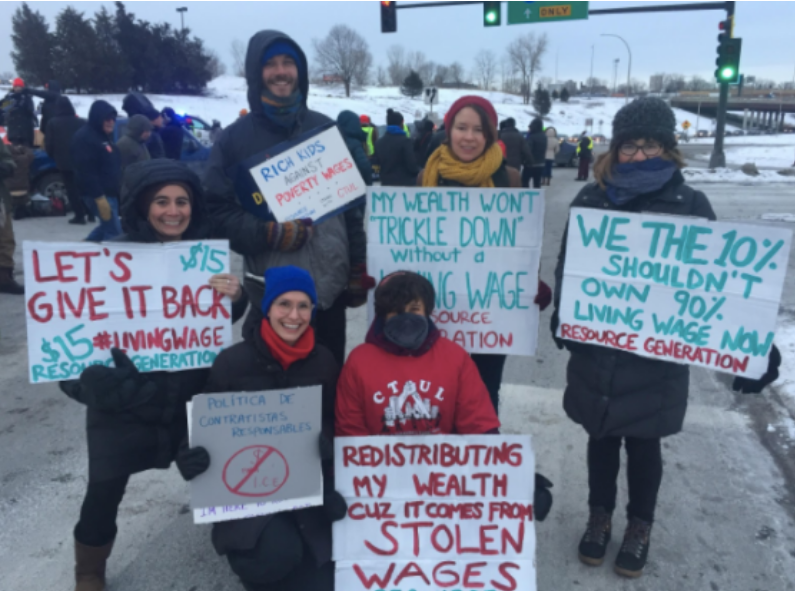 Nationally we are partners of the Center for Popular Democracy and the Movement for Black Lives.
RG's local chapters also have local campaign partnerships many of which are with affiliates of those organizations. We follow their leadership on the issues we support and mobilize our base to be a part of winning long-term systemic change and the equitable distribution of wealth, land, and power.
Occasionally we'll mobilize around issues other organizations are leading on that are strategic for us, such as agitating philanthropy or progressive taxation of the wealthy.

We believe that relationships and coalitions built across difference, for us at RG specifically across race and class, are the most threatening formations to the status quo.

We are guided by our

40 Year Campaign Vision, and Systemic Shifts

we believe need to happen to get there.

Check back here for our most current national campaign action asks 🙂
Join us in demanding that congress raise the minimum wage to $15 an hour and create a tax on wealth:
Take action: Send a drafted Tweet here!
Take action: Send a drafted email here!
We join the Movement for Black Lives in demanding the federal government take action on reparations by passing HR 40: the bill to study reparations for slavery: 
Take action: Tweet Congress to Enact HR 40
Take action: Email Congress to Enact HR 40!