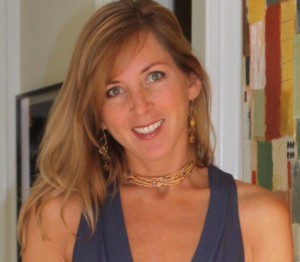 Interview of RG Alum Kristin Hull by Mike Gast, RG Associate Director, in the Summer of 2013. The focus of the interview was hearing from Kristin about what she has learned and why she is passionate about mission related investing.
Who are you? Tell us a little about yourself. 
I'm Kristin Hull and I am an RG alum. I'm 45 and live with my two boys in Oakland, California, where I grew up and where I am now working to build  HUB Oakland.
I first learned about RG, this fabulous organization for young people with wealth, when I was in my thirties, after my family had sold our trading business and, for the first time in my life, I knew I would have more money than I needed to live on. Knowing I would have money to give away, I had started searching out people who might help me along the path of putting the extra dollars to good use, people that were doing cool, social justice oriented things with their money. One of my sisters knew someone in the RG community and helped get me connected.
How did you get passionate about it? 
At first I was intrigued, and wondered how I might fit in, since I was a little bit older than many of the constituents and I had not grown up with money. It wasn't long before I understood that while many folks in RG share similarities in terms of their money stories, it's actually quite a diverse group and the uniting point for me was a strong desire to be active and "do good" with the resources that we all had. The conversations about ways in which to engage with both our families as well as the worlds we had access to were definitely eye opening and inspiring. I particularly loved hearing the different strategies to leverage our privilege and layered theories of change from the members I met and got to know. I was inspired to really leverage what I had for change.
So tell me about the Nia Community Foundation and what you are up to? Specifically, tell me a little bit about your approach to managing the endowment dollars and investments.
Nia Community is focused on investing in women and people of color, particularly in Oakland. I am building a "sample" or "model" portfolio which is 100% consciously invested in alignment with our values and goals for the foundation. The Swahili word "nia" means "intention" or "purpose." I am investing with intention and purpose, having the investment dollars serve as tools to seed and empower social change and environmental sustainability.
I first learned about the power of endowment monies at The Global Philanthropy Forum, where I listened to a panel with members from the group "More for Mission" advocating for foundations to invest 2% of their endowments in alignment with their missions. During that session, a light bulb went off for me as I realized that "yes, of course" endowment dollars needed to part of the tool box of dollars working toward any given foundation's mission. What I didn't get was why only 2%? I immediately got focused on the importance of aligning 100% of my assets (foundation and otherwise) with my values and leveraging the money that I had toward my goals for social change.
In this process of looking for great investments that match my values, I found a lack of stock portfolios that were really focused on solutions. I have since partnered with Amy Domini to design Nia Global Solutions, a public equities portfolio that seeks out companies who are part of the solution. We plan to launch our product by early fall 2013.
So why is realigning your investments to be in line with your mission important for you?
You know, Mike, as soon as I understood the concept, it made perfect sense to me. Our money is at work—in one way or another—and I want all of mine working toward justice. I have been having a lot of fun seeking out creative ways to leverage what I have and helping others get started along this path as well. When I work with other individuals and families it has been fun to help them find investments that fit their core values and goals. Sometimes it's a group of young entrepreneurs with a start up angel investment, and other times its finding the right publically traded companies for a stock portfolio.
How can you leverage your MRI program to shift and influence these companies?
When I sit down to talk with the leaders of a company, either a for profit company or a non-profit organization, I am very transparent about my goals and values. The directors know when I approach them that I am interested in their work either because it has potential to move the social justice dial, or get us closer to environmental sustainability—and ideally, they are addressing both in some way.
Before I get involved with a company I look to see how many women and people of color serve on the board and fill leadership positions. Sometimes I see a concept I like or an interesting innovation and yet not the diverse set of leaders to bring that idea to the market. A few years ago, there was a group of great guys working on bringing water saving solutions to market. They planned to offer incentive prizes and incubational support to the best solutions oriented companies they found. While I really liked the concept, I know that women around the world are the ones that, literally, carry the water. In that regard I wanted to see women voices on their board as part of the planning. Fortunately they heard me and have since brought women into their organization.
Similarly, we were looking at a deal with Root Capital and asked some questions about how many of the loans would go to women. At first glance, they did not know. It was not too many conversations later when the folks at Root were willing to create a product that loaned entirely to women owned businesses. With our initial investment they were willing to start the Women's Initiative, which then launched as a fixed capital product that others can invest in as well.  Being in conversation as I make my investments has been really rewarding on many levels.
Tell me about your investments. What is one you are particularly excited about or proud of?
I am pretty excited about all of Nia's investments, which feels great. One of the first investments I made in the Social Investment Fund at RSF (Social Finance). Like a CD, it's quite liquid, I can withdraw from my account every quarter if I choose. The money is used for loans to businesses, many in the organic and sustainable food systems sector, as well as to schools, which I love.
Another issue I am passionate about is making transportation more ecological and sustainable, both for people and planet. For that reason I invested in Scoot, electric scooters that you can rent from various locations around the city and drop off at your destination. What I really want to see is more bicycles, so I am hoping their next venture includes electric bicycles as well.
And then, HUB Oakland is also exciting. I am proud that we are building a community space, one where entrepreneurs who are working to address our most pressing issues can come together, build community, and get support and guidance for the important work they are doing.
How have they done? Are they competitive to other investments?
That is a really good question—and seems to be the topic of discussion lately. I have done quite a bit of angel, or early stage investing in some really exciting companies. I have not had many exists yet, so it will be over time that I know more.
I am invested in Renewal 2, a private equity fund focused on organic foods which is doing quite well.
At RSF I receive .5-1% interest which is very competitive to other liquid funds. So in addition to being happy about the work the money is doing and the projects I am seeding, I am also doing fine financially.
The Domini Social Funds I am in are also doing well. I really believe that if we consider that we are living on a planet with lots of people and limited resources, and invest with that in mind, we will experience social, environmental and financial returns.
Any tips for other younger trustees who want to get involved in MRI? or shift their families' investments?
I would say get started with something that is easy to do and gets a large social or environmental return that is meaningful to you. I often suggest to people to check out their local community bank or credit unions. I have money at both One Pacific Bank as well as New Resource Bank and love the community lending and financial literacy programs that they engage in. RSF is also a very easy place to get started and is quite safe and liquid. Like a CD, you can pull your money out every 90 days. Similarly, I have found Domini Social Investments to be a really easy place to start.
For helping shift family money, I find that it can take a lot of mindful and caring conversations to have folks change the way they think about and engage in investing. Often times starting with a small percentage of the over all portfolio, or with one new investment product, can get people more comfortable with the idea in a gradual hands on way.
What's your sense of where the field of MRI still needs to be developed or have better thinking?
I want to see this movement go "main stream" as well as "main street". To that extent I am using some of my investments to support the democratization of this conscious investing space. For example, I invested in both Solar Mosaic and Cutting Edge Capital, as well as Peoples Community Market. These businesses are making it possible for unaccredited investors to also be able to get into the conscious investing space, sometimes for as little as $25-$1000 investments.
I want to make these types of "do good" investments easily available for folks that do not have access to a lot of wealth or investment dollars. To that end, I am currently partnering with Domini Social Investments to design a global equities portfolio that will be a product of all publicly traded companies that are actively engaging as part of the solutions that we need on this planet. I'm happy that we will be able to offer folks a place within the stock market where they can feel good about what their money is doing out in the world.
Mike: Thanks Kristin for sharing your experience and thinking with me and the RG community. It's really helpful to listen to and learn from Alums, like you, who are continuing to align their money with their values in bold ways.