My goal for the summer (besides finishing the first season of Orange is the New Black) is to connect college students to Resource Generation. And here's why.
First of all, college campuses are teeming with rich kids. 70% of students at the top 80 schools come from the wealthiest quarter of U.S. families. Campuses are also important sites of progressive and radical activism, where young people become politicized and develop lasting connections to social justice movements. And while not all college students are 18 to 22-years-old, the majority are. Developing leaders within this age range would strengthen the sustainability of RG, allowing young people to build a relationship with our organization that could last more than a decade. And consider the energy and idealism that the youngest young people with wealth could contribute to RG's vision for economic, racial, and social justice!
In the spirit of sharing stories, let me tell you about my experience organizing my classmates and friends with wealth on my campus.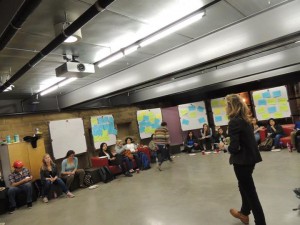 I jumped into activism as soon as I got to Stanford. I'd always been vaguely left-leaning, but hadn't had any opportunity to put my politics into practice. I was thrilled to be part of movements toward social justice. When issues of privilege emerged, I was the first to offer my Super Enlightened Perspective on my race, my physical ability, et cetera. But no one ever made me explain why I drove a new Audi A4 or why I didn't know how to fill out a FAFSA.
Fast forward to my Junior year. Occupy Wall Street and its iterations swept across the country, introducing the 1% vs. 99% dichotomy to our collective understanding of income inequality. Suddenly I was confronted with the contradictions of class. While I identified with the 99%, I was 100% part of the 1%. I realized it was time to make sense of the dissonance between my politics and my personal life.
So I did some reading and some thinking and I came up with this post in which I "came out" as part of the 1%. I expected that maybe 1 or 2 fellow rich kids would reach out. Instead, students across campus contacted me to let me know that my story resonated with them. That was when I knew that I wasn't the only person longing to learn more about class privilege and how to balance the tension between being wealthy and being committed to social justice.
Later that year, I became involved with Stanford's First Generation/Low-Income Partnership (FLIP), a community of low-income and first generation college students. Through my role on the leadership core, I had the opportunity to support FLIP's work while building a base of middle- and upper-class allies. Sarah Abbott, RG's Chapter Organizing Director, supported me as I navigated the process of building a community of young people with wealth. She connected me with awesome local RG members, convinced me to attend RG's annual conference, Making Money Make Change, and offered invaluable advice along the way.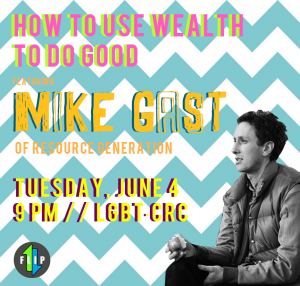 The Stanford RG Chapter made its debut in November 2012, when I worked with Bay Area RG leaders to host a Class Privilege Workshop. The event attracted an impressive 35 students seeking a confidential space to discuss their class identities and resulted in the creation of a listserve for "Class Allies," or students who were committed to engaging in a process of allyship to our low-income and middle-class peers. We developed two Praxis Groups, or weekly discussions for students with class privilege in which we wrestled with questions like, "How can I be a better friend and ally to my low-income roommate?" "Can I be grateful for my family's wealth while being critical of it?" "Is a discussion group for privileged people problematic?" We also invited Mike Gast from RG to introduce us to unique ways of redistributing wealth.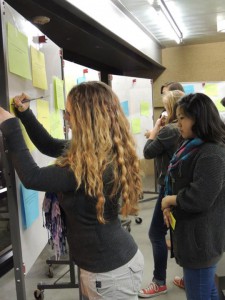 Through the work of FLIP and Stanford's RG Chapter, we were also able to create spaces for students on all ends of the socioeconomic spectrum to engage with issues of classism in our campus community. The first step was writing an Op-Ed in our campus paper, to get folks thinking about the diversity of class identities at Stanford. We then coordinated an event called "Class Confessions," which brought together students from all backgrounds to discuss the different ways we hide our class identities. During our week-long series of events focused on class at Stanford, we organized "Classing the Line" (an activity that invited students to explore the different ways in which our class identities have impacted our experiences) as well as a "Challenging Classism" workshop that allowed students to practice allyship through role-playing and reflecting.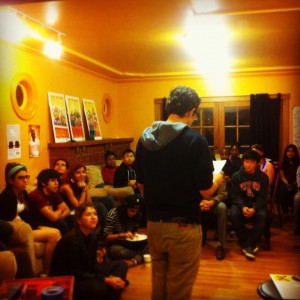 There are students on your college campus or at your alma mater who are yearning to talk about class. When we began creating spaces at Stanford for students to talk about these identities and issues, we were worried that no one would show up, or that people would push back against what we were doing. Instead, we found that our venues were too small, that we didn't have enough food because we'd underestimated how many people would show up. The feedback we received also affirmed the powerful impact that our programming had on attendees, exposing them to new ideas about their identities and new possibilities for how to create cross-class alliances. In our Praxis spaces, participants were able to shift from feeling ashamed and guilty about our wealth to feeling enthusiastic and empowered when considering the ways in which we can share our resources with others.
As RG's National Organizing Intern, I'm excited to expand Resource Generation's opportunities and support for college students who want to mobilize their peers to join the conversation around class privilege and classism. But I can't do this alone!
If you're a student, here's what you can do to get involved:

Sign up here to receive more information about RG.

Make sure you indicate that you're a student.

Join RG's brand-new listserve for college students. Send your email address to [email protected]

 if you'd like to be added.

Attend Making Money Make Change (MMMC), RG's annual conference for young folks (18-35 years old) with access to wealth and/or class privilege who care about social justice. 

This will be a perfect place to connect with other college students. 

Seek support from RG staff. If you have questions or ideas about bringing RG to your campus, or if you're wondering how you can get involved, please contact Adam Roberts (adam@resourcegeneration.org

)
It's on all of us in the RG community to reach out to young people on university and college campuses and encourage them to join our movement for social change. If you're not currently a student, here's how you can support this work:
Send this to the students in your life. And never underestimate the power of a Facebook post.
Talk to your siblings, cousins, and friends about RG. Convince them to come to MMMC!
Connect with students, professors, and administrators from your alma mater. Reach out to the student groups you were a part of, the professors that taught relevant courses, or the administrators that worked on diversity initiatives at your campus.