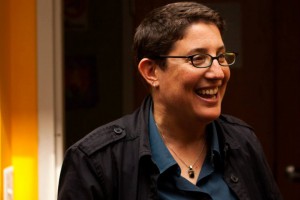 My first involvement with RG as a constituent with class privilege was June 2004 when I participated in my first RG workshop "Social Change Financial Planning."  Since then, I not only participated in RG programming as a constituent (e.g. MMMC, Donor Organizing Institute, CCTFP, Dinners) but also as a researcher with both personal and academic interests in the role of people with power and privilege in social justice movements. In particular, I was curious what a transformative organizing model organizing people with wealth looks like while remaining accountable to cross-class movements and avoiding the replication of existing, unjust power structures.  These interests led to a mixed-method dissertation research project, in partnership with RG, involving participant observation, interviews, a survey and review of RG training materials.  This research was completed in 2009. See below for more information. Since then, RG staff and I administered a follow-up survey (Wave 2) of the RG community to specifically document the impact of RG's work.  We completed data collection last year (2012), and what follows are some of the exciting results!
The survey of RG members and alumni can help provide a snapshot of RG, its work, its impact, and the potential RG can have in transforming progressive communities with wealth and contributing to social justice movement activism.  The combined personal net worth of respondents was nearly one billion dollars, with family of origin net worth over $9.5 billion. Using these numbers, we can estimate that over the past 15 years, Resource Generation has engaged individuals with a combined net worth of over $10 billion, and a combined family net worth of over $78 billion. But clearly, having the money isn't so much the issue as moving the money and leveraging the access to the wide array of resources that come with class privilege.
As survey respondents indicated, gaining access to these resources and figuring out what to do with them can be a challenging process, rife with potential conflict with family members, communities, and our own personal feelings of guilt, shame, and confusion. One of the first steps for many RG members is to figure out how to get access to their own money.
"Everything is managed by the family member who manages money for my whole extended family. Trying to figure out how to break away without totally offending."
By providing workshops and critical connections with other young people with wealth, RG is helping young progressives gain access to their own resources. Nearly three-quarters of RG participants have learned more about their investments since participating in RG. Many respondents also indicated that they gained access to financial advisors and other resources through RG connections to help them figure out how to navigate managing and leveraging their own money. RG members are taking risks by exploring their family finances and pushing their family to be more open and transparent with each other about their wealth.
Survey respondents also pointed to how critical the RG community is in creating sustained engagement with their wealth and class privilege. By developing long-term relationships with other young people with wealth, RG participants are able to inspire and model for each other the power and importance of giving money and leveraging their privilege.
"My partner, after having participated in some RG stuff, made it clear that my keeping the kind of money I had in the bank was going to be a problem."
The stability of the RG community helps young people with wealth, especially those who will inherit wealth, plan for the resources they will eventually gain access to, even if they don't have them yet.
"Even though I haven't been able to shift my investments yet, I have ideas about how to do it and I know I can go to RG folks when I'm ready and able to."
RG is also pushing its members to be more critically aware of their position in the economic order and their responsibility to move money and leverage their privilege. Overall, survey respondents demonstrated significant increases in thinking about class and race, as well as significant increases in considering these identities before making decisions.
"I'm just actively thinking about giving and being reminded of where I fall in the economic system, which pushes me to give away money"
RG is also giving people options for how to give their money and leverage their privilege.
"I've learned that there is no one path only to be engaged with my whole self including my values."
In sum, our survey found that RG members are moving their money to social justice movements while leveraging their resources and access in their own communities. Almost all RG participants (92%) are giving money away, and median annual giving among RG participants increased sixteen-fold, with over three quarters (79%) of RG participants increasing their annual giving because of RG participation. Further, over three quarters of RG participants increased their giving to grassroots social change groups. In addition to personal giving, a third of RG participants are leveraging access to over $9.5 billion in family resources.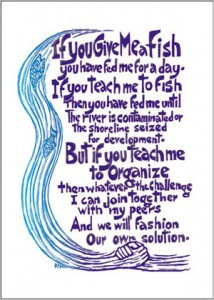 Above and beyond moving money, RG participants are using their recognition of their position in society and using their courage and RG community to leverage their access in their own communities. Over the course of participating in RG there was a 3-6x increase in:
organizing in privileged communities;
organizing for equitable taxation;
transforming family foundations;
organizing in institutional philanthropy; and,
socially responsible investing and spending.
Most RG members are also leveraging their privilege by having open conversations about class, dialoguing about their involvement in social change, and inspiring others with wealth to financially support social change organizations. As well as engaging in institutional activism, RG respondents are making changes in their personal lives that can have wide impacts. There were significant increases in how much RG constituents are talking about issues like class, privilege, racism, oppression, giving, social justice, activism, and philanthropic organizing with family, friends, and peers before/after participating in RG.
These jointly administered surveys have been incredibly successful in documenting RG's impact.  You can see more results by checking out RG 2012 annual report .  We plan to continue to administer these surveys every 2 years, so when you get a request to participate, know that you are definitely having an impact!!!  RG is not only compiling the impact they are having but are also receiving important feedback from the RG community about their work.
To check out some of the earlier research findings about RG's organizing model, see: Wernick, L.J. (2012) Leveraging Privilege: Organizing Young People with Wealth to Support Social Justice. Social Service Review, Vol. 86, No. 2 (June 2012), pp. 323-345. In addition, there are more articles in the pipeline!
This blog post was written jointly by Laura Wernick and Alex Kulick (Laura's fabulous research assistant).  For more information about this research, contact Laura Wernick at [email protected] or Alex Kulick at [email protected].