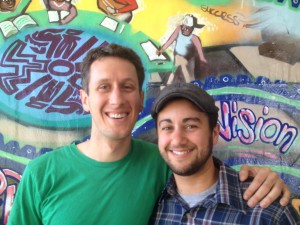 Hey RG,
I'm writing to let you know I'll be transitioning off staff in mid-July of this year, to pursue work with the Catalyst Project, an organization that has played a deep role in my own transformation, politicization, and growth as an organizer.  I've loved getting to work with RG members and staff, to experience and help grow the passion, creativity, dynamism, strategy and commitment of this incredibly important organization. I will be moving on from my job at RG, but I hope to remain close to the work and will be keeping my eyes out for opportunities for collaboration as we all continue to work toward an equitable distribution of land, wealth, and power. We'll be posting for my job soon, so keep your eyes out for good candidates!
Isaac Lev Szmonko
Campaign and Chapter Organizer

——————————————————————-
Dear RG Community, Friends and Colleagues,
After almost 6 years working at Resource Generation, I have decided to transition off staff August 31st of this year.
Helping grow and lead this community as an RG staff person has been one of the most meaningful experiences of my life. I am so proud of how much I've learned and grown, and how much RG has developed over the past many years. And, I'm ready to step aside. I am getting married this June, and living back in the Bay Area with much of my family and many old friends. I'm not sure what my next professional step will be and I am looking forward to doing more local work that has me traveling much less.
Resource Generation is in an incredibly strong place. I love and trust Jessie and the current team of staff and board leaders completely. I am inspired by our newly approved mission, vision and values (soon to be revealed) and blown away by the power of the goals and plan that is emerging for the next 6 years.
I will continue to stay involved in RG and no doubt will continue to organize wealthy people for justice, with you and many others, for the rest of my life.
In the next 5 months, I will continue to serve as Associate Director. I'm not going anywhere yet and there will be chances for more thorough transition emails, notes, calls and celebrations throughout. We will be posting a job description for my replacement next month, and I will certainly be asking for your help finding a stellar person to take my place.
Sincerely,
Michael Gast
Associate Director
PS. More writing from me on all I've learned and thank you's will be in future communication.