Introducing RG's inaugural 2019-2020 RG Student Organizing Fellows!
Student Organizing Fellows will be supporting RG student leaders on college campuses across the country to build strong relationships across class, bring more wealthy and class-privileged students into movements for racial and economic justice, and learn and develop skills along the way.
I'm grateful to Harshita, Rose, and Shira for their strong leadership & vision, and excited for what they'll be up to this year. Read on to learn more!
-Adam Roberts, New England Regional Organizer and Coordinator of College Organizing, on behalf of Resource Generation staff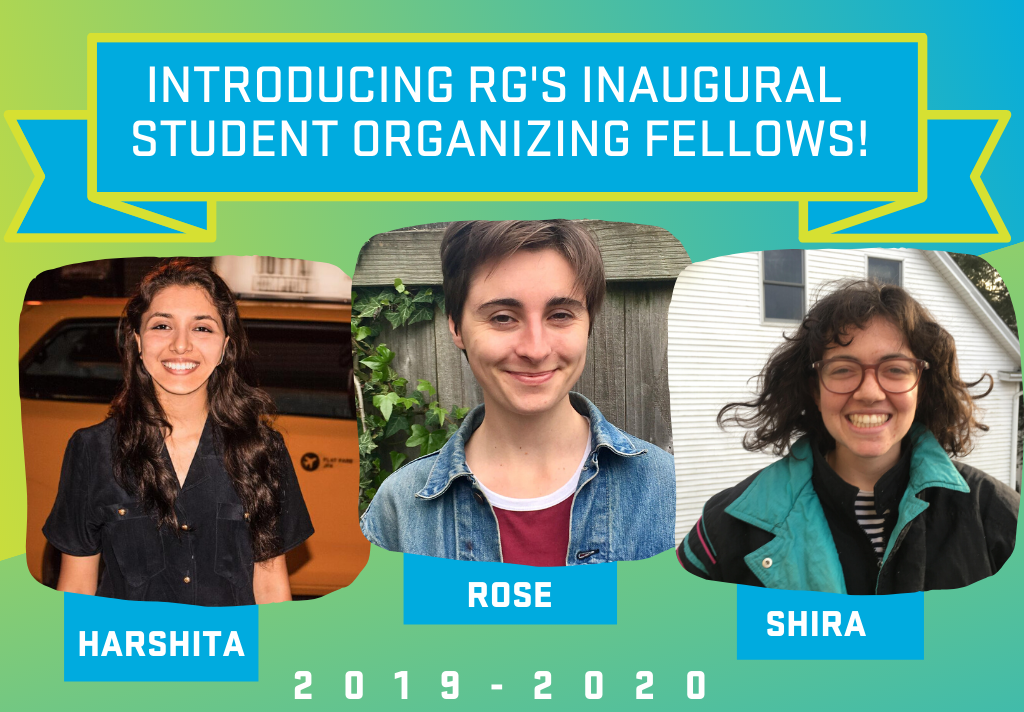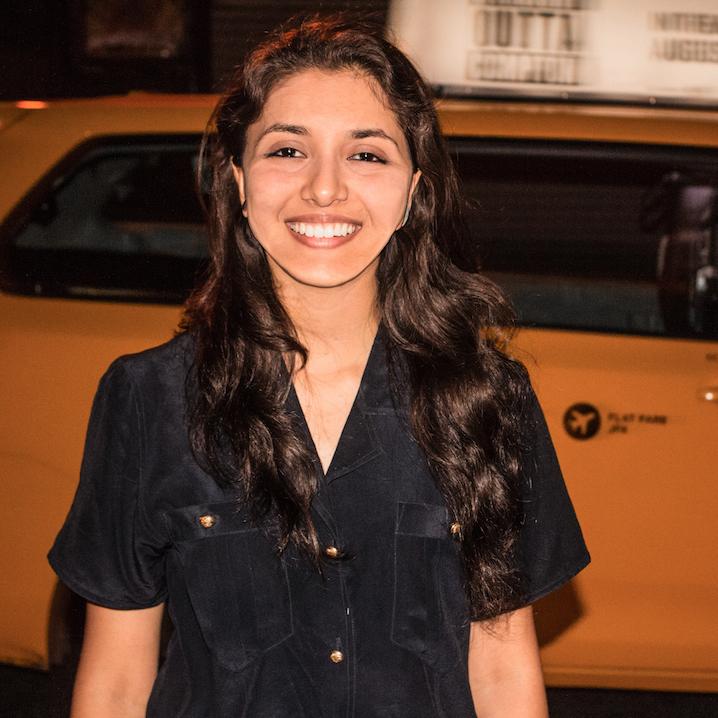 RG Student Organizing Fellow 2019-2020
Harvard '20, People of Color (POC), International, & High Earning Students Lead
Hi, I'm Harshita! I'm a senior at Harvard University and am excited to be one of Resource generations's Student Organizing Fellows this year.
I first got involved with Resource Generation when I heard of the organization in spring 2018 – a friend suggested that my white, owning class partner might find Resource Generation useful. While going through the materials, I thought 'hm… maybe this applies to me too?' While my story of transnational, immigrant class privilege and wealth didn't fit typical 'rich kid' narratives, Resource Generation soon became my political home — a community with shared values that helps me boldly and impactfully connect with  working class-led movements fighting for a more equitable distribution of wealth, land, and power.
I'm a managerial/upper class queer woman of color who works in tech (for now) and lived in Mumbai until I was 14. In 2012 my family moved to Fremont, CA, where I attended high school – the place I now call home. In India, I was an upper-caste, upper-class child born with a silver spoon in my mouth — supported and encouraged by a family of bankers, professors, engineers, surgeons, and other professionals. I experienced little gender oppression and no race, class, or caste-based oppression. I never doubted that 'success' (in prestige and wealth) would come to me naturally. My move to the US added an additional dimension to this inherited privilege and access – my 'public' high school district in Fremont is made up of overwhelmingly managerial class tech worker families, many of them dual-income, and is ~90% Asian-American. We send 5-8 students to MIT every year and about ⅕ of each high school class is admitted to UC Berkeley. My personal analysis of wealth and class privilege is shaped by my time spent in this bubble of ethnic, immigrant wealth and class privilege. Most of my high school classmates have been fast-tracked into high-earning careers in corporate tech jobs, a path laid out for many by our well-resourced, STEM-focused high school, pipeline to high-ranking University of California institutions, and over-involved professional parent community. This is all, contradictingly, with the backdrop of an overwhelmingly white school administration and faculty.
This isn't the typical "RG narrative" — how do we organize young people of color with wealth and class privilege who perhaps don't have access to inherited wealth, but are on a comfortable pathway to high-earning corporate jobs? What are the responsibilities that these people hold if they believe in a more equitable distribution of wealth, land, and power? How can we expand RG's base beyond wealthy inheritors who work full-time in organizing and non-profits, to instead cut across silos and build power without removing ourselves from morally confusing spaces (like corporate workplaces)? I think that college students present us with an exciting opportunity to begin doing this work early. I'm excited to reach this demographic earlier in our careers and build leaders who can leverage our class privilege and positions within institutions of power in the service of equitable redistribution. 
For me, leveraging my wealth and class privilege has looked like redistributing 15-20% of my tech internship earnings – almost $40,000 in a single summer. It's been equally important, however, for me to use my position as a corporate insider to partner with working class people's movements and advocate for change. I was a part of the Microsoft workers campaign in summer 2018 that advocated for an end to Microsoft's contract with ICE — building deep partnerships with immigrant-led and working class-led movements, and being their worker arm, allowed me to see the transformative possibilities of cross-class partnerships.
I'm stoked to expand RG's vision of how young people with wealth and class privilege can use their access in the service of the values they care about. This next year will be an exciting one of collaboration; I'm looking forward to connecting with other college students, professional/corporate workers, and people of color who are invested in RG's vision of class coalition in the service of social justice. I can't wait for everything I will learn from you all!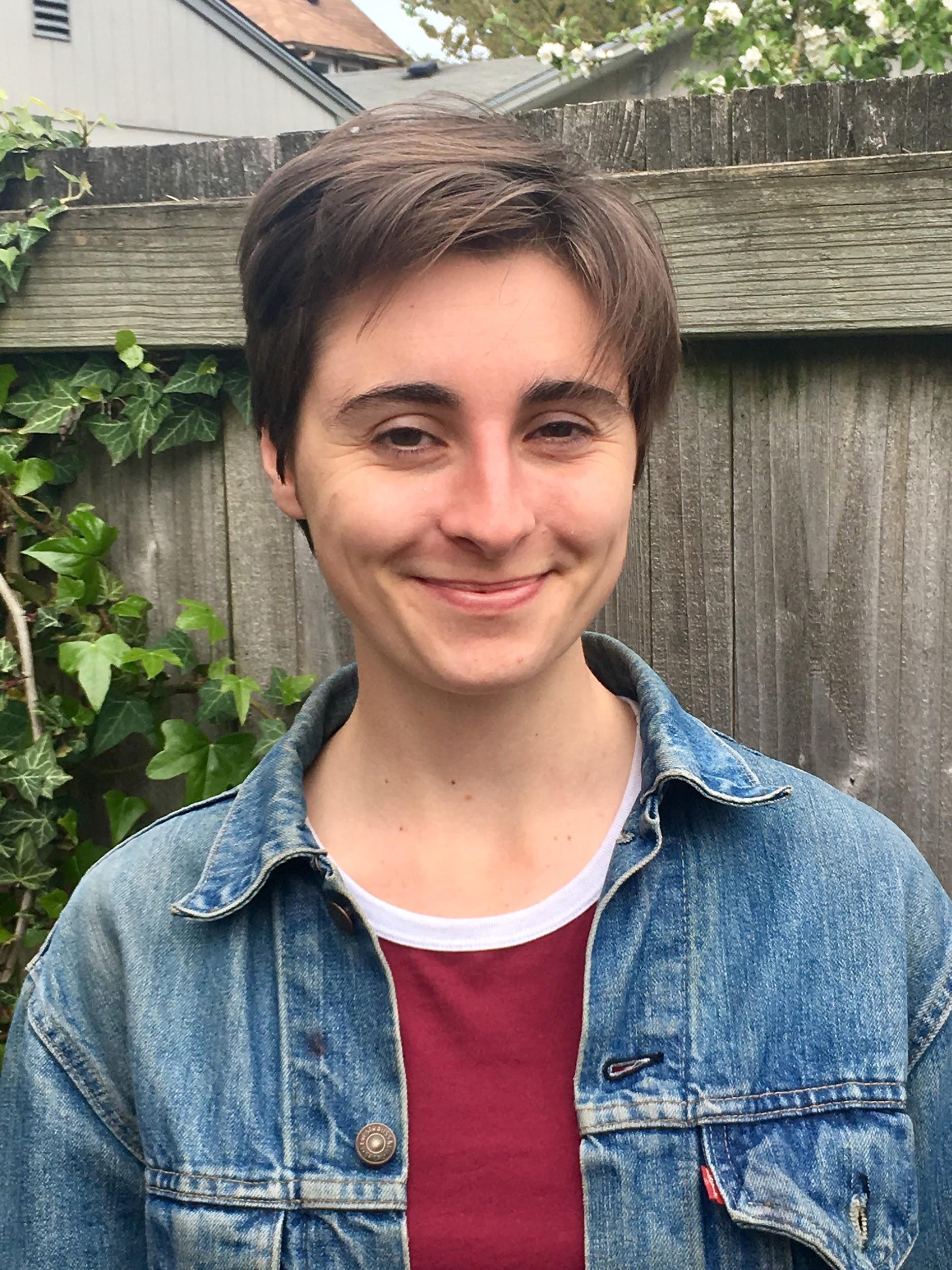 RG Student Organizing Fellow 2019-2020
University of Puget Sound '19, Student Giving Pledge and Membership Lead
It's my first fall season since graduating college here in Tacoma Washington last spring, and I'm so excited to be a part of the first Resource Generation college organizing fellowship cohort with Shira and Harshita.
I grew up in rural Vermont where I am grateful to have learned deep love for land and community (and good maple syrup!). From a young age I lived between the homes of my dad and his partner, who are near the top 5% percent in the U.S., and my mom, who has been financially unstable since their divorce. When I was younger I harbored many angry questions about power and oppression, and especially economic injustice and sexism. 
When I got to college in 2015 I was introduced to student organizing during the nationwide movement– started at University of Missouri– demanding college administrations take action to end racism on campuses. Around this time I also joined a student organization that supported local grassroots efforts to close the Northwest Detention Center, one of the largest private immigration detention centers in the country, which is located in Tacoma.
While I was learning about the many ways racism, colonialism, and economic inequality were being enacted on and off my campus through this work, I was also reflecting on the fact that, as a white, owning class, cis woman, I was part of institutions and communities that were perpetuating this harm. I didn't know where to begin in reconciling these aspects of my identity with my longing to fight for social justice. 
Connecting with Resource Generation in the winter of 2016 was when I finally learned that I do have a place in social justice movements, as well as a community of people grappling with the same questions as me. Over the next few years, myself and other students formed the first RG chapter at the University of Puget Sound. We had workshops and praxis groups where we could deepen our relationships and political education, and began to build relationships with other student groups. I'm proud of the work we did and know that current students are continuing to build this community with new perspective and energy!
When I joined RG, it could be daunting to be among the few 18-22 year olds at MMMC (Making Money Make Change, RG's annual conference). Sometimes I felt like I was just there as an onlooker, waiting until I was old enough to do the stuff that RG was really about. I longed to have more community with people who had similar experiences to me as someone involved in student organizing, organizing family to move money I don't have direct access to, dealing with ageist family members and financial advisors ("you're just a radical college student!"), and thinking about how I could best align the way I would live and work with my values after I graduated. But these are all issues that I have been able to connect with other RG students on in the past few years, and I can't wait for even more college students and younger members to get involved!
I believe that students with wealth and class privilege have so much to offer RG and movements as a whole. During the winter and spring I'll be working to create more tools to support students in becoming dues paying members of the RG community and to be empowered to start giving to social justice movements, now. I am so excited to be part of this fellowship cohort as a way to grow our community, deepen our relationships, and join movements for racial and economic justice on and off college campuses!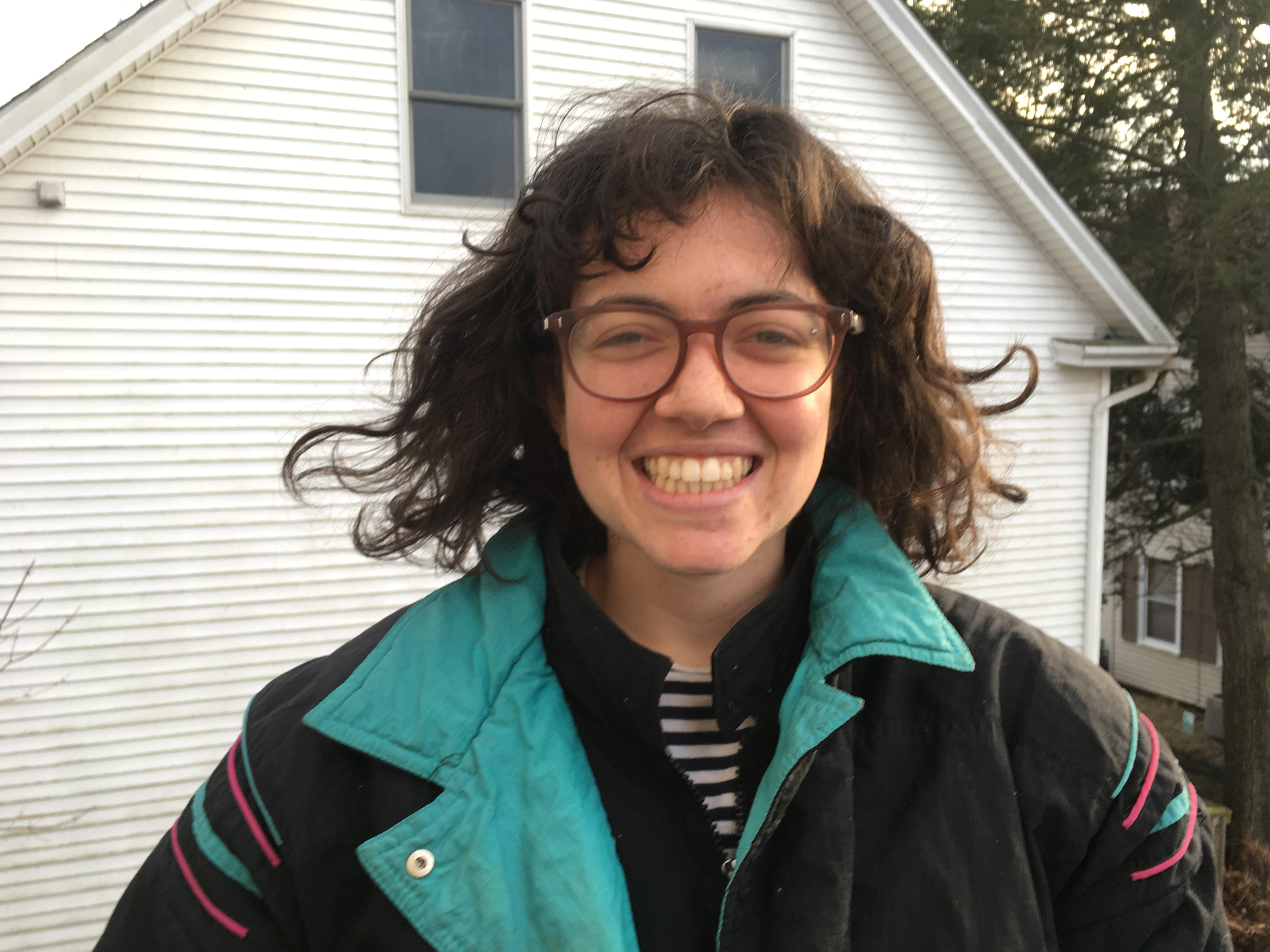 RG Student Organizing Fellow 2019-2020
Smith College '18, Political Education & Praxis Lead
Hello everyone! My name is Shira Breen and I'm really excited to be part of a bigger effort starting up at Resource Generation to build college organizing on campuses across the country. I am from Minneapolis, Minnesota, and in this role, I'm excited to be supporting college chapters in the midwest, as well as on the East Coast where I now live in Northampton, Massachusetts. Here we go, RG college organizing!! 
At Smith I was part of forming an RG chapter, and throughout that process, connecting with students on other campuses was so grounding in feeling the potential and power of young people organizing across the country. Colleges are at the heart of elitism and define so much of the US culture of wealth, competition and capitalism — all things that perpetuate wealth inequality and oppression.
As wealthy people who are expected to succeed on college campuses, we are responsible for rejecting this 'success' that comes at the expense of so many fellow students and people around the world whose exploited labor sustains these places of education. I believe RG chapters on college campuses have the potential to break down myths that we can all succeed when we work hard, and  support and uplift the voices of poor and working class students on campus who are fighting for the changes we all need.
A little bit about me: After learning about Resource Generation when I graduated high school, I finally began to ask and learn about my class beyond just understanding myself as 'middle class.' I craved and sought out the stories that showed me how I got here and where I need to go now. My great grandparents were all Jewish immigrants from Russia, Poland, and the Ukraine. They assimilated into the safety they got through whiteness in the US, started businesses, fundraised for Israel, and invested money into places like Pepsi and Exxon. The money passed down from those investments was what paid for me to attend Smith College and graduate without debt. 
My family's story is one thread of a history of story of so much violence, fear, stolen wealth, nationalism, and self preservation. I am learning from my beloved friends and family how our relationships with each other is what truly keeps us safe in the face of white supremacy and capitalism. I look forward to getting to know some of your stories, and in supporting students in building relationships with other orgs on campuses fighting against imperialism and capitalism in the US and around the world. We have the power to build up bases of reparations and wealth redistribution on campuses all over the US, and to hold our colleges and universities accountable for their legacies of violence. I'm so excited to keep learning how to do this with all of you. Please reach out to connect about any of this deeper, and to scheme about how to make RG college organizing as powerful and effective as possible.
If you are a college student who is interested in getting more involved with Resource Generation or learning how to bring RG to your campus, please sign up for updates here or get in touch with one of our above Student Organizing Fellows directly by their listed emails.