Making Money Make Change 2023
Making Money Make Change 2023 is back in person! 
Thursday, November 9 – Sunday, November 12, 2023
Nashville, Tennessee
THIS CONFERENCE AIMS TO GENERATE VISIONS OF A FUTURE IN WHICH WEALTH, LAND, AND POWER ARE EQUITABLY SHARED.
MMMC is an intimate space that uses workshops, storytelling, and skill-building to create a space for young people with class privilege and wealth to explore questions of identity and responsibility in a supportive environment. MMMC programming is dynamic and specific to young people with wealth who are interested in social justice. Whether you have been grappling with what it means to have class privilege for some time and value social change, or you are new to thinking about these topics, we invite you to attend and explore these topics in community.
THROUGHOUT THE CONFERENCE, PARTICIPANTS WILL SUPPORT, CHALLENGE, AND INSPIRE EACH OTHER TO ALIGN RESOURCES AND ACCESS TO WEALTH WITH THEIR VALUES.
MMMC is always a multi-class space. The programming is designed for young people (18-35) with wealth and partners of young people with wealth; however, social justice movement leaders, Resource Generation staff, and other presenters from various class backgrounds are present and a vital part of MMMC. It's a great opportunity to practice healthy cross-class dynamics and to lovingly self-reflect on how class privilege manifests.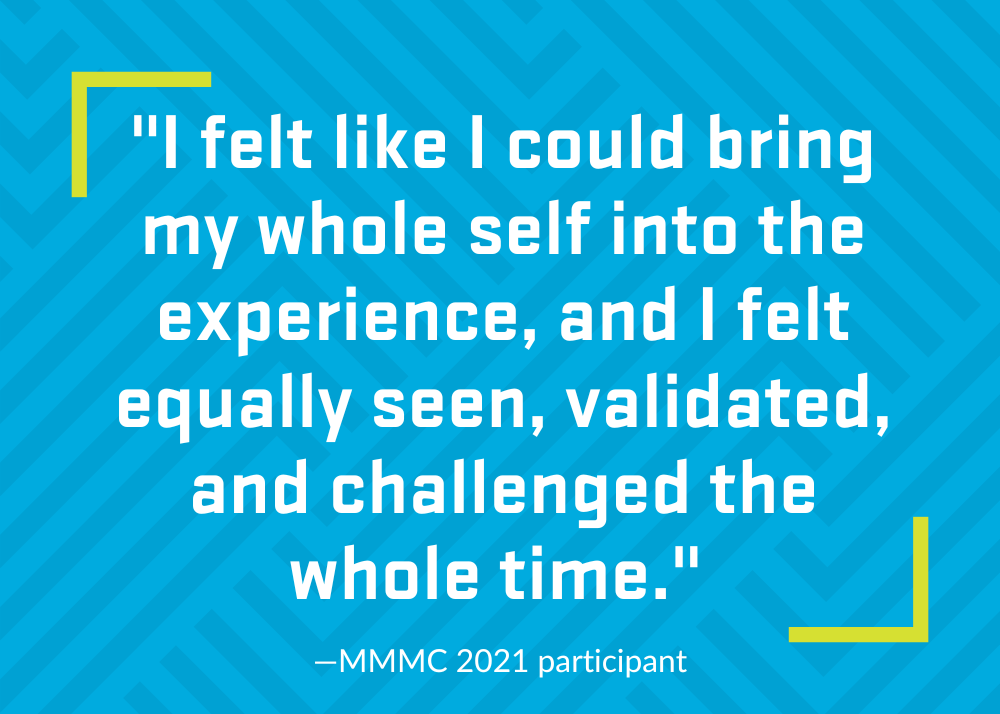 THROUGH LOCAL CHAPTERS, RESOURCE GENERATION PROVIDES YEAR-ROUND COMMUNITY THAT SUPPORTS LOCAL ORGANIZING CAMPAIGNS AND ONGOING LEARNING.
MMMC is an excellent way to become involved in RG or to refill your cup if you've been working locally and want to connect nationally.
WHO ATTENDS MMMC?
A whole range of people come to MMMC! Participants are individuals ages 18-35, who have access to current, future, family, or wealth from work. Their access to wealth comes from a variety of sources and circumstances. Young people of color with wealth are encouraged to attend and partners of young people with wealth are welcome to attend. MMMC builds a community of peers who support each other in making creative and informed choices about their resources.
For more information about how we conceptualize "wealth," click here.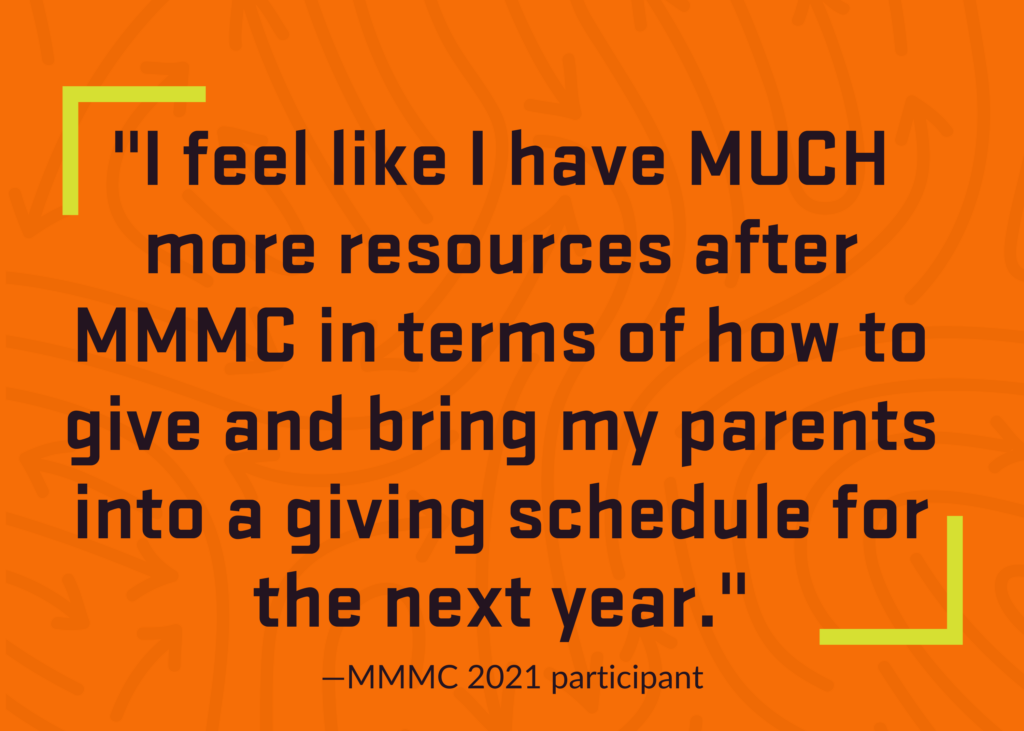 WHAT DO WE DO AT THE CONFERENCE?
This year, we are back to our standard 4-day retreat.
We'll focus on grounding in our current reality, connect to what's at stake, and understand our collective stake in fighting for a just future.

We'll meet in small groups (aka pods) for more intimate storytelling, processing, and connecting.

Have a variety of interactive workshops, plenaries, and opportunities for connecting in caucuses, regions, and more. 

We'll hear from movement leaders who will share about organizing in this political moment and the roles of young people with wealth.

Have fun with games, no-talent show/open mic, and a dance party!
**SAMPLE MMMC Event Schedule From a Prior Year**
Day One 
1:30 – 3:00 pm — Opening Plenary: Welcome to MMMC!
3:30 – 5:30 pm — Plenary: Addressing the Racial Wealth Divide
Day Two
9:30 – 11:00 am — Plenary: Leveraging Privilege by Redistributing Wealth, Land, and Power
11 am – 1 pm — WORKSHOP SESSION 1 (Choose 1 of the 3)
Building Financial Literacy
Do you want a sense of personal empowerment and agency with your finances? Come to our workshop where we will demystify the language of finance, from the basics of everyday cash flow to the world of investments. We will spend time responding to what's on your mind and give you an opportunity to explore your money values in a community of peers. Together, we'll identify action steps that help you gain confidence and increase engagement with your financial wealth. All levels of experience are welcome and we encourage you to bring your questions!
Cross-Class Movement Building: Growing Power, Growing Relationships
Members of the Twin Cities RG chapter and staff from CTUL (Centro de Trabajadores en la Lucha, a Twin Cities-based worker center) will share about their experiences of cross-class relationship and power-building. Participants will have some time to think about how to put these concepts into action in their local chapters, relationships, and campaign work. Over the last several years, members of the Twin Cities Resource Generation chapter have partnered with CTUL, a workers' center based in The Twin Cities organizing people with low-wage jobs.
Unlearning Classism in the Body
The messages we're taught about class (consciously and subconsciously) seep into our cells, informing and impacting our beliefs and behaviors. In this exploratory workshop, we'll attempt to uncover what some of those messages are, where they are hiding, and how they inform how we show up. We'll create a shared understanding of what classism is and try out what it feels like to inhabit potentially new beliefs related to worth, resources, and interdependence.
3:30 – 4:30 pm — Plenary: Money Stories
6:30 – 8:30pm — Plenary: Organizing in These Political Times
Day Three
10 am – 12 pm — WORKSHOP SESSION 2 (Choose 1 of the 3)
Funding Our Collective Liberation
Do you feel like running the other way when someone mentions the word "fundraising"? Do you shrink lower in your seat when recruitment for the fundraising committee begins? Do you feel more comfortable giving than asking? In this workshop, we will strengthen our understanding of why it's important to be good fundraisers for social justice work, as well as gain tools and practice to increase our comfort with asking for money. We'll explore tough questions like, "What are creative ways to engage the resources? What role can we play individually and collectively?"
Reparations as a Lens on Giving
What are the histories, values, and strategies of Reparations work and how can it be an intentional lens in all your giving? We will talk about the larger strategy of reparations in movements and their connection to stolen labor, land, and lives; share concrete examples of land reparations work, and opportunities through the developing campaign partnerships between black alliances with reparations frameworks and RG, such as M4BL and other land power networks. How can people think about taking some of these concepts and putting them into action in their personal giving plans, family organizing, philanthropic networks, and local chapter work?
Resourcing the Collective and Recovering Traditions of Giving
Emerging strategies to build collective resilience in grassroots organizing — like models of sustainability and wellness as well as interventions to trauma, violence, racism, and oppression (personal, historical, and structural) — apply to us as activist donors. Because an inequitable society hurts all of us, many of us with wealth and privilege experience separation and isolation. We will explore how to resource our communities to build resiliency and survival traditions and sustain our work as supporters and participants in grassroots movements. Then, we will discuss both individual and collective giving practices as integral to our collective survival.
3 – 4:30 pm — Plenary: Money Survey
Day Four
10 am – 12 pm — WORKSHOP SESSION 3 (Choose 1 of the 3)
Building Indigenous Power: Through Equity and Economic Opportunity
Post Standing Rock, as Indigenous movements are rebuilding power and momentum, how can non-native people throw down to help those movements thrive and win? Learn how Native-led grassroots efforts are working to tackle poverty on the Pine Ridge Indian Reservation and how building an equitable and regenerative economy has the ability to inform and unlock promise for Indigenous Nations. We'll discuss how to apply decolonization as a principle in our activism and what roles young people with wealth or class privilege can play in supporting land repatriation and returning wealth to Indigenous communities.
Introduction to Campaign Organizing
This playful workshop will introduce you to the basics of campaign organizing. Maybe you are wondering… what are campaigns and how do young people with wealth take action together alongside other groups? We will discuss different dimensions of power and learn about varying tactics and strategies to win! We will have a presentation, discussion, and do body-based practices to find the source and blocks to our power, along with an activity where we put everything we've learned into action as we play through some potential campaign scenarios.
Investment Strategies that Center Wealth Redistribution, Reparations, and Love
Based on our shared understanding of the racist history of wealth accumulation, we will explore investing as a strategy to support the equitable distribution of land, wealth, and power. We believe that investors should prioritize investment strategies that center wealth redistribution, reparations, and shared risk. The facilitators will share active examples of investment projects that center racial and economic justice. With storytelling and embodiment practices to encourage participants to feel in their spirit as we discuss finance, we'll explore how investing is a powerful tool for building the next economy, and share skill sets needed to heal and repair financial patterns.
2 – 3 pm — Closing Plenary: When Will We See You Again?
IS THIS GATHERING FOR ME?
MMMC offers a confidential environment to uncover your personal relationship to wealth and be inspired by different ways to take action that are aligned with your values and communities.
Do you have, or expect to come into, inherited wealth? Do you have earned wealth? Or are you the partner of someone with wealth? Not sure, but want to figure it out?

Do you want to work with others to create a more just and equitable society?

Do you want to explore how different aspects of identity affect your relationship and access to wealth, such as race, gender, sexuality, religion, and ability?

Are you seeking a supportive community of peers and allies with whom to be engaged with these questions over the long term?

Do you want to amplify your impact by working collectively with other young people with wealth toward an equitable distribution of wealth, land, and power?

Are you ready to stop trying to hide your class privilege and start leveraging it for economic, racial, and social justice?
If you answered yes to any of these questions, then MMMC is for you! Conference organizers and workshop presenters from various class backgrounds participate in the retreat; however, this is not a gathering designed for those who deal with these issues solely from a professional viewpoint or who work with young donors in a financial or fundraising capacity.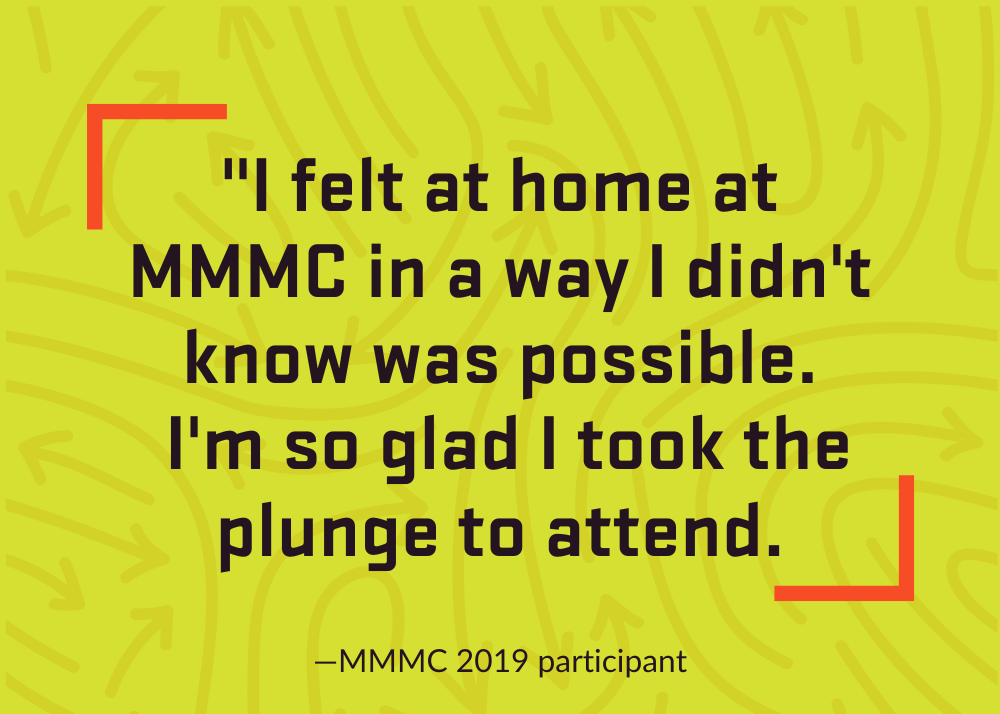 MMMC AND ACCESSIBILITY
RG is committed to making the retreat space accessible for everyone who wants to attend in person. The registration form asks about your accessibility needs. The sooner you register and let us know what you need, the better we can provide the needed accommodations. 
Although the retreat center itself is not explicitly scent-free, RG strives to make our spaces as low scent as possible. We ask that participants and facilitators adopt a no/low scent protocol for the time with us (more details will come with your confirmation after registration). 
If you have any questions about accessibility and if your needs can be met at the conference, please contact Julianne, Program Director, at [email protected].
MMMC AND COVID SAFETY
MMMC is in-person this year and will not have a hybrid option. RG will continue to have virtual programming all year round. 
We are taking a calculated risk to gather together in person and will be taking measures to prevent the spread of COVID-19. We ask that all participants take a PCR test before travel, and do not travel if you test positive. We will provide and require rapid tests upon arrival, and require masking in indoor spaces unless eating or drinking.
Please plan to take a PCR test no more than 72-hours prior to travel. Closer to the date, we will share a secure Dropbox link for you to upload your results.
We will ask all participants and staff to take a rapid test every morning and upload results to the Dropbox before entering common areas. We will have additional supplies available, but if you are able, please bring your own.

DO YOU IDENTIFY AS A YOUNG PERSON OF COLOR WITH WEALTH?
People of color with wealth sit at a unique and powerful intersection of identities. There is so much potential to organize together for racial,economic, and environmental justice. The retreat will host participants from an array of racial and ethnic backgrounds as well as experiences with philanthropy, social entrepreneurship, and movements for change. This is a great space for first-time MMMC participants who are people of color to build community with other people of color and to ground in this intersection of identities. Though participants' stories and experiences are unique and varied, there is a common interest in using resources in support of progressive social change.
DO YOU IDENTIFY AS A PARTNER OF A YOUNG PERSON WITH WEALTH?
MMMC welcomes partners of people with wealth who were raised poor, working-class, or middle-class. Through their relationships, partners often find themselves as class straddlers with increasing access to wealth through relationship and family. Partners have a powerful and important role to play in working for wealth redistribution and social change. Partners will be placed in a small group (pod) together throughout the retreat that meets for relationship building and mutual support. In terms of content, MMMC is most appropriate and relevant for partners who currently or in the future expect to have interdependent finances and thus some level of access to wealth, or influence over financial decisions. Chosen family members who are involved in financial decision-making or business partners may also be appropriate to attend. Partners of people with wealth are welcome to attend MMMC with their wealthy partner.

Any questions at all about any of the above? Please contact Julianne, Program Director, at [email protected].
REGISTER FOR MMMC BELOW
You will be emailed a confirmation and additional details leading up to the conference.