Table of Contents
Letter from the Executive Director

Highlights

New & Emerging Chapters

Programs/Leadership Development

Resource Mobilization

Campaigns

RG in the News

Organizational Health & Development

Budget summary

Closing
For a PDF version of our 2021 Annual Report click here.
Letter from the Executive Director
In my first introduction to our annual report as Executive Director, I can't help but think about where we were as an organization in 2015, when I joined staff. 
We didn't yet have national campaign partners. We weren't yet tracking how much money we were moving to movements. We were 12 staff and under 400 members, and were just becoming our own 501c3 organization after 17 years of being fiscally sponsored. 
Reading over this report, I am blown away by the power we've built and all the ways we are building toward a world where wealth, land and power are shared.
We're doing it y'all. 
We're also entering a new stage of our organizational story, with new questions, and new possibilities.
As we're in the midst of strategic planning, members, staff, and board are grappling with what the movement needs us to do now, and what we need of each other. I can't yet point to what the future holds, and ask you to help shape that inspiring vision. 
What I can do is invite you to think about all that we've accomplished, and what becomes possible from where we are now. What becomes possible now that we have over 1100 members moving over $100M, now that we are three years into partnership with the Movement for Black Lives (M4BL) and Center for Popular Democracy (CPD), and now that we've relaunched our national member-leadership body and are investing in the sustainability of our staff? 
I hope that where that leads you is excitement and curiosity for what's ahead, and pride and gratitude for where we are now. 
Excited and Grateful,
Yahya Alazrak 
Executive Director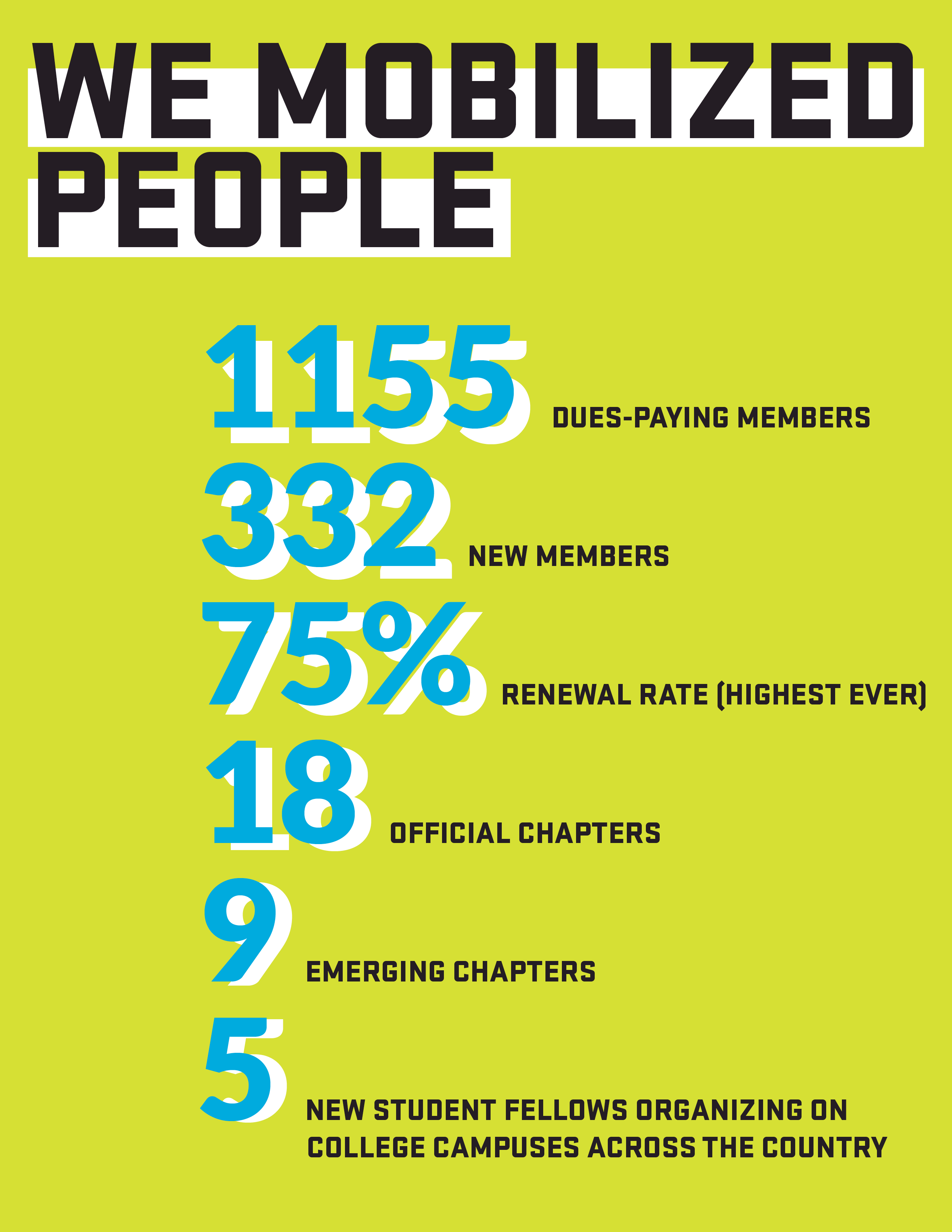 We ended the year with 1155 dues-paying members – this included 332 new members and a 75% renewal rate (our highest ever!) 18 official chapters and 9 emerging chapters. 5 new student fellows organizing college campuses across the country.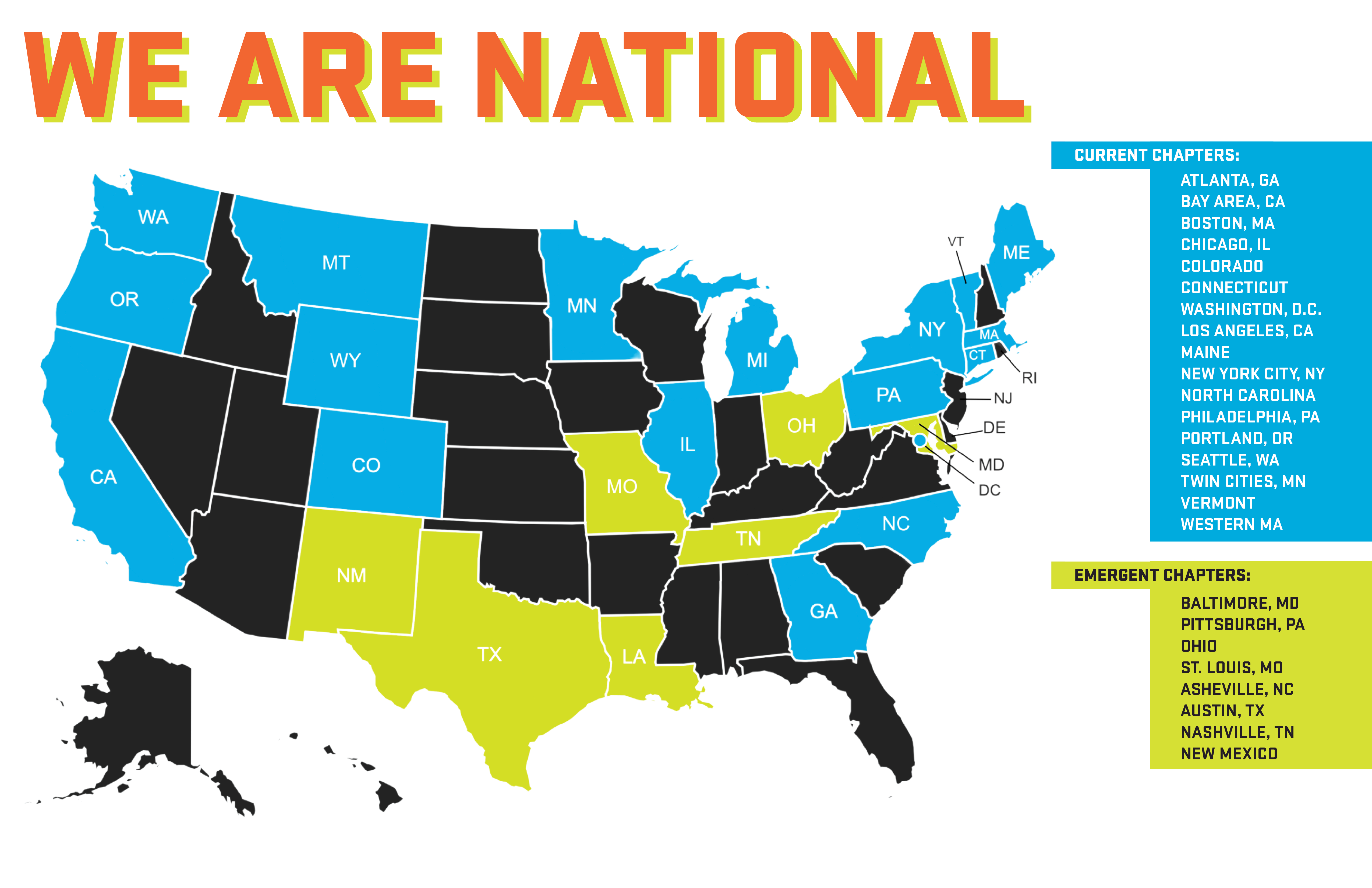 We currently have chapters in Atlanta, GA. Bay Area, CA. Boston, MA. Chicago, IL. Colorado. Connecticut. Washington, D.C.  Los Angeles, CA. Maine. New York City, NY. North Carolina. Philadelphia, PA. Portland, OR. Seattle, WA. Twin Cities, MN. Vermont. Western MA.
We have emerging chapters in Baltimore, MD. Pittsburgh, PA. Ohio. St. Louis, MO. Asheville, NC. Austin, TX. Nashville, TN. New Mexico.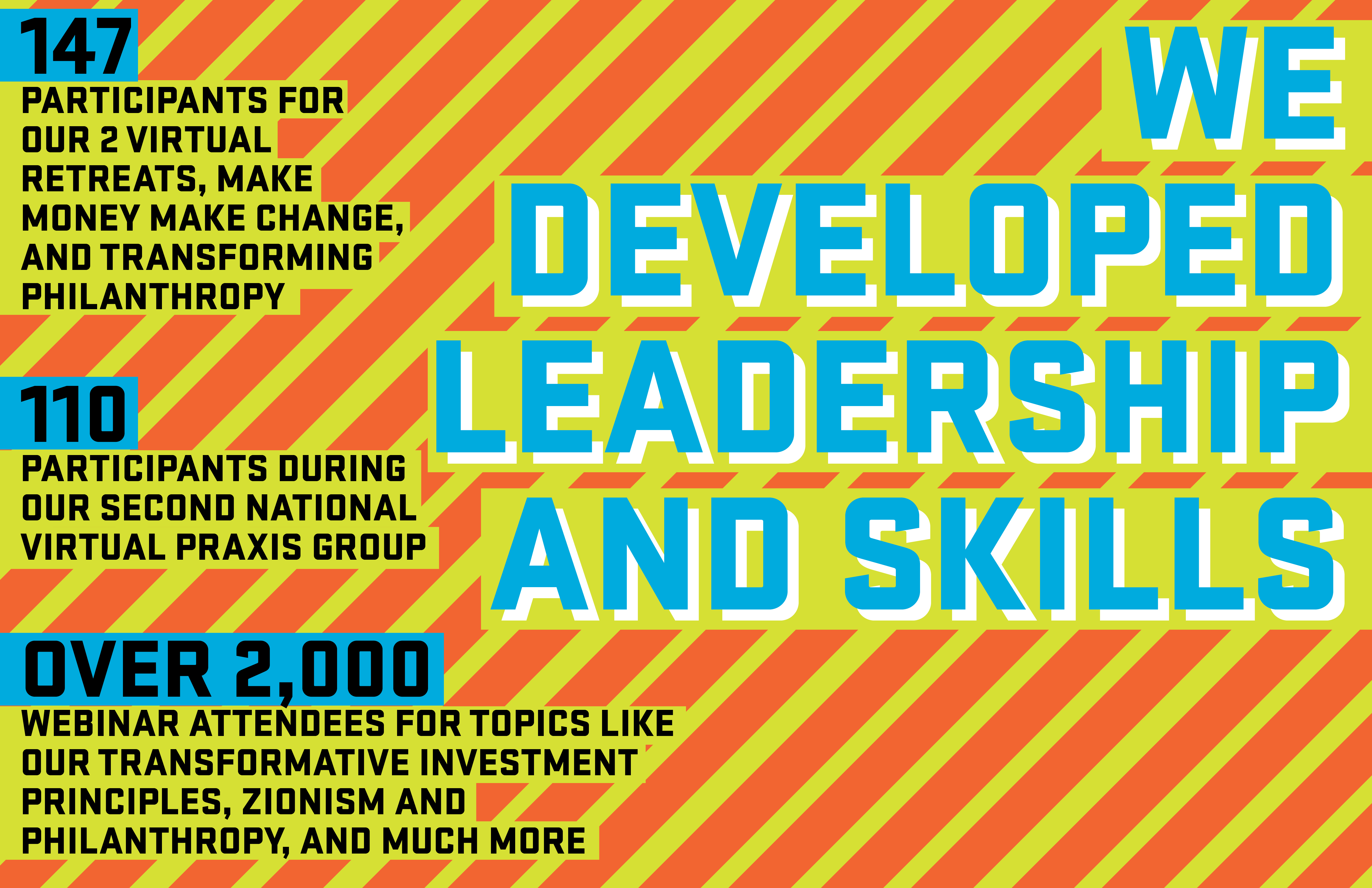 In 2021,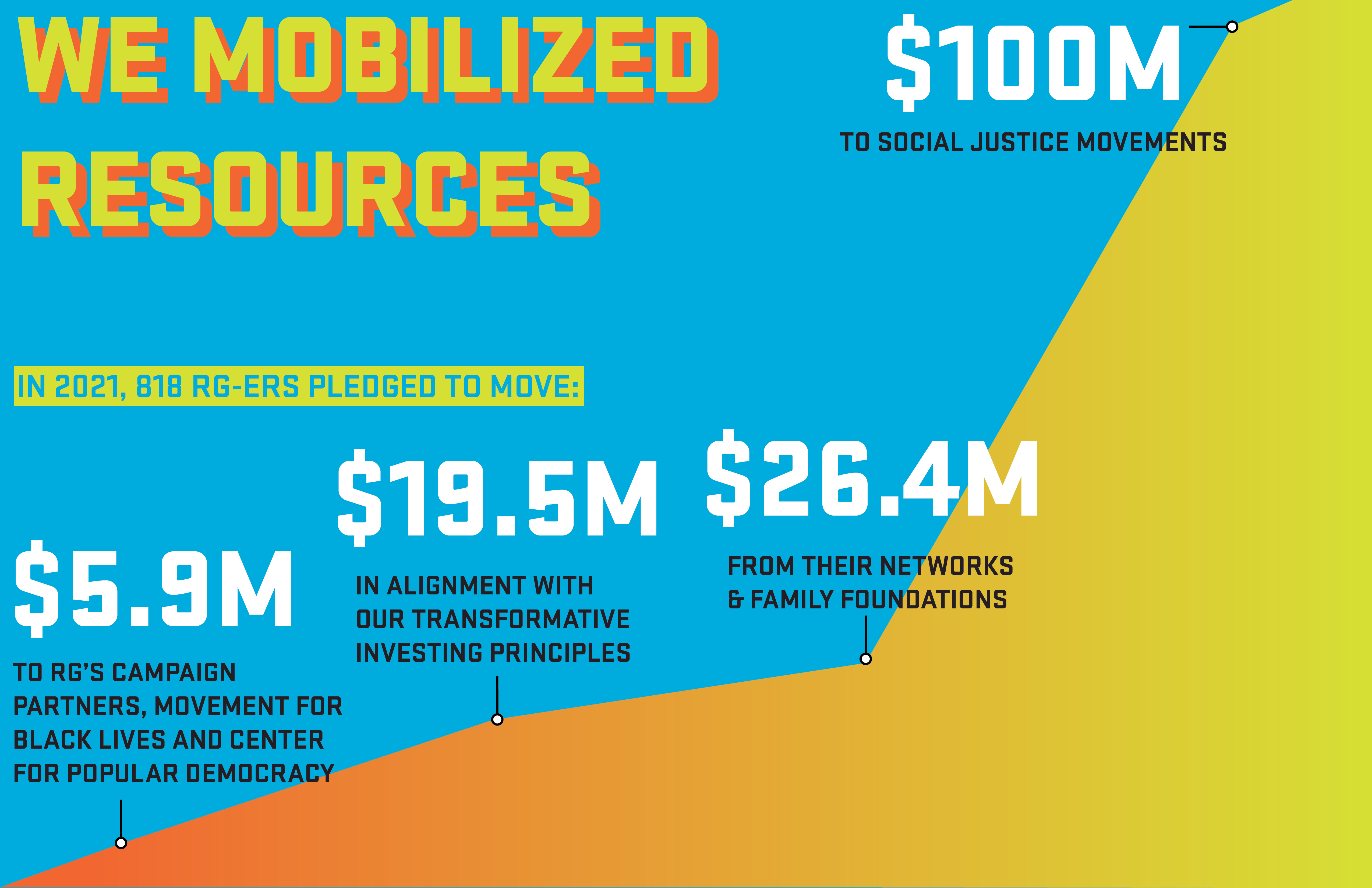 In 2021, 818 RGers pledged to:
Give $100M to social justice movements
Fundraise $26.4M

from their networks (or via family foundations)

Invest $19.5M

in alignment with our Transformative Investing Principles

Give $5.9M to RG's campaign partners

, Movement for Black Lives and Center for Popular Democracy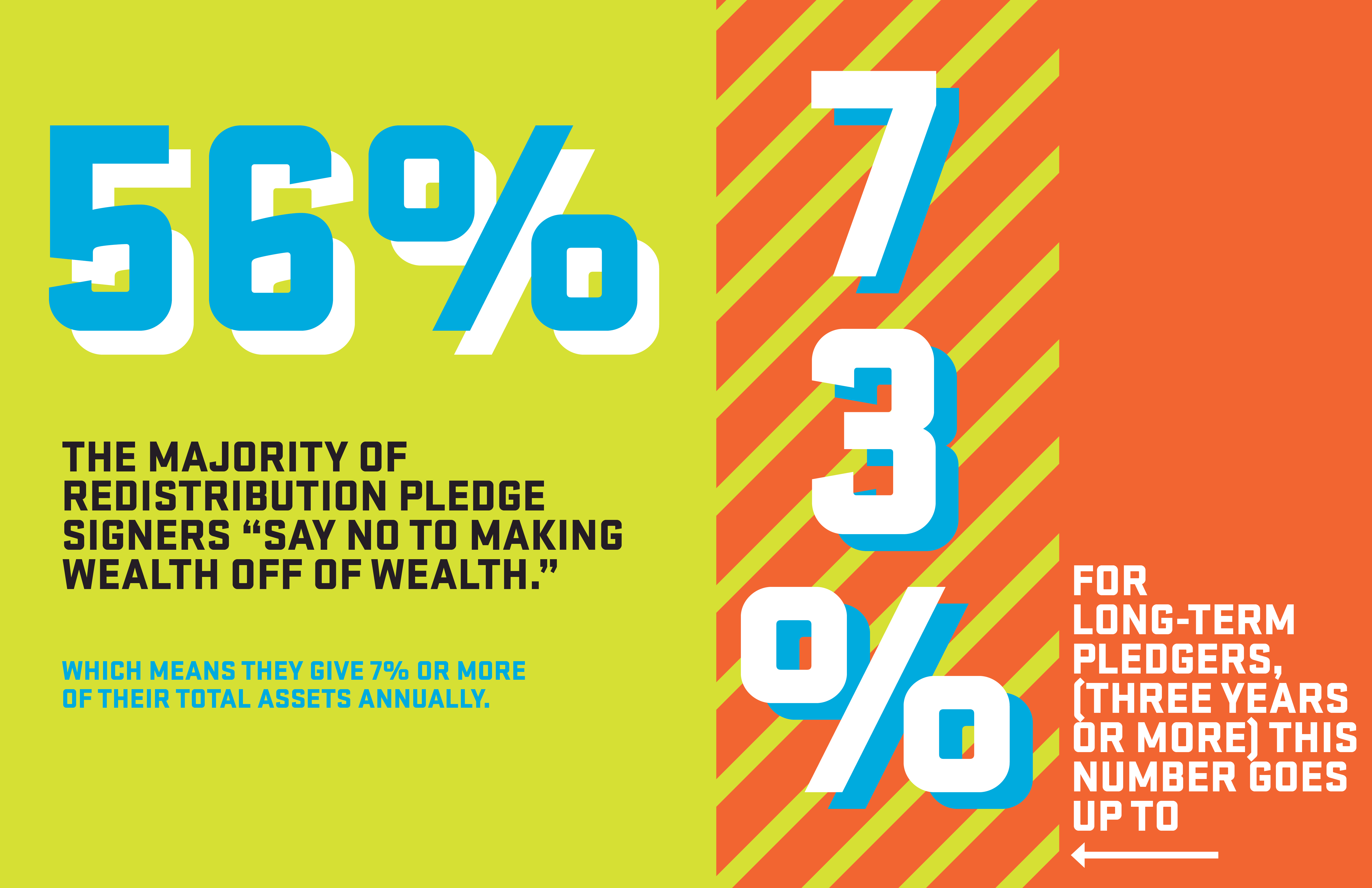 56% of Redistribution Pledge Signers "Say No to Making Wealth Off of Wealth." Which means they give 7% or more of their total assets annually.
For long-term pledgers (3 or more years), this number goes up to 73%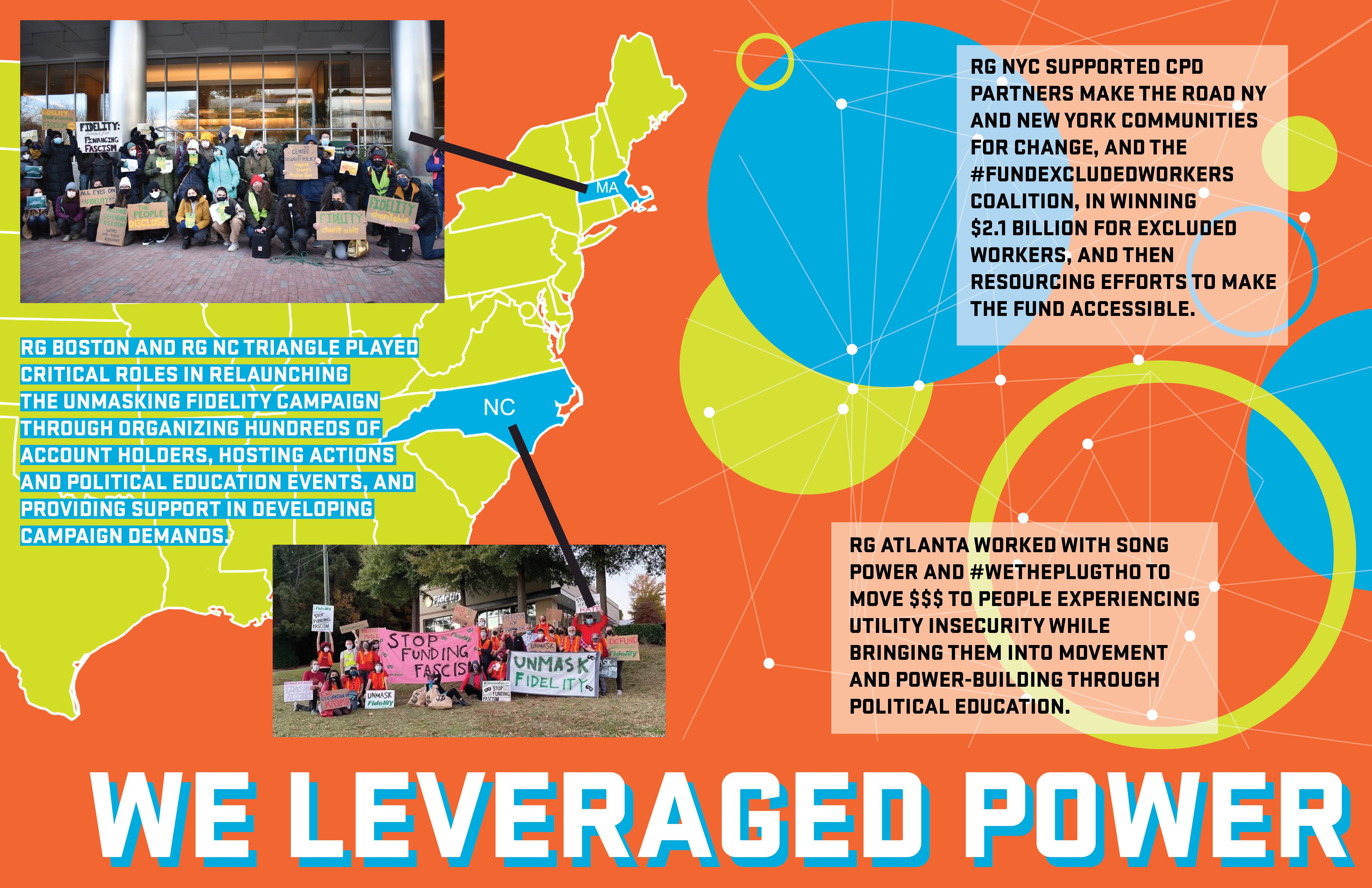 RG Boston and RG NC Triangle played critical roles in relaunching the Unmasking Fidelity campaign

through organizing hundreds of account holders, hosting actions and political education events, and providing support in developing campaign demands. 

RG NYC supported CPD partners Make the Road NY and New York Communities for Change

, and the #FundExcludedWorkers coalition, in winning

$2.1 billion

for excluded workers, and then resourcing efforts to make the fund accessible. 

RG Atlanta worked with SONG Power and #WeThePlugTho

to move $$$ to people experiencing utility insecurity while bringing them into movement and power-building through political education.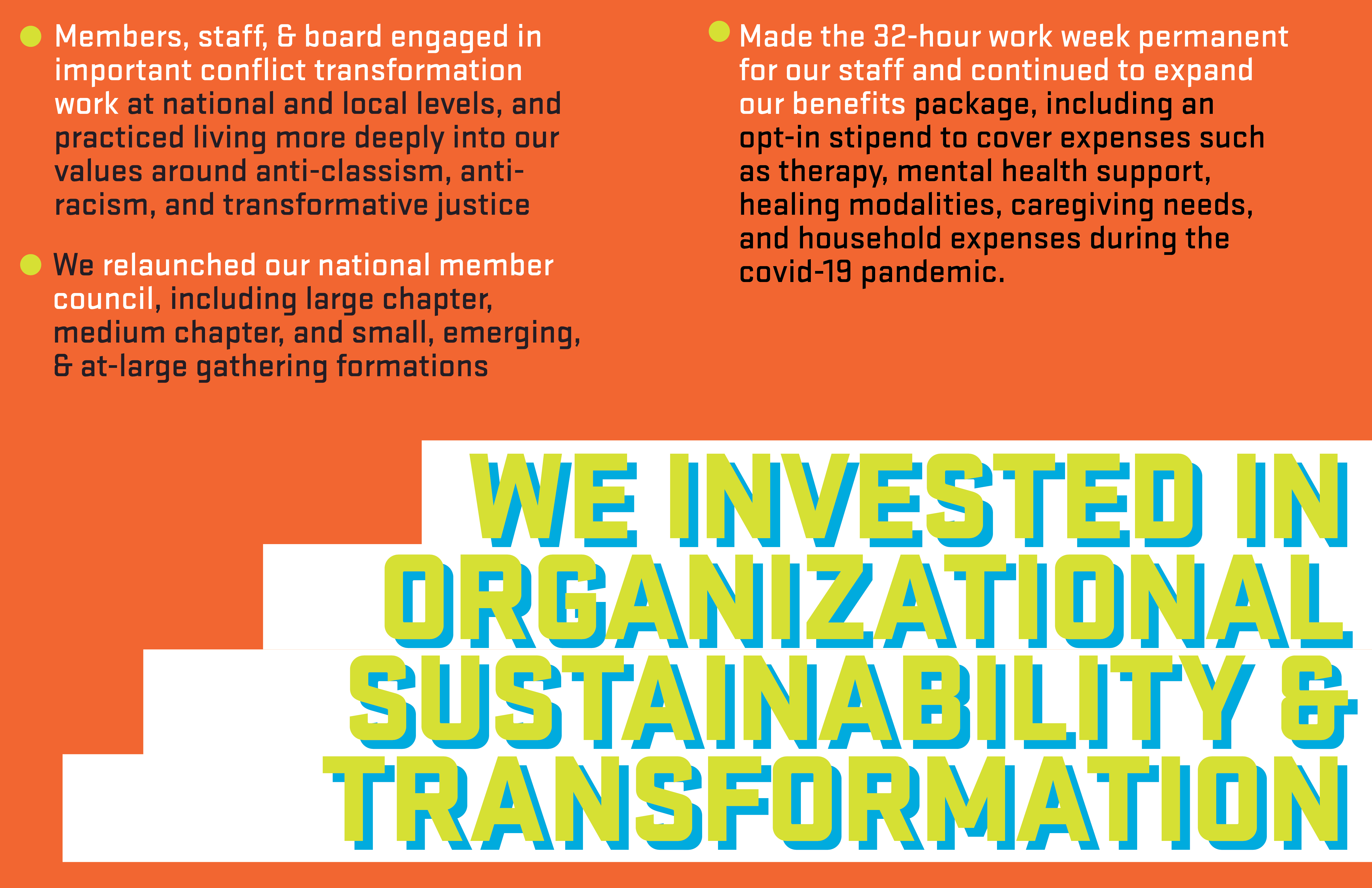 We invested in organizational sustainability and & transformation
Made the 32-hour work week permanent for our staff and continued to expand our benefits package

,

including an opt-in stipend to cover expenses such as therapy, mental health support, healing modalities, caregiving needs, and household expenses during the COVID-19 pandemic

Welcomed 4 new staff members

(and 3 new staff babies! 🐣) onto our team

We

relaunched our National Member Council,

including Large Chapter, Medium Chapter, and Small, Emerging, & At-Large gathering formations

Members, staff, & board engaged in important conflict transformation work

at national and local levels, and practiced living more deeply into our values around anti-classism, anti-racism, and transformative justice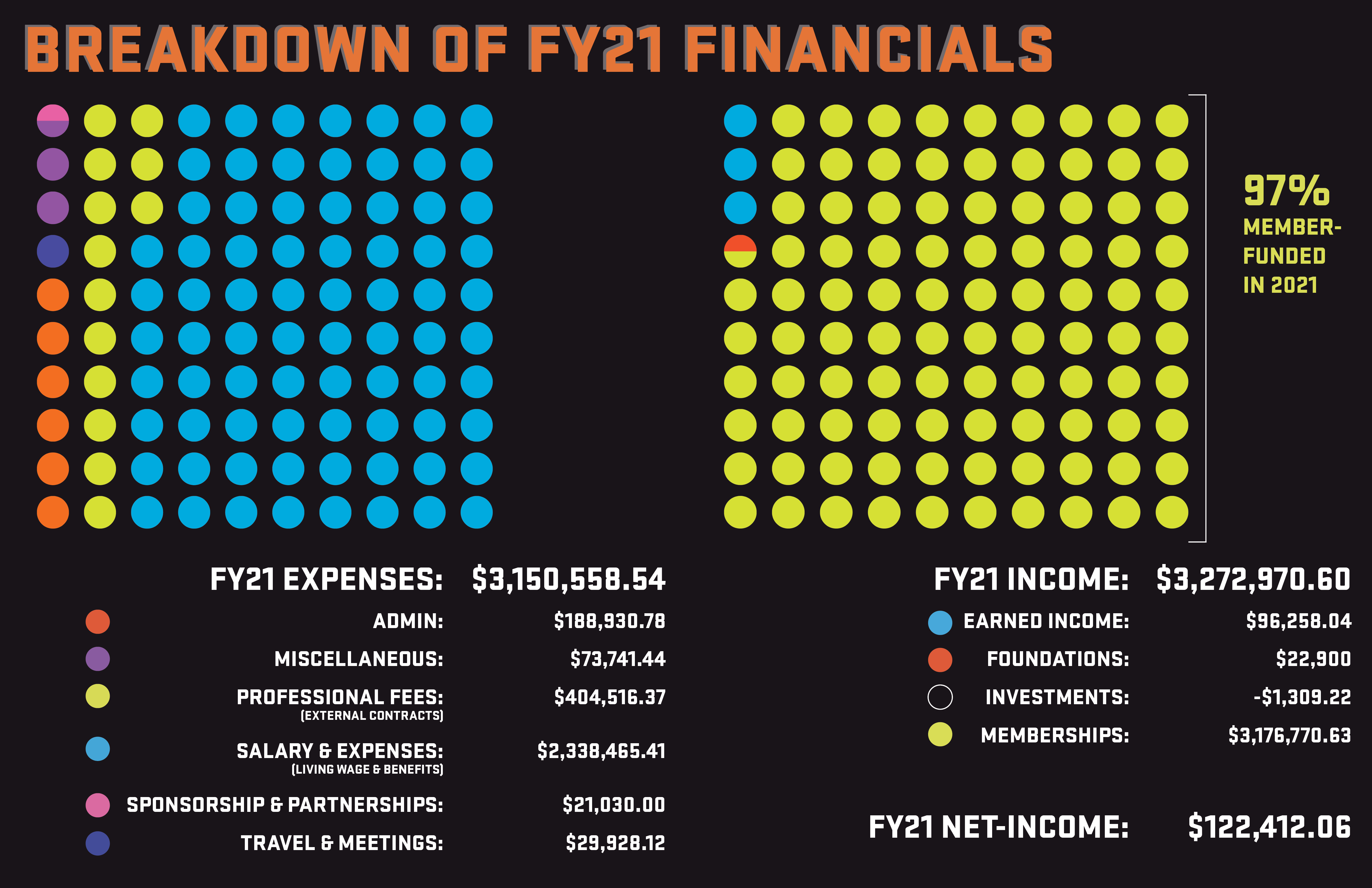 FY21 expenses: $3,150,558.54

Admin: 188,930.78

Miscellaneous: $73,741.44

Professional Fees (external contracts): $404,516.37

Salary & Expenses (living wage, benefits, & professional development for our staff team): $2,338,465.41

Sponsorship & Partnerships: $21,030.00

Travel & meetings: $29,928.12

FY21 income: $3,272,970.6

Earned Income: $96,258.04

Foundations: $22,900

Investments: -$1,309.22

Memberships: $3,176,770.63

FY21 Net Income: $122,412.06
Closing: Thank You & Onward
To our members, alumni, organizational partners, staff, board, and everyone else in the broader RG & movement community: thank you so much for all the ways you showed up in the work this year. We could not have had the impact we've been able to have without every single one of you.
Please don't hesitate to reach out if you have questions about our work. And if you're not already, consider becoming a dues-paying member of Resource Generation today.
Toward the equitable distribution of wealth, land, and power in our lifetimes,
Adam Roberts
Resource Mobilization Director
May 2022