I'm writing this in the midst of the reality of the Senate tax bill sinking in. I'm writing this as someone who personally has benefited from tax evasion and wealthy people hoarding wealth. I'm writing this as an anarchist who doesn't believe that the state is interested in our liberation. I feel mad with waves of heat in my body; I feel fired up for change.
Here's what I know.
My dad has made a lot of money over the years in Morocco passing through his trading of plastic raw materials as agricultural products (taxed much lower in Morocco). This loophole has let my dad undercut a lot of plastics importers and make a lot more wealth trading than we used to as just manufacturers.
When I ask why, he points to government corruption.
When I ask my 17-year-old brother what he thinks the biggest issue facing Morocco is, he says, government corruption. When I follow up and ask "what about poverty? do you think poverty should exist?" He says, "Without poverty, we couldn't be rich, poverty has to exist."
I cannot explain to you the myriad ways my heart broke hearing that. Because of his youth, because he's my family, because we share an analysis of the system, but differ sooooo vastly on whether or not that is a good thing.
Like I mentioned before, I don't much like the government, or borders, or police, or the military. There is a younger version of myself who refused to vote.
But I know from my lived experience that taxes and the programs they fund keep people alive and are the best way we have to force some amount of redistribution.

I know this because while my dad was making millions in Morocco, I was getting breakfast and lunch for free at school. As a small child, if it wasn't for WIC (Women Infants and Children) I'm not sure what my family would've eaten, or at the very least whether or not it would've been healthy. If it weren't for things like the Earned Income Tax Credit, we might've experienced homelessness longer and more frequently than we did.
Wealth is going to grow with the Senate tax bill and become further consolidated among fewer people. Mainstream philanthropy will also grow as wealthy people have more money and there are bigger gaps to fill.
Now more than ever we need to be funding organizations that are fighting to change things at the systemic level. We need a new economic system yesterday. We need reparations 100 years ago.
I'm calling on people like me, young folks with access to family, current, earned, or future wealth, to move more to the grassroots — to organizations fighting for racial and economic justice.

As a small part of that, I ask you to join Resource Generation as a dues-paying member or renew or increase your giving to RG. Ten percent of your overall giving keeps us going and doing this necessary organizing. Our work is critical in moving more resources to poor and working-class led organizing.work is critical in moving more resources.
As a National Organizer with RG, I'm offering an hour of one-on-one support on people's giving plans to anyone who wants it. Let me know if that's you: yahya [at] resourcegeneration [dot] org or get in touch with your chapter organizer here.
—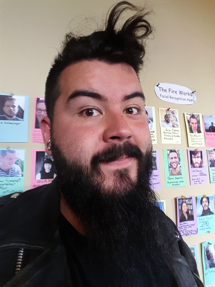 Yahya Alazrak is a National Organizer and Coordinator of POC Programs for Resource Generation. Resource Generation is the only organization in the U.S. organizing young people with wealth toward the equitable distribution of wealth, land, and power. As a result of becoming a member of Resource Generation, our members end up giving away 16-times more money to economic and racial justice organizations than they did before. Learn more and support our work by becoming a member here.