This year's Making Money Make Change (MMMC) conference in Stony Point, NY was the largest and best MMMC I've attended since I started on staff back in 2014. MMMC is Resource Generation's signature conference, and is the only conference in the country that specifically brings together young people with wealth (age 18-35) to build community, gain skills around financial literacy and giving, and learn how to move their resources to support social, economic, and racial justice.

This year's conference had 100 young people with wealth in attendance. Taking place a year after the elections, there was a strong sense of clarity and urgency about the role of young people with wealth to step up in this political moment and challenge the massive racial and wealth inequality at the root of so much suffering in our country.

This was my fourth MMMC and my first one as Executive Director. What stood out to me about this conference was the energy in the space, people's willingness to move into action, and our growth as an organization in emphasizing campaigns, working across class, and the moral imperative of redistribution.

The Leveraging Privilege panel (recorded video here) forefronted the message of interdependence, not doing this work in isolation, and the importance of building strong relationships across class. In particular, Yasmeen Perez from Social Justice Fund NorthWest and Ro Adler, RG Philly chapter leader, talked about the transformative experience of organizing and participating in cross-class giving circles where everyone gives a meaningful gift, fundraises their networks, and then makes grantmaking decisions together.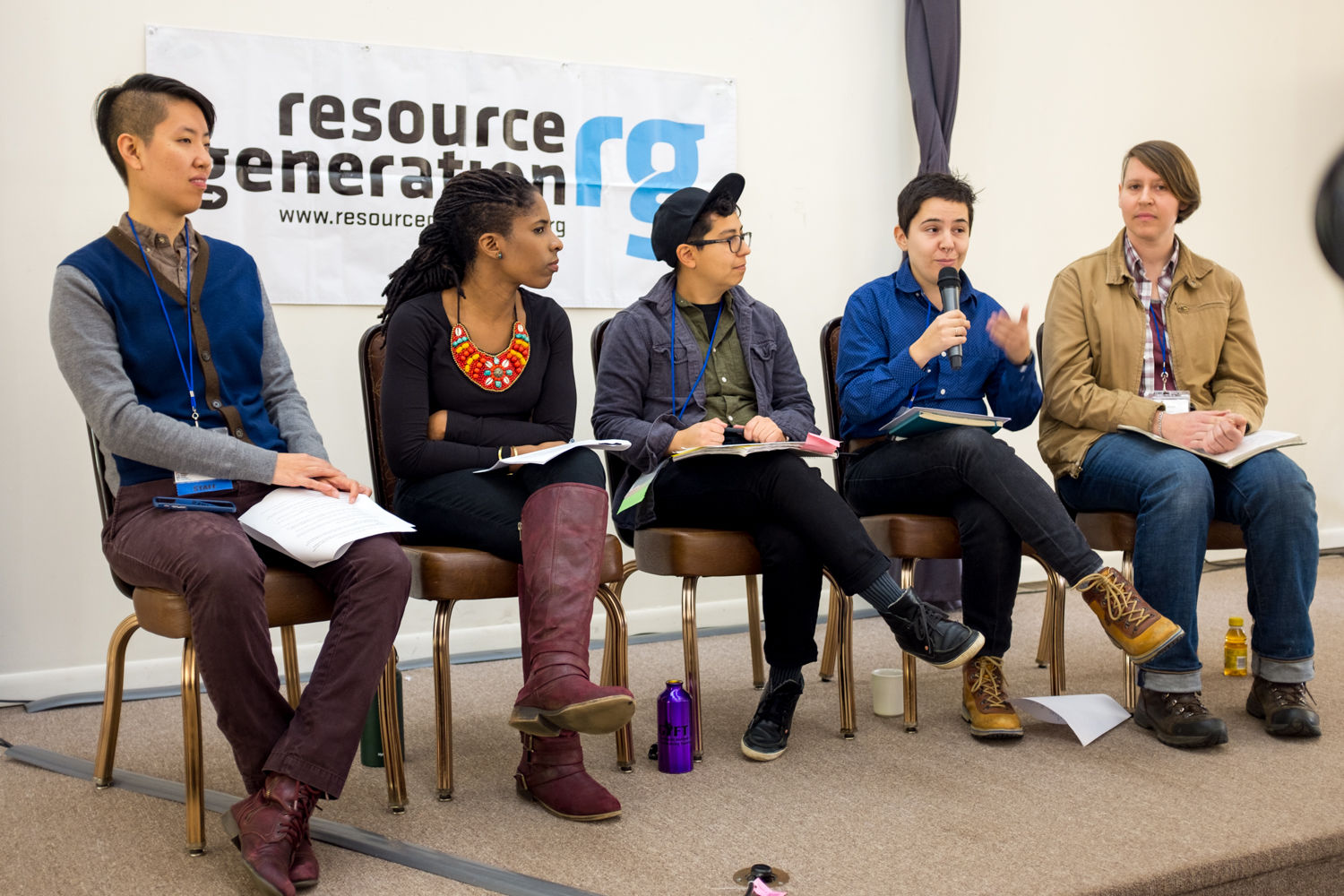 When it came to emphasizing the importance of redistribution, the most powerful call to action was in the Money Survey. The Money Survey is a plenary included in every MMMC. We ask participants to complete a survey asking questions about their giving, class background, and wealth — including individual net assets and family net assets. Every year we see a pattern of first-time attendees giving a tiny percent of their total individual net assets (this year the average was 0.3%) and returning participants giving exponentially more (the average for returning participants was 6.6%).

This year for the first time we asked participants to set a goal of giving at least 5% of their net assets away each year as a minimum baseline of giving. Some of our staff members from poor and working-class backgrounds responded to the ask by reminding people that they could give all of their net assets away, and to move much more boldly beyond 5%.

The push resonated with our participants — many mentioned in the evaluation how they thought 5% was much too low of a benchmark. In previous MMMCs, I've experienced organizational hesitancy around asking members to give more and I'm proud that due to the leadership of poor, working, and middle-class staff, board, and partners we have become more and more clear that giving is a necessary act of redistribution — not charity — and one way to return wealth to the communities it was extracted from.

One way participants could take concrete action for redistribution at the conference itself was through participating in our Action Booth. At our Action Booth we asked participants to join Resource Generation or increase their membership dues, and match their contribution to another social justice organization. We encouraged people to give exponentially more to other organizations, using Resource Generation's membership-dues as a starting point to then give 2x, 5x, 10x as much to another organization. Through the Movement Match we raised over $260,000 in new money to grassroots organizations. In a self-organized opt-in fundraising space, members organized each other to pledge an additional $270,000 to six Black-led land reparations initiatives. In total, about $530,000 was pledged to movements through the conference. While this was an exciting start, it represents less than 1% of the total net assets held by attendees.

Although the journey for young people with wealth as a member of Resource Generation is anchored by the day-to-day organizing and strong relationships that keep us moving on the path toward the equitable distribution of wealth, land, and power, Making Money Make Change is precious and powerful. Spaces like this aren't supposed to exist under capitalism. But by coming together, we demonstrate our collective diversity, courage, and commitment to playing our part in dismantling an economic system that pits all of us against each other. Making Money Make Change helps us all work together towards a future that can't be won alone.

—


Iimay Ho is the Executive Director of Resource Generation.
 
--
Resource Generation (RG) is the only organization in the U.S. organizing young people with access to wealth toward the equitable distribution of wealth, land, and power. 
As a result of becoming a member of Resource Generation, our members end up giving away 16-times more money to economic and racial justice organizations than they did before. Learn more and support our work by becoming a member here. If you need help figuring out your class background, check out our definition of wealth and/or fill out this intake form to have one our national organizers get in touch with you.