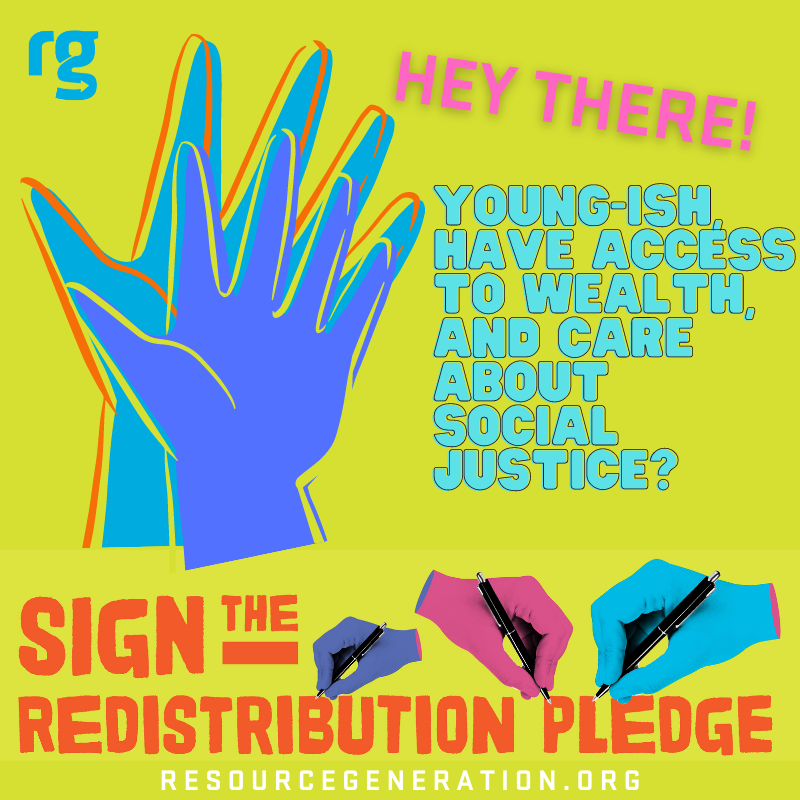 Our Fall Redistribution Pledge and Membership Drive begins this week and I'm asking you to commit to three things:
Commit to yourself, your inherent worth and dignity, and the ways in which you'll benefit from a world where everyone has enough, and that together we'll all have much much more than that.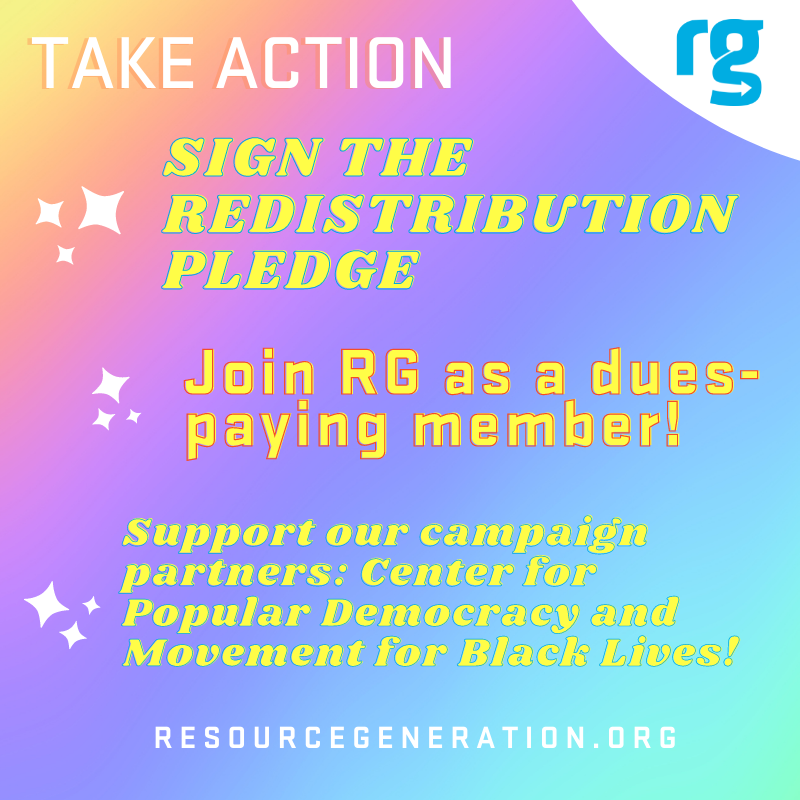 Less than 2 months ago in mid-September, I became the Executive Director of Resource Generation, having been a member and on staff for over six years. It's an exciting time to be moving into this role as RG has:
more members, chapters, and member-leaders than we've ever had,
ever deepening partnerships with the Center for Popular Democracy, the Movement for Black Lives, and dozens more organizations at the local level fighting for social justice,
and our next phase of strategic planning is on the horizon – we're making a strategic plan for the next five years. It's an opportunity for us to decide what we want to double-down on, what we want to try out, and what we want to leave behind that no longer serves our work.
What feels clear is that movements need Resource Generation to be organizing young people with access to wealth to be playing our part in solidarity with poor and working-class led movements for economic and racial justice — and for me, I know I need the community, purpose, and hope of RG to live into the stories of redistribution that our movements need to win. 
My redistribution story takes place in the fluorescent aisles of a Cash & Carry in Tampa. (Similar to 'money stories,' which are our stories of self through the lens of money and class; redistribution stories are our stories of self through the lens of redistribution).
Back then we didn't have a lot. If you could afford to buy me a Happy Meal whenever I wanted, you were rich, and my mom couldn't every week so I considered us poor. What we could do was go to the grocery store, and fill our cart with Cheerios, Kix, Juicy Juice, and peanut butter. None of those foods came with toys, but for breakfast and lunch throughout the week I had enough.
This was possible because of the Special Supplemental Nutrition Program for Women, Infants, and Children, also known as WIC. This is a federally funded program that redistributes tax dollars to families like mine, even in places like "anti-handout" Florida. WIC is life saving for so many, a lifeline for survival, but it is far from the resourcing people need to thrive. When we talk about "involuntary redistribution," we're talking about programs like this and dreams of an interdependent social fabric that goes much much further.
My redistribution story also takes place overlooking the rolling green hills around the Highlander Center in New Market, Tenessee.
It was my first month working at Resource Generation, and I decided I needed to be a dues-paying member. I was becoming passionate about our mission, about the power we could shift, and I wanted the pride of being able to say I was a member.
I didn't have a giving plan yet, and didn't have any other redistribution commitments. Within a week, I commited to three other organizations at $21 a month, some months later I was moving $300 a month to Social Justice Foundations and organizations using community organizing to win the changes our society needs. At the time I had negative net assets (student loans) and a salary of $51,000 a year.
Today I make a salary of $102,000, have net assets of $40,000 (mostly retirement), and am moving at-minimum $7,000 a year to movements (not counting giving to friends, family, and community members).
And in the future, my redistribution story will take place off the dusty streets of Casablanca, Morocco, in the offices of the plastics business my dad's family owns. It will be a somber and tender time with my brothers, discussing the inheritance our father will leave us and we will do with it. My plan for when that happens is to give my share of the family business to the workers.

What's your redistribution story..? What do you want it to be? What should it be? What can it be?
We invite you to figure that out in community with young people with access to wealth who are committed to the equitable distribution of wealth, land, and power:
Those numbers are big, but I know we'll meet them when each of us does our part for the whole.
I couldn't be more proud to be a part of this community, and I look forward to continuing to be a part of it with you.
With Gratitude,
Yahya Alazrak
Executive Director