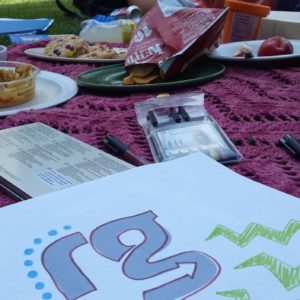 Hey RG!  I'm here today to talk about my experience fundraising members for RG – but first let me tell you a little bit about my own RG journey, because that's really where the story begins.

I found RG almost four years ago, when I was a freshman in college at Stanford University.  I participated in one of the first praxis groups at Stanford, and before I knew it I was organized into chapter leadership and convinced to attend Making Money Make Change.  I had no idea what I was getting myself into.  But here I am, four years later, and RG has been a game-changing political home for me, a place of personal support, transformation and accountability, and a group that will always bring a smile to my face or a dance move to my body in the midst of important and complicated work.

Earlier this year I participated in Resource Generation's Spring Appeal, an annual effort to recruit new dues-paying members to RG and encourage current members to renew.  My experience had some parallels to my entire RG journey – I had no idea what I was getting myself into, but four months later I'm so glad I jumped in.

Why did I participate in such a thing?  Mostly it was because I've loved being an RG member myself!  I was also curious how the process worked and wanted to build more skills around fundraising (there's my self interest).  Over the past few years I have also come to see how powerful and important it is that RG is mostly funded by members: it keeps members invested in the work and accountable to each other and ensures RG doesn't take limited movement resources from groups led by those most affected by oppression.  I also know that on average people give drastically more money after joining RG, so fundraising for RG is one way to get more financial resources to all kinds of social justice movement work.  
I knew this increase in giving to be true for myself.  Before finding RG I gave less than $100 a year and before becoming an RG member I only gave money sporadically, usually around the end of the calendar year.  Since finding RG my giving has risen to $500 a year and since becoming a member I have started giving to nine organization on a monthly or quarterly basis, much more in line with my commitment to sustaining justice work for the long haul.   

So what did I do?  With the help of our chapter's national organizer (thanks Iris!) I made a list of people in the chapter who I wanted to ask to become members.  And then I asked them and it actually went WAY better than I expected.  Almost everyone agreed to talk about membership with me in person.  Everyone I talked to said yes or that they would think about it.  It was incredible to hear so many yes's!
I found that two things in particular were really helpful in empowering others to join RG as members:
(1) Explaining what RG does on a national level: All of the people I fundraised had never been to a national RG conference, so many didn't understand what happens in RG beyond chapter work, and therefore didn't understand the need for dues-paying members.

(2) Explaining the significance of RG being primarily funded by members:  This especially helped people deal with the often-present question of "if I'm gonna give $$ to movement work, why would I give it to rich kids??"
Fundraising wasn't all rainbows and butterflies.  It felt super uncomfortable, especially at first, but I found that with preparation and support (thanks again Iris) I could get through the discomfort. Some people just straight up didn't want to talk to me, which felt frustrating.  People's reluctance to talk about membership reminded me that it's really hard and often scary to talk about money, even if we are involved with RG.  All of this awkwardness around talking about money reminded me that it's super important that we engage in practices like Money Stories to break through the shame and silence that only serves to uphold our current economic system.
I would really encourage all RG leaders to fundraise, especially if you yourself are excited and proud to be a dues-paying member!  I would also highly recommend it if you want to build on your organizing skills and step into a new kind of work in the organization. Any kind of donor organizing we do, whether in family philanthropy or giving circles or in partnership with social justice funds, will require us to ASK our peers for money.  Fundraising for an organization that benefits you is a great way to learn those skills within a supportive network and community.  

I learned that fundraising is important to me because we are all in this work together and therefore we all have the responsibility to support the work in the ways we are able. If you get the chance I highly encourage you to try it yourself.  You might be surprised by the ways your skills and perspective grow from the opportunity!