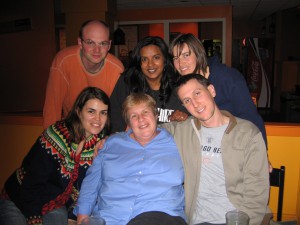 I just read an email that Felice Yeskel, the former Executive Director and co-founder of Class Action and an inspiring activist for justice and against oppression, has passed away. Reading the note, I was struck by the real impact Felice has made on my life despite the few times we met or talked in the last four years. She is an amazing women and I hold her memory close to my heart.
One reason I am proud to share is that she is family. After meeting, we quickly figured out that we are related through the Gast family, that our grandfathers or great grandfathers must have know each other well as part of their extended New Jersey Jewish family. I was (and am) so pleased and proud to know that someone as fierce and smart and strong as Felice is related to me. It gives me hope and vision for the type of dedicated and powerful Jewish leader and activist I can be.
Another reason is something she said to a group of participants at the Making Money Make Change Retreat in 2008. She was participating in a small group discussion on the question "How much is enough?" I don't remember much from the conversation except her comment. While the exact words escape me, the sentiment and what I took away from what she said is this:
Imagine if there is a 50% chance that giving half of your wealth to social justice will lead to the structural change you want to see in the world. Would you take the risk? Would it be worth it? What if there was a 25% chance? A 5% chance? A 1% chance? Investing in social justice is an act of faith. There are no guarantees, their is no magic formula. There is our faith that a better world is possible and that it is worth the small chance that our dollars, our time, our energy will make a difference.
These words and this sentiment has stayed with me ever since. From my brief time knowing Felice, it was clear that she possessed a deep faith in justice and in the possibility of a better world…and she was going to work fiercely for it at every turn. This clear belief was incredibly grounding to be around as it touched the spiritual roots of my own (and I'm sure many others) reasons for working for justice.
Thank you Felice! The memory of your life and words will continue to help me and so many others keep the faith, fight oppression and work for change.