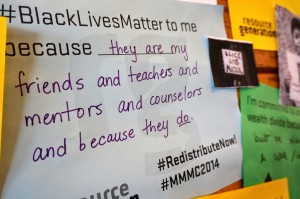 I am a new member of Resource Generation, and a constituent: a young person with wealth. I got involved in conference calls for "RG supports black led organizing" in response to feelings of isolation and powerlessness, and a strong desire to support the resistance to anti-black racism and police violence in cities like Ferguson. Leaders at RG – specifically two current and former board members, working-class black women, Nakisha Lewis and Monica Simpson – pushed our organization to action, guiding us to become accountable specifically as young people with wealth. I joined in at the second call, and from there ideas (and my involvement) snowballed.
In order for RG to become sustainable funders and supporters to the movement of black resistance to state violence and to center all black lives, member-leadership was called on to move this developing initiative forward into the upcoming annual RG retreat, Making Money Make Change. At the retreat, staff constructed a wall, where volunteers posted their personal commitment to #BlackLivesMatter (as a hashtag, movement and rallying cry) and ending the Racial Wealth Gap, which, for me and I think many others, was a challenging process of getting over fears of "not knowing the right thing to say," but eventually realizing that all of this was bigger than our own egos – and together – the statements presented a fuller picture of why black lives matter to us. There was also a laptop open to the Color of Change petition throughout the retreat; and many elected to take photographs with their statements.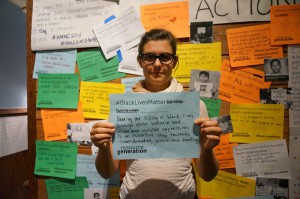 On the day of the Money Survey, Willa Conway and I (with the deep guidance of Nitika and Kaitlin) facilitated an Open Space, where we invited our peers into deeper involvement in supporting black led organizing. For me, this was a crucial moment because I was unable to run away from embracing my role as a young white person with wealth in responding – not just analyzing, or reading about, or seeing as separate from myself –  the murders of so many black youth. I had to publicly identify why I care about anti-black racism and state violence (why?) as an upper-class, white woman; bring my heart close enough and humble myself enough to admit where I was stuck; and stop ignoring my financial resources, which – earlier that day – were nakedly revealed to be in combination with the resources of others literally billions of dollars.
That day, I stepped into leadership – a position that I was prepared for by a few years of involvement in anti-racist work, and growing intimacy with my own pain around and connection to white supremacy and anti-black racism – and I knew that I would henceforth be held accountable by every other leader in the room.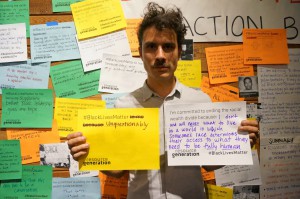 But let's remember how I got here. We are becoming allies (supporters and funders and those seeking collective liberation) to the movement of black liberation organizing. In many ways, this movement has been described and fueled by the hashtag #BlackLivesMatter – a hashtag;but also  a political project that strives to center all black lives – queer, trans, disabled, incarcerated – as much as cis male lives in black resistance; a call to action; a direct result of the murder of Trayvon Martin; and an "ideological and political intervention in a world where Black lives are systematically and intentionally targeted for demise" – created by three Black queer women activists: Alicia Garza, Patrisse Cullors and Opal Tometi.
        All of this was in place when we stepped in, so it is important to be transparent. From the beginning, we – now, a "core four" team of three young white people with wealth – myself, Willa Conway, and Jen Willsea – and a young, middle-class African-American advocate member of RG, Chad Jones – have been guided by a very expansive network of allies and black organizers, who are also members of or support the work of RG. Including Nakisha Lewis, Monica Simpson, and Maurice Mitchell – and the gratefulness that I have for these connections is growing exponentially. The urgency and shape of RG for black liberation organizing has been crafted and informed by these folks – and we very literally not see clearly the path ahead of us without their leadership. And despite the focus on moving resources – a specific need that RG is particularly equipped to fulfill – this organizing is about more than money. It is about developing leadership within RG and funding leadership development in black organizing; learning, understanding and practicing solidarity; building sustainable relationships; and educating ourselves about the cutting-edge work of black organizers, the financial needs of social movements, and the significance of anti-black violence as well as the response to it.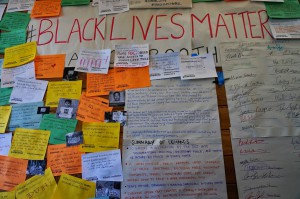 This is where "RG for black led organizing" stands now: a few weeks after MMMC, and just a couple months after an RG response to Ferguson was catalyzed, the core four; dedicated staff members; and allied black organizers are working toward a goal of pledging $1,000,000 to black liberation organizing in 3 to 6 months – an amount to be apportioned sustainably to black-led groups, with the advisory of black leaders and organizers. We see this as an opportunity of both leveraging resources and deepening our understanding of state sanctioned violence against black and brown bodies (which occurs in varied, but equally horrific and unacceptable ways). We know that racial violence and wealth accumulation are deeply connected in American capitalism. By collectively learning, acting, and funding together, we see opportunities for shifts in consciousness and in systems – finding our roles in the movement towards collective liberation.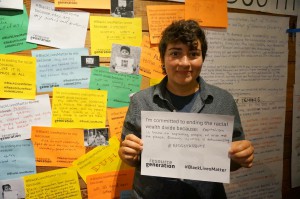 As of right now, we have around fifty-five folks involved and (probably over) $409,360 formally pledged!!! This funding includes resources pledged by working/middle class RGers – staff, partners, presenters, activists, and allies, which is crucial to highlight, since giving by those without wealth often vastly outnumbers what we wealthy folks give away of our assets.
In writing this blog post, we are going public with this burgeoning campaign. Through making ourselves known, we hope to amplify the movement of crucial financial resources to black individuals, communities and organizations. This is a movement – not a moment, as so many black leaders have decried – and the steady, every-increasing flow of resources into black hands, schools, communities, leadership, organizations and radical actions must be sustained for the long term. We would love to have (and need) more folks join us. For more information on how to get involved, contact [email protected] or [email protected].
P.S. – In this project, we are trying to track how much money the RG community is moving to black-led organizing. If you have given money, or are pledging to give money to organizing in Ferguson or other organizing you'd consider "black-led" and "for black liberation," please send an email to either Lily or Willa, as provided above, and include your name, amount given and/or amount pledged, dates of both, and the organizations given/pledged to.