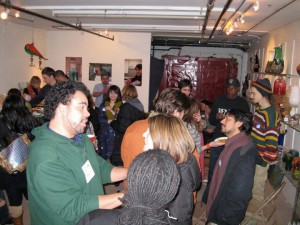 "We fuel the fires of our time through lifelong dedication / standing by artists who hand out jewels of inspiration."
– Ryan Hollan, poet, urban planner, peace keeper, and circle member '08
Five years ago, a spark went off for me during a giving plan workshop that Jamie Schweser led at MMMC. That following spring, I donated appreciated stock to seed fund a giving circle which would become The Fire This Time Fund. In cooperation with a diverse group of artists, activisst and organizers from Chicago, we celebrated four years of creative social justice grant-making by showcasing the talent of our circle members, awardees and larger community to help raise money for the fund in May 2010.  Each year, the circle rotates membership, inviting new folks and awardees to join and learn by doing. In total, we have awarded over $50,000 to local, uninstitutionally-supported, creative social change projects in the way of small grants of $500 – $1000. And we created a short documentary video of "The Great Collaboration: Celebration and Round Table" event of which we are pretty proud. You can watch it below or on our website www.firethistimefund.org.