This post is a part of the blog series and RG campaign, "It Starts Today: Moving $1 Million to Black-Led, Black Liberation Organizing." Click here for more info on the campaign.
What can we as Resource Generation members do to show up for Selma, Alabama and the U.S. South, 50 years after the height of the Civil Rights Movement shook our nation? With rampant rollbacks of hard-won civil rights victories – most notably the gutting of the Voting Rights Act; a dramatic lack of funding for grassroots organizing; aggressive attacks on immigrants; stalwart segregation; and high poverty rates, how can RG members engage in meaningful, accountable, cross-regional funding that supports the South and the rest of the country?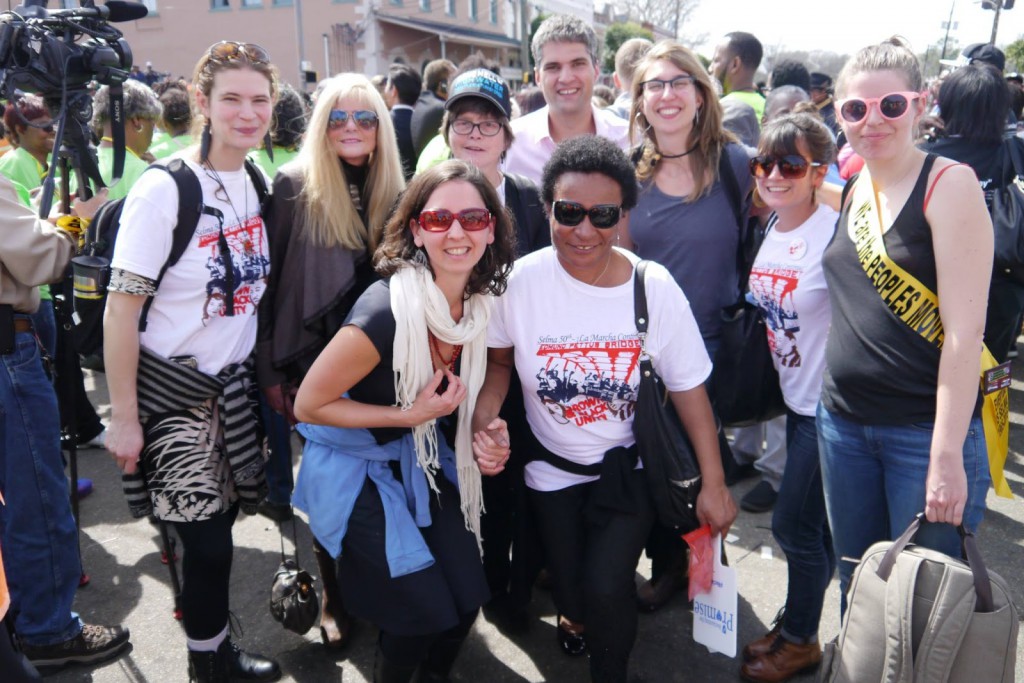 The delegates (missing Robyn (volunteer) and Lily (volunteer-delegate)!
These were the questions we held as a Resource Generation delegation to the 50th Anniversary of Bloody Sunday and the Voting Rights Act in Selma, Alabama, organized by the Alabama Coalition for Immigrant Justice (ACIJ). We still don't have all the answers, but we did come away with concrete action steps, in response to our goals:
to seed long-term relationships between donors/funders and grassroots organizers in the South, by giving to a growing partnerships working toward Black&Brown unity
to foster cross-regional solidarity in funding, through hosting fundraising parties in our home cities
to educate ourselves about the role of the South in the national movement landscape, and to report-back to others about what we learned
to ground ourselves in Civil Rights history and present-day racial justice struggles.
Throughout the weekend, we studied the movement landscape of the South; investigated the current work of immigrant and African-American organizers to build Black-Brown unity; and considered our role in movement building, as donors invested in movements for racial justice at home and in Alabama.


While we immersed ourselves in the experience of honoring the 50th Anniversary Commemoration and studying both the Civil Rights Movement and current Southern movement landscape as activists and organizers, we wore donor "hats" and received both formal fundraising appeals and casual introductions to areas of financial need in Alabama and in the South. Jen Willsea and I, Resource Generation members, want to share our personal experiences, our honest reflections, and our ideas for how RG members can engage in funding Southern organizing. *(To follow up with us directly, please see our contact information at the bottom of this post).
Additionally, we want to share that in reading and reflecting since Selma, we have continued to learn. For instance, among many other contradictions of the #Selma50 weekend, we realize that Selma as a town will not benefit from the convergence. Faya Rose Toure – the first Black female judge in Alabama – sent this message, "…the tragedy, Toure says, is that people will see the movie, the 50th anniversary of Bloody Sunday will arrive in March, people will symbolically cross the historic Edmund Pettus Bridge, and Selma will stay the same. 'People need to do something for Selma,' she says. 'They come, peer at us, and leave.'" This is among many nuances to keep in mind!


On Thursday night of our trip, we were introduced to Greater Birmingham Ministries, a hub of social justice campaign work, coalition networks, and social services in Birmingham, as well as the Highlander Center for Research and Education, a popular education and movement research center with a long tradition as a catalyst for anti-racist and anti-classist movement-building (and where RG hosts our annual Transformative Leadership Institute!).
As Erika Merz described, "Scott Douglas of Greater Birmingham Ministries explained to us how conservative backlash against human dignity, so strongly manifested in the south, is holding all of America back from progressive liberation. Therefore, for us all to be free, we must support the liberation of the south."
Scott Douglas also introduced us to the Save Our Selves (S.O.S) coalition, a multi-racial network including the NAACP; the Federation of Southern Cooperatives; and ACIJ. The S.O.S. coalition is fighting against the passage of extreme, regressive laws such as voting rights restrictions and loss of Medicaid to over 300,000 Alabamians.
And that was just Day 1! On Friday, we learned from Elandria Williams and Pam McMichael of the Highlander Center. Elandria spoke about the unique need for Black-owned cooperatives as a crucial arm of building economic power and fighting racism in the South. Specifically, Elandria mentioned the "Southern Reparations Loan Fund," a fund envisioned as a central hub and fiscal host for donors who want to finance the creation of Black-owned cooperatives in the South.
Also on Friday, we toured the 16th Street Baptist Church, where the four little girls were killed by a KKK-planted bomb, and the Birmingham Civil Rights Institute. At the end of the day, we enjoyed a home-cooked, soul food dinner, and learned about the Alabama Coalition for Immigrant Justice, a statewide immigrant justice organization, which beat back the anti-immigrant law HB-56 and mobilized a hundred immigrant leaders to attend the commemoration at Selma.
Casey Llewellyn, delegation participant from New York and RG member, describes the evening:
"I felt in awe of the bravery of ACIJ members who made the decision to stay in Alabama and organize under the threat of detention and deportation after HB56 passed. The work of ACIJ and SOS building Black-Brown Unity in the fight for justice in Alabama and their call for my presence and commitment to their struggle as a donor reminds me that all of us are needed in the work of bringing the world we want into existence, and that often that work must be done face to face. It was a deep honor to be invited."
On Saturday, we arrived in Selma! Some of us attended workshops, hearing from The Ordinary People's Society (TOPS), Project South and the Federation of Childcare Centers of Alabama (FOCAL) – as well as Reverend Barber and living legend Diane Nash.




Much of the day, though, was swept up in the chaos of the crowd waiting to hear President Obama's speech. In the evening of this very long day, we enjoyed a meal with ACIJ members, and fell fast asleep.
Late in the morning on Sunday, we arrived at the Slavery and Civil War Museum in downtown Selma, where at least 50,000 others were already rallying. The museum is handcrafted, lovingly created as a memorial to the long, brutal and resilient history of African-Americans. Usually quiet, and a sacred space, during the #Selma50 weekend, the annexed gathering room at the Museum was filled with ACIJ and Southerners on New Ground (SONG) members and organizers.

Before we joined with huge crowds to cross the Edmund Pettus Bridge,, our delegation went back inside the Museum, and exchanged ideas about personal giving and actions we could take to support resourcing Southern racial justice organizing.
Zeke Spier, Executive Director at Social Justice Fund Northwest, Resource Generation board member, and delegation facilitator, invited us to make a financial commitment to the organizations we had connected with. Zeke described the vision of the Save Our Selves Coalition and ACIJ to create a formal working partnership with the goal of building Black&Brown Unity. Our seed money would fund movement leaders from within the coalition and from out of state to strategize around creating change. All of the delegation participants committed to give to this growing partnership. If you would like to learn more about this giving opportunity, contact Jen or Lily, below.

Please contact us for more information on what we learned and how to contribute to Southern movements:
*Lily Andrews: [email protected], 612-205-4965.
*Jen Willsea: [email protected].