Post written by RG staff and board members. Special thank you to board member Nakisha Lewis for kicking this into action. We also released a press release titled "Young People with Wealth Stand in Solidarity with Ferguson, Mo." inspired by this post.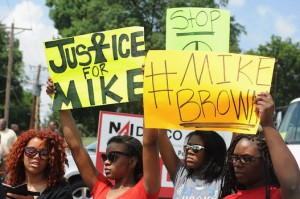 At Resource Generation, we are deeply saddened and outraged over the death of yet another young Black man at the hands of police in Ferguson, Missouri. Michael Brown's cold-blooded killing has inspired days of protests in Ferguson's Black community, met with a militarized response and heavy repression from St. Louis Police.
As many of us know, this is the product of institutionalized racism. We remember Trayvon Martin and so many others, and we know there will be more until we stop the killing of Black men, women, and transgender people, and uproot racism and white supremacy from every institution, community, heart, mind, and action.
The sort of rage and response we see in the Ferguson community did not develop overnight- it was born out of generations of oppression and the gutting of resources from Black communities. This editorial in the St. Louis American breaks down the decades of disinvestment from Ferguson that led to this moment:
"North St. Louis County and many of its municipalities have suffered decades of economic disinvestment, loss of manufacturing jobs and disruption by highway construction and airport expansion. Those who chose to stay in these ring suburbs, or who had no other options, had to live – or die – with the consequences. White flight, particularly to St. Charles County, first hit the school districts, then the tax base. Remaining homeowners are heavily taxed in areas with often struggling schools, little industry and dwindling businesses and services."
There is no one experience of race and class among young people with wealth.  No matter our race, wealthy people and communities are often removed, both physically and through the institutions of our daily lives, from the communities like Ferguson that flash across our news feeds protesting, grieving, raging, loving, holding their arms in the air saying "don't shoot". We are made to feel like their oppression, struggle and grief is separate from the relative privilege and safety wealth brings to our lives. We are told to watch from the sidelines, to not to look too closely at what is happening. We are not separate because as wealthy people of many races, we systematically benefit from the oppression of poor and working class Black communities, today and cummulatively over the past 400 years. We are not separate because we have a role to play in changing this reality.
As young people with wealth united for justice, we must struggle together to do things differently than what we are taught by the systems we live within: We stand in solidarity with the community of Ferguson and we say "no more".  No more  Black lives taken in the name of our safety, our "protection", our property, or our accumulation of wealth. We reject the ways our lives are treated as inherently more valuable because we are wealthy. Today, we say "no more" to the killing of Black people, and we must say it over and over again, with our words, with our actions, and with our dollars.and class among young people with wealth.
We stand in solidarity with the protesters in Ferguson and also honor the long and powerful history of organizing in disinvested Black communities. Resource Generation's existence as an organization is deeply informed by the dreamers and thinkers of the Civil Rights Movement. Our politics of solidarity and liberation were born in part from the leadership of young Black organizers with SNCC and the Black Panthers. Our wealthy movement role models funded and participated in movements for Black Liberation- Harry Belafonte, the Secret Six, the In Friendship Fund, and many others. Many of us follow in their footsteps today as donors and as organizers in our communities. And we can do more. We ask our community to take on the questions: How do we work to end anti-Black racism, and what would it look like to place this question at the heart of our work? How would our lives, families, and wealth accumulation be different if we lived in a world that valued Black lives?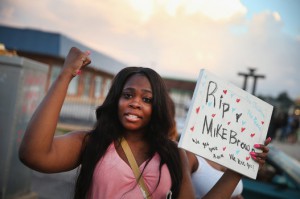 "If we fail to act, the fires of frustration and discontent will continue to burn, not only in Ferguson, Missouri, but all across America." – Congressman, John Lewis
Today, here are some things we can do:
1. Donate to organizations working to build power and resources in Black communities, especially those that are led by and organizing in those communities. Seek out the guidance of organizers, progressive philanthropy professionals, and social justice foundations to help you connect with organizing around issues facing Black communities: police brutality, criminalization, imprisonment, the school-to-prison pipeline, among others. Ask questions like: "As a donor, how can I support organizing that is building power and resources in Black communities?" Some organizations to check out now include the Black Youth Project, Dream Defenders, the Organization for Black Struggle, and this list of social justice community foundations.(Please use the "comments" section to share more). To donate directly to the organizing and community in Ferguson, refer to this list compiled by Jason Franklin, ED of Bolder Giving.
2. Show up to rallies, vigils, and actions happening locally in response to the killing of Michael Brown. Click here for upcoming actions, a round of which are planned for this Saturday August 16. Bring a friend, bring 5 friends, bring your family. Bring your RG chapter. Bring your mosque, synagogue, church, sangha or faith community.
3. Sign this petition, started by the St. Louis-based Organization for Black Struggle with Color of Change. It calls on Eric Holder to "complete a rigorous investigation of the Ferguson Police Department's racially discriminatory policing, prosecute said officers to the fullest extent of the law, and begin the firing process for all involved officers."
4. Organize within RG: Help build a community-wide conversation about how we can play a role in ending anti-Black racism. (Thank you Nakisha Lewis for encouraging this blog post, and to others of you who have led this conversation over time.)
5. Offer specific aid to the people of Ferguson through this spreadsheet.  (We would love to give credit, but are not sure who created this.)
6. Join RG's campaign work for racial and economic justice: Ongoing, strategic policy campaigns are our best chance at creating systemic change that is economically and racially just for everyone. Email [email protected] to get involved.
Read more: