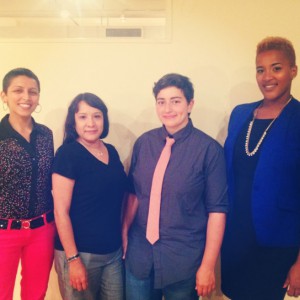 Originally posted on thehuffingtonpost.com on September 10, 2013. Simone Sneed is a member of Resource Generation and a part of the New York City People of Color Praxis Group.
"No building bears their names. No boardroom displays their portraits. No foundation sustains their legacy. And yet, the philanthropists best known to me are the ones in my family, church and hometown. These are people who showed a profound love for humankind and taught me about giving."

From Valaida Fullwood's, Giving Back: A Tribute to Generations of African American Philanthropists
On Monday, August 26, 2013, several members of the Resource Generation NYC People of Color Praxis Group joined together with the North Star Fund to elevate the rich history and connection between justice and giving in Black communities as part of Black Philanthropy Month 2013. The space was filled with diverse life experiences; profoundly personal stories of community transformation and an active desire and yearning to be in collective dialogue.
From the early years of giving that established the Black churches which provided a literal and figurative sanctuary for civil rights work, to the more recent philanthropic engagement of communities dedicated to economic and racial justice, Valaida's work comes a critical moment in time.
What follows is an intimate interview between myself and author Valaida Fullwood:
What is the most memorable and personally poignant story that you captured in your interviews and why did it feels so important to share it?
That's a tough question, because it feels like being asked to name my favorite child. I love and appreciate each story for its own merit so choosing just one is hard.
Ill-placed fixations on only the monetary dimensions of philanthropy spurred me to write about the abundance of love, care, joy and interconnectivity that's prevalent in African American traditions of giving. Our stories serve to reclaim the root meaning of philanthropy: love of what it means to be human.
Giving Back is a centerpiece of the ongoing Giving Back Project, which ventures to ignite a movement of conscientious philanthropy by empowering generations of Americans to recognize their power and responsibility to give back.

What do you hope the book accomplishes?
"Until the lion writes his own story, the tale of the hunt will always glorify the hunter." That African proverb, along with the full title of my book, reveals one of my many hopes for Giving Back. I hope the book glorifies and pays tribute to the generations and generations of African American givers whose stories of philanthropy have, historically, been untold and undervalued.
My boldest hope is that Giving Back reframes portraits of philanthropy. That it sets new expectations of greater inclusion in 21st-century philanthropy–that is, whose stories are invited, cited, told, depicted, documented, celebrated, analyzed, modeled and respected.

Where do you see Black philanthropy going in 2013 and beyond, what is your vision?
It has been 150 years since the signing of the Emancipation Proclamation, 50 years after the Great March on Washington and MLK's "I Have a Dream" speech, 250 weeks into the era defined by the election of President Barack Obama and 50 days after the verdict in the shooting of Trayvon Martin. I see the convergence of these and other events of 2013 contributing to a social watershed for African Americans, with our philanthropy becoming a crucial force.
No matter your current status, if you're Black, it is increasingly difficult to ignore reminders of the tenuous state of our collective freedom, power, employment, opportunities, safety, wealth, health and dreams. I see this year marking a sharp turning point. Black philanthropy can become a tool to tighten our ties as communities of Black people. Black philanthropy poses an opportunity to extend wisdom from the Civil Rights Movement to address challenges today. And Black philanthropy is a vehicle for innovation in how we create change, based on insights, access and technologies acquired since 1963. Further, by 2015, the collective buying power of African Americans is estimated to reach 1.1 trillion dollars. So I see a people with formidable assets–financial, cultural, spiritual and intellectual–to invest philanthropically, which, once fully appreciated within our communities, are certain game-changers.

Valaida Fullwood is a writer, project strategist and award-winning author of Giving Back. An "idea whisperer," Valaida brings unbridled imagination and a gift for harnessing wild ideas to her work around philanthropy, education and arts and culture. She helps organizations drive ideas forward by managing their projects and writing their stories.
Valaida was recently selected the 2014 Lake Distinguished Visitor at the Lilly Family School of Philanthropy at Indiana University. She is a founder of New Generation of African American Philanthropists and a contributing writer for BlackGivesBack.com. For Black Philanthropy Month 2013, she is a lead architect, conceiving of and designing this year's unprecedented, global celebration. More of her story is shared in her TEDx Talk on philanthropy, identity and epiphany.