When you bring motivated, passionate Resource Generation chapter leaders together from across New England, the discussion inevitably turns to tackling difficult, important questions: Thai or Lebanese? (Lebanese) Order pizza or go out to the local Japanese restaurant? (Japanese restaurant).
Jokes aside, by the end of the first ever Northeast regional RG retreat, in addition to delicious meals together, we had laid the foundation for powerful, shared regional goals.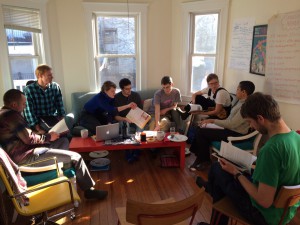 Our retreat was January 17th and 18th in Boston and was facilitated by Sarah Abbott, Co-Director of National Organizing, with participation from leaders of the Boston, Western Massachusetts, and Vermont chapters of RG. Boston chapter co-leader Abe Lateiner said a main goal of the retreat was to "bring together chapters who until now had been operating in relative isolation and start thinking about how we can support each other or work on shared projects or campaigns."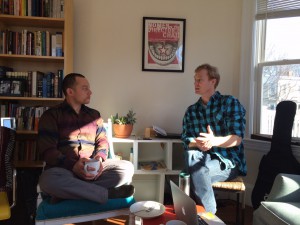 On the first day of the retreat chapter leaders shared stories of their chapter's work. The three chapters shared many of the same struggles: building up a larger member base in their community, recruiting members into leadership positions, and considering whether to embark on a political campaign or a fundraising project. Hearing stories from other groups helped shed light on a chapter's own work:  "I found it useful to hear how the Western MA chapter had done a rapid giving circle that raised over $60,000 in a few months. I hadn't even considered that an option for the Boston group." said Evan Seitz, a new member of Resource Generation.
Skills development was another focus of the retreat. Many people found the session on leadership development especially useful. On butcher paper, Sarah listed ways to develop leadership among RG members: "Ask people to take on a concrete task. Be clear up front on the support you will provide them. Remember that leadership is not reserved for a few." Abbott also outlined chapter organizational structures that have worked for other groups.leaders shared stories of their chapter's work.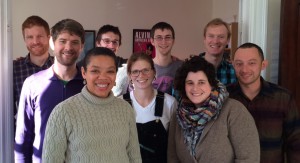 The retreat concluded with goal setting, both for individual chapters and the region. As  It turns out, our people like each other and feel that working together will strengthen our work. "If you're considering a regional retreat, I would highly recommend it," says Boston chapter leader Shana Weaver. "I'm excited about continuing to work with the people I met at this retreat!" The north east regional goals are to continue conversations on a regional funding project for the Haymarket People's Fund and to meet together twice a year.
Next Northeast Regional RG meeting: Vermont in August, precise lakeside location TBD!