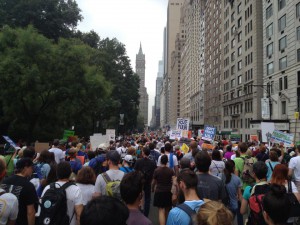 One thing is for sure- the people who work at RG have a lot of good ideas, and sometimes too many. A couple months back, Mike sent me this sprawling document (9 pages long!) that various staff members had worked on. It was called "Leveraging our Resources for Change: 55" Ways to Take Action (need to count them)"— and there were many more than 55 there. The document was a list of ways that people could work towards social change.
I pared it down, and our designer Ryan made it into a snappy document. The list is broken down into 4 parts: ideas for action if you 1) have money or investments, 2) have class privilege, 3) are a member of RG, or 4) want to help elsewhere.
Now called "Using Your Power Wisely: 65 Ways to Take Action" (I counted), it will be helpful whenever someone asks, "What can I do to help?" It can be used at retreats and events to inspire those who want to work for the equitable distribution of land, wealth and power. It is available on the Free Downloads page here for all you RG supporters.
Share and tweet this out if you think resources like this are important!