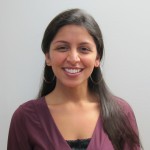 Hi RG community,
I am thrilled to join the staff of Resource Generation, at this particular moment, to organize young people of color with wealth. I just moved to New York City after 6+ years in Seattle and I'm grateful to be inheriting a body of work from Nicole Lewis and many others in RG's leadership. My politics are deeply embodied and informed by 7 years of anti-violence work, my (ongoing) journey as a survivor, and my spirituality.
A little about my background. My family is Indian, I was raised in Kuwait and my biological family includes my parents, my sister, her husband and their little baby. I came to the U.S. for college in 2000, to study computer science. In fact, I went on to complete a Bachelors in Computer Science while getting completely turned away from the field due to sexism. I became much more interested in gender dynamics in the lab, in fighting off teaching assistants and employers who were sexually harassing me (Allyship opportunity – Somebody should have yelled at those guys – "Leave the woman alone! She is studying to become a scientist of computers!")  These forces drove me towards social justice work, and I found myself leading workshops on sexual violence prevention with college students. Thank you Andrew Peck, for telling me whose responsibility it was to end violence. Guesses?  Everybody's.Awakened, I moved to Seattle to pursue graduate studies in social work at the University of Washington. I went on to work directly with survivors of violence and also organizing within the South Asian community in Washington state (at Chaya) to raise awareness about this issue.  Increasingly, the heart of that work emerged in people's stories, in one-on-one conversations, and in creative forms of social justice work.  I wrote my own story, and shared it through the South Asian adaptation of the Vagina Monologues: Yoni ki Baat, and through a zine called 33 Cups of Chai, a project I co-created. All said and done, survivors knew what they needed and wanted. The biggest barrier to living those choices was economic access. Self-determination could not be realized without a) financial resources and b) community support.
As I was getting increasingly politicized around classism (thank you Robin DiAngelo!) and around racial justice in my last job (thank you Soya Jung and Scot Nakagawa), I was redistributing money to individuals in my community – women of color, LGBTQ folks, survivors.  My family's class background has shifted significantly over the course of my life (30 years this month!). Both my parents were raised poor, became middle-class through education and professional jobs, and went on to become rich through starting a business. While I was initially in struggle and confusion about reconciling my social justice values with access to a large amount of wealth, through feedback from my cross-class community, I stayed on this journey of redistribution of all unearned wealth and ultimately came to find Resource Generation. What happened next? More on my bio.
This is a moment when we can actually envision a just redistribution of wealth and an overhaul of systems that perpetuate all inequalities. As a foundational structure in which racism, homophobia, able-ism and other oppressions are embedded, classism is an integral place of work I am passionate about.  Some of the things I'm excited to do at RG in 2012 include community building and leadership development work with young people of color with wealth, creating a shared vision for the change we want to see, and a book tour including workshops!  I'm also excited to be a part of Resource Generation during a transformative moment when racial justice intersecting with class justice has emerged as a central lens through which we do our work.
I'm looking forward to meeting all of RG's community members and partners. Please feel free to drop me a line to say hello and introduce yourself, and if you have ideas for creative programs or partnerships, do let me know! And even if you don't, say hello anyways as I settle into this vibrant and amazing city – perhaps you have some advice for me about what to explore in the realms of historical sites, vegetarian food (and desserts!), yoga classes, writing workshops, performances, events and organizations that you recommend. Thank you!