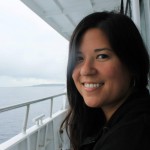 Hello Resource Generation! My name is Colette Henderson and I became your new Membership Associate as of the beginning of this month. I come to RG and New York City from down south in Louisville, Kentucky where my passion and commitment for movement building was born. I'm so excited and happy to be here in this new chapter of my life and to participate in the great work of RG.
Let me start with a little background about myself. I was born in Seattle, Washington and was raised in Olympia, Washington. I moved to Indiana to attend Earlham College and after finishing there, I spent the next few years worming my way down to Louisville, KY where I planted for a little over a decade. In Louisville, I got a Master's in Social Work because I was interested in working in mental health. Through formal work and practicum experience, I began to understand that there were many systems in place that made it impossible for people to succeed.  I began to see the plethora of inequity around me. I became less blinded to the racism and classicism that was built into our society and myself. My focus and interest shifted to social change and movement building and it's where my heart has been ever since.
My life in Louisville was really great. I had been there for the last twelve years and have a lot of great family and friends there. For the past seven years, I have worked for a wonderful grassroots organization called Kentuckians For The Commonwealth. There, I grew a ton and was privileged to participate in some really inspiring work, first as an organizer and then in development.  I also had a great side gig freelancing as a food writer. I had a cute apartment that was walking distance from parks, community gardens, and great food. I was soaking up some privilege, for sure.
Despite the ease and joy of my life in Louisville, I felt a lot of voids. I want to be clear that a lot of these voids were mostly due to my own limitations. I had built a little bubble around me and didn't know how to reshape it to fit my needs for growth.  It was like an old relative that was set in it's ways.  I knew it was time to embrace some change. For an experiential learner like myself, I knew this required some big changes.
My partner Drew had been in New York for the past two years studying Urban Ecologies at Parsons so I was visiting the big apple often. I was fascinated with New York because all of the paradoxes that plague our world are presented in density, speed, and robustness. The glossy Manhattan skyline, vacant lots, high fashion, to homelessness all cut through my bubble and made my brain buzz.  I really wanted to be in this place, where life happened in such a way where I couldn't hide from it.
So when I found the posting for the position at RG, I was not only excited, but also slightly mystified by the well placed, well timed crossroads. Here is an organization doing work I love and admired, in the city that awakens me, in a frame that I found invigorating and innovative. It also just so happened they were hiring for my skills set.
So I burst the bubble that I cultivated for myself and have come to RG and to New York and I feel very lucky to be here. In RG, I see the potential to break down a lot of the myths about what is and isn't possible. That people from all walks of life are ready and willing to unite over a common vision of a world were wealth, land, and power are shared.  I hope that I can give RG as much as it's already given to me in the first few weeks. I hope that someone is filling the space I left behind at KFTC and in Louisville, Kentucky, taking the work where I could not. I hope to meet, and work with all of you at some point. Please feel free to email me at [email protected] about anything (I love to talk chow) but especially anything to do with building an amazing base of members that will be pushing this great work forward.