At my second wedding ceremony, the octogenarian vicar said to the guests, "Let's be honest, this couple's initial wedding was quite lacking." Pretty bold, right? But he was right. My first wedding was for legal purposes only — my spouse is a citizen of the United Kingdom and I am a U.S. citizen. I knew I was going to marry him eventually, but we married sooner than we expected so that he could get a green card and live and work in the United States legally, and live without any significant fear of deportation.
The two of us lived overseas while we were dating, and we met many international couples — most of whom were resigned to the fact that they would have to be separated for about a year to fill out paperwork and navigate the U.S. immigration bureaucracy before they could legally be reunited in the United States.
I couldn't bear the thought of being separate from my now-spouse for a year. We found some fancy immigration lawyers, paid them thousands of dollars and were legally married in the U.S. in about a month. This smacks of privilege — as a young person with wealth, I had both the networks to find a good lawyer and the money to pay for one. As a cisgender heterosexual and English-speaking couple, we were pretty palatable as a couple to the Department of Homeland Security. And yet, navigating the immigration bureaucracy was stressful, even for me. As a daughter of Chinese immigrants, hearing about family separation of migrants formed knots in my stomach.
Supporting migrants, regardless of documentation status, has always been personally important to me. This shows up when I translate for the Mandarin-speakers on my Muni route in my neighborhood. It also shows up in the way I organize my family's philanthropy. Through my involvement in Resource Generation, I have learned to involve and empower communities most impacted by the issues I care about, such as racial and economic justice. I have also learned to ask for help when it comes to giving. I am pretty new to the philanthropy world, and even though I care about supporting immigrants, I am not always sure how best to do that nor do I feel that I am singularly qualified to decide how to do so even if I am a donor involved in disbursing the money.
My family's money comes primarily from my father. He worked in the pharmaceutical and biotechnology industries and later became the CEO of several of these companies. My parents are Chinese-Taiwanese immigrants and I grew up connected to local Chinese and Taiwanese communities in the United States. We had a lot in common with these communities  — we spoke the same languages, ate similar food, and celebrated the same holidays. But there were certain times where I noticed that my experiences were different from those of my immigrant friends. I did not have to worry about the cost of attending college, for example, and I felt no pressure to major in something that would directly result in a high-paying job. I felt more freedom to explore, so in college, I deepened my understanding of social justice issues, while at the same time feeling conflicted and somewhat hypocritical because I wasn't always open about my class privilege.
Earlier this year, a biotech company was acquired and my family's stock became extremely valuable overnight. My father asked me to suggest nonprofits to consider as recipients of the stock. I felt pretty overwhelmed — this was quite a lot of money, and I wanted it to be moved to grassroots organizing, but I wasn't sure exactly how to do it. So I reached out to my network to learn from philanthropy professionals.
I immediately thought of my graduate school friend, Roxana, a fierce advocate for immigrant justice who works at the Tides Foundation. I told her about my situation and what it felt like being suddenly thrust into a big philanthropic decision. As it turned out, she was spearheading a new initiative to build stronger infrastructure and capacity building services for nonprofits across California that support immigrants. She suggested that my contribution could work well to catalyze these efforts. While many immigrant nonprofits have existed for decades, they are frequently siloed with some specializing in legal aid, others in workforce training and education. In her interviews with some of these organizations, staff at nonprofits expressed a desire to be connected with each other and the opportunity to receive more significant grants without having to navigate a very complicated grant application system. In partnership with Roxana and Tides, I decided to seed this fund to build a bigger movement that supports immigrant justice organizations on a more systemic and sustainable level.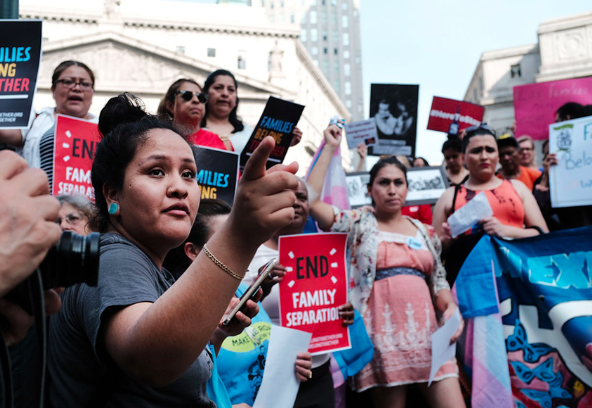 Hundreds of immigrant rights activists participate in a rally at the Federal Building in lower Manhattan on June 1, 2018 in protest of the Trump administration's "zero tolerance" immigration policy. (Image credit: In These Times Magazine)
Great immigrant justice nonprofits such as MUA and SIREN have been fighting for the rights and humanity of immigrants for decades, but they also have to spend precious advocacy time applying for grants and preparing reports for donors — in order to prove that they are 'deserving' of this money. Since becoming involved in Resource Generation, I have learned to let go of some of these donor tendencies and embody social justice philanthropy princples. I do not specify where my donations need to go within an organization. Instead, I trust that organizations know how to best use the funds I give them. When possible, I try to make multi-year commitments to organizations I support instead of short-term bursts of funding for one year or less at a time. Instead of donating anonymously, I try to be public about my giving so that my peers can learn more about them, and other potential grantees can know where I've given before. I am trying to give larger amounts of money, and to trust the organizations that I give to know what to do with the money that I give them.
The funds I seeded gave Roxana the momentum to develop a robust initiative that ultimately started a movement to inspire other donors and tech companies to contribute. Not having to update me with a monthly report on my giving also means that Roxana can take more time to interview staff at nonprofits about what their needs actually are and focus on facilitating the work effectively. By giving boldly and trustingly, we as young people with wealth and class privilege can support this movement together. Unpacking and examining my class privilege has helped me to show up more authentically to social justice movements. I feel honest about the ways in which I am a beneficiary of an unjust system which I would gladly help dismantle in order to liberate all people.
I am hoping that the money I give to Immigrants United Collaborative will start a bigger sea change in immigration philanthropy for the long haul but I cannot do that alone.
—
Andrea is a Resource Generation member and chapter leader of our Bay Area chapter. Resource Generation is the only membership organization in the U.S. organizing young people (18-35) with wealth toward the equitable distribution of wealth, land, and power.