by Dominque Tan and Rachel Gelman, Bay Area RG Chapter leaders
If a group of poor and indigenous people knocked on your door, would you receive them? If they asked whether you would donate your resources to community reparations, would you?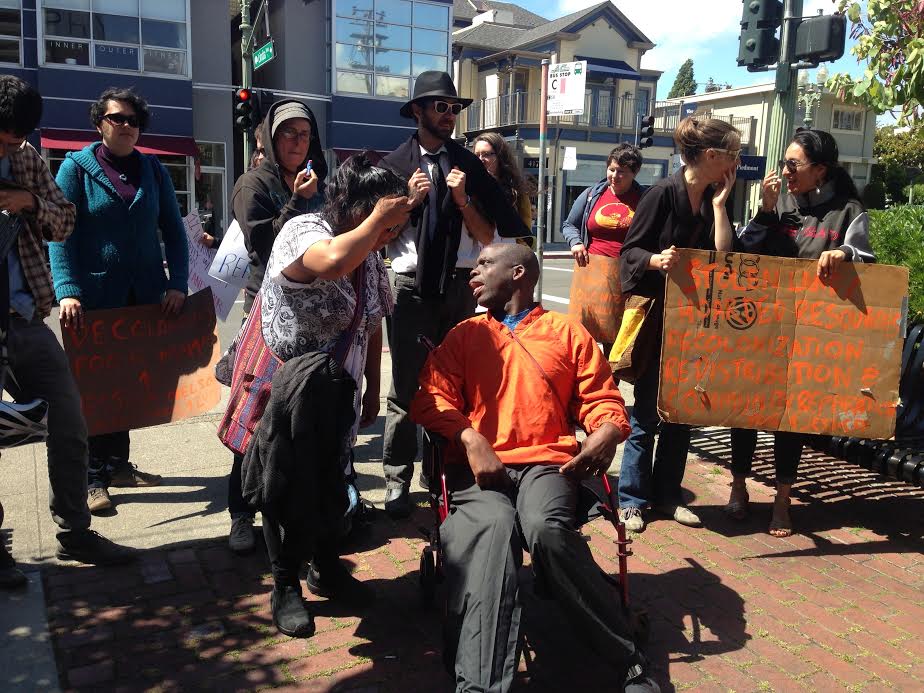 This spring, POOR Magazine challenged both the Bay Area Resource Generation Chapter and the broader wealthy community to step up by participating in their Stolen Land and Hoarded Resources Tour. POOR Magazine is a poor and indigenous people-led grassroots non-profit arts organization, and coordinated the Tour to ask people with class and race privilege to participate in the process of decolonization and community reparations.

When we got the ask from POOR Magazine to speak about RG and our commitment to the process of community reparations, so many questions and feelings surged within us: excitement to take action and solidarity, love for this organization and its work, fear for coming out so publicly for the first time, and caution about saying the right things that aligned with who we are as people and as an organizational ally.

Regardless of the mixed feelings, we were determined to respond to and fulfill a call to action by our poor and indigenous community members.

So to prepare for the day, we made signs to identify us as RG:

Because, if we're coming out as rich kids at an action, might as well go all the way, right?
The tour guided us through two wealthy, semi-gated communities in Oakland– communities much like the ones in which we grew up, communities where many of our friends and family members still live. With a group of about 30 people, we participated in spiritual cleansing, singing and dancing, sharing testimonies, and knocking on doors asking the wealthy residents to participate in community reparations. For those who opened up their doors to us, POOR Magazine made a range of asks:
For descendants of colonizers to donate their financial resources or land to

Sogorea Te Land trust

,

an urban Indigenous women-led community organization that facilitates the return of Chochenyo and Karkin Ohlone lands in the San Francisco Bay Area to Indigenous stewardship.

For people with class and race privilege to donate to POOR Magazine's

Homefulness Project

, a sweat equity, permanent co-housing and social change project for former and current landless/houseless families and individuals.

For people with class and race privilege to participate in POOR Magazine's "

PeopleSkool

," a program for people with race and class privilege to decolonize their minds and to understand how to be in solidarity with poor and indigenous communities.
The testimonies shared that day were powerful. Folks who were displaced and currently houseless spoke about the violence they suffered through a system that prioritizes capital, while young graduates of POOR's PeopleSkool– who have race and class privilege– testified that they had benefited from colonization and offered community reparations as a means of working towards collective liberation.

Despite the pain and loss felt through those testimonies, there was also strength and hope. One PeopleSkool graduate spoke of the choice she made when she gave away her inheritance instead of paying off her student loans– the choice of investing in community and not herself, the choice of believing in a world in which people would care for one another and not being ruled by the fear of scarcity.

As RGers, it was extremely inspiring to stand in solidarity with POOR magazine and be together to witness a group of people committing themselves to work together around community reparations. As the Bay Area Resource Generation Chapter moves into launching a campaign locally and RG continues to finalize its national campaign, it was both exciting and nerve-wracking to get a glimpse of what RG in action could look like.

It was empowering to realize that we, collectively, have a voice and are valuable assets to movements for justice– not just as donors, but as comrades in struggle.

Despite the beauty of the Tour, most people did not open their doors. Some peered from their second story windows to watch us. One person did kindly listen, and ultimately donated to the Sogorea Te Land Trust.
But maybe it wasn't about the people in those neighborhoods, maybe it was about transforming ourselves, too.

The Stolen Land and Hoarded Resources Tour will begin their East Coast tour dates later this year/ early next year- stay updated to see how your chapter can continue this partnership with POOR Magazine.
To see how you can contribute to community reparations, you can donate your time and money to the Le Sogorea Te Land trust, POOR Magazine's Homefulness Project, and POOR Magazine's PeopleSkool.