Greetings beloved RG community,
As many of you know, after years of service to Resource Generation, Elspeth has decided to transition out of the Executive Director role.
Over the last two months, we have been engaged in the process of searching for and hiring a new Executive Director. Interviews were conducted by members of the RG board and staff, RG alumni, and Ingrid Benedict, the consultant who has been leading our work on developing, articulating, and aligning our work around our theory of change.
We are excited to announce that through this process, we have hired a new Executive Director… Jessie Spector! Jessie comes to this position with over four years on staff at Resource Generation, most recently serving as RG's Program Director. Jessie's first day as Executive Director will be April 15, and Elspeth's last day will be May 1.
Jessie says of her upcoming transition –
"I am honored and thrilled to be taking on a new level of leadership as Executive Director of Resource Generation. The RG community has hugely invested in, supported, and challenged me to be the person and leader I am today. I feel as though my past four and a half years of work, growth, personal and professional development have been preparing me for this opportunity. I am proud to follow in Elspeth's footsteps as a young person with wealth and class privilege leading the RG community towards a world where land, wealth, and power are equitably distributed."
We look forward to Jessie's leadership and to supporting her as she steps into this new role. You can read more about Jessie below.
In community,
Sam Seidel & Irene Kao for the RG Board
Board Chairs of the Executive Transition Committee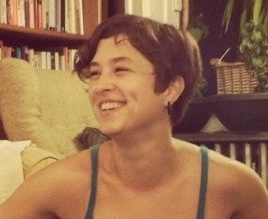 Jessie Spector has worked at Resource Generation since graduating from Wesleyan University in 2008. Over the past 4+ years, Jessie has played a variety of roles at RG including office manager, chapter organizing, co-coordinating several Making Money Make Change retreats, developing the campaign for tax justice, and facilitating East and West coast leadership trainings in her role as Program Director.
As an activist and donor, Jessie participates in several innovative cross-class models of wealth redistribution: the Criminal Justice Initiative, a circle of donors and activists who use consensus to fund the transformation of the criminal justice system in the US, and the Solidarity Family of POOR Magazine, a cohort of young people with wealth learning from and fundraising for POOR and the project of Homefulness, a permanent and sustainable pilot model of co-housing for homeless people.
Jessie is constantly inspired by the power of organizing within her own community of young people with wealth and class privilege in partnership with people working for justice from all class backgrounds. She is in particular awe of the personal and familial deepening she has experienced and gets to witness within the RG community.
When not at work you will find Jessie riding her bike, watching Downton Abbey, baking rosemary bread, or boogying on the dance floor.