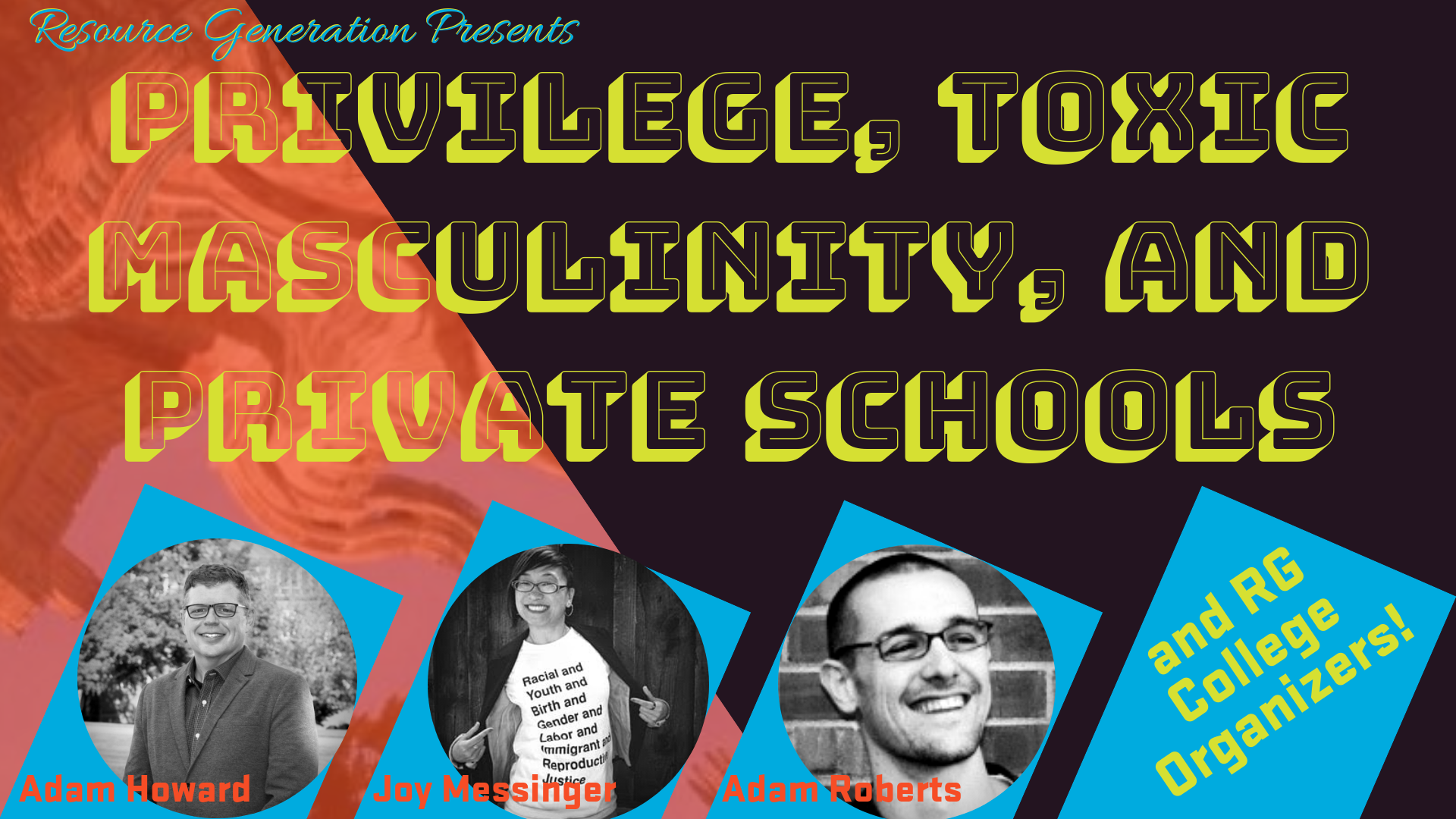 Kavanaugh's confirmation to the Supreme Court demonstrated how elite universities condition young, wealthy men to harm other people while securing them a trajectory toward power and wealth.
Join us for a discussion about how elite institutions perpetuate patriarchy and classism and how young people who have been shaped by these institutions can meaningfully leverage their privilege to get involved with social justice. The recorded webinar available below originally took place on Wednesday, November 7th at 8-9:30pm ET/5-6:30pm PT.
Many of us with class privilege have attended and been shaped by elite institutions, and been both positively and negatively impacted by them. Although education in the U.S. is tied up with the myth of meritocracy, the vast majority of people who attend private schools come from wealthy and/or upper-class families. In fact, in the top 40 most "selective" colleges, there are more students from families in the top one percent than from the entire bottom 60 percent, according to a recent report from the New York Times.
Our panelists will discuss class elitism, toxic masculinity, and leveraging privilege for gender justice. This webinar discussion is geared toward young people with wealth, and is open to people of all classes, races, and genders.
Recording of original live webinar below:
PANELISTS
Adam Howard (he/him) is chair and professor of education at Colby College. Professor Howard's research focuses on how privilege works through the relationship between advantages and identity development. He is co-editor of Educating Elites: Class Privilege and Educational Advantage and author of Learning Privilege: Lessons of Power and Identity in Affluent Schooling and Negotiating Privilege and Identity in Educational Contexts. His piece about Kavanaugh, privilege, and toxic masculinity, "I've spent decades studying elite schools. Here's how their culture enables toxic masculinity" was recently published in Vox.
Joy Messinger (she/her) is the Program Officer at Third Wave Fund, the only activist fund led by and for women of color, intersex, queer, and trans folks under 35 years old in the U.S. She is a queer, disabled, femme organizer of spreadsheets, funding, and people to build sustainability, healing, wellness, and power for reproductive justice, queer and trans liberation, and disabled, migrant, and POC communities. She became passionate about community-led philanthropy as a member and co-chair of the Chicago Foundation for Women's LBTQ Giving Council, where she helped implement an inclusive name and an intersectional grantmaking analysis. Joy is also an adjunct instructor at the University of Chicago School of Social Service Administration and community educator on race, gender, sexuality, adoption, and nonprofit operations and management.
Adam Roberts (he/him) has been on RG staff since 2015 as a National Organizer, where he supports RG's Northeast and Midwest chapters. As a white man with inherited wealth who long struggled with how to show up as his full self in movements for social justice, Adam is forever grateful to the RG community for helping him move out of guilt and isolation and into collective liberation work. Adam is passionate about relational organizing and leadership development, and holds a special place in his heart for building intersectional feminist (radically embodied) men's participation our movements. Born and raised in Newport, Rhode Island, he also loves swimming in the ocean, singing karaoke, and shooting free throws. He attended St. George's School and Brown University, and is excited to build with other former private school students looking to leverage those networks for justice.