WEBINAR: Redistribution and Liberation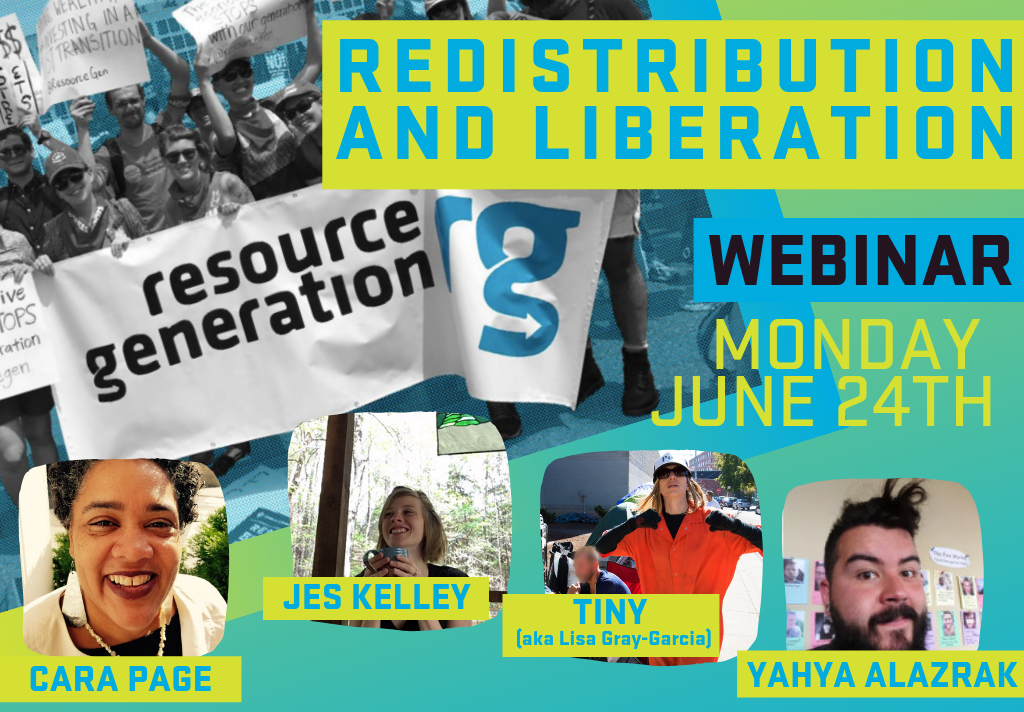 As young people with access to wealth and class privilege, redistributing wealth and resources often goes against the training and messages we've received under racial capitalism.
This webinar panel will help us ground in why wealth redistribution and reparations are imperative not only for the sake of ending wealth inequality but for our liberation and healing as wealthy people.
As part of this webinar, we'll engage with our Giving Guidelines. Our Giving Guidelines ask young people with class privilege and access to wealth to redistribute all, or almost all, inherited wealth and/or excess income. In 2019, we are gathering commitments from young people with wealth to pledge a total of $20M to social justice movements, and invite you to join in by signing the giving pledge!
This webinar is open to people of all ages and class experiences and will speak most directly to people with wealth.
Recording of the original live webinar below:
Webinar panelists include:
Tiny (aka Lisa Gray-Garcia) (she/her) is a formerly unhoused, incarcerated poverty scholar, revolutionary journalist, lecturer, poet, visionary, teacher and single mama of Tiburcio, daughter of a houseless, disabled mama Dee, and the co–founder of POOR Magazine/Prensa POBRE/PoorNewsNetwork. She has authored over 200 stories and blogs on poverty, racism, incarceration and displacement. With her Mama Dee- she co-founded Escuela de la gente/PeopleSkool- a poor and indigenous people-led skool, as well as several cultural projects such as the Po Poets Project/Poetas POBREs Proyecto , welfareQUEENs, the Theatre of the POOR/Teatro de los pobres, Hotel Voices( to name a few. She is also the author of Criminal of Poverty: Growing Up Homeless in America, co-editor of A Decolonizers Guide to A Humble Revolution, Born & Raised in Frisco and her second book- Poverty ScholarShip -Poor People Theory, Arts, words and Tears Across Mama Earth A PeoplesTeXt which was just released in 2019. In 2011 she co-launched The Homefulness Project – a landless peoples, self-determined land liberation movement in the Ohlone/Lisjan/Huchuin territory known as Deep East Oakland, ,and co-founded a liberation school for children, Deecolonize Academy  She just completed an international webinar on poverty, homelessness and climate change with Dr. Fei Mok- entitled Exposed and Closest- she can be reached at www.lisatinygraygarcia.com
Cara Page (she/her) is a Black Feminist Queer cultural/memory worker, curator, and organizer. She comes from a long ancestral legacy of organizers and cultural workers from the Southeast to the Northeast. For the past 20+ years, she has fought for LGBTQGNC and People of Color liberation, and organized in the Southeast with movement builders such as SONG, Project South, and the Atlanta Transformative Justice Collaborative and has built with many organizers, healers and cultural workers across the country. Over the past two decades she has organized to build community led safety strategies to interrupt and intervene on generational trauma, policing and surveillance; and build survivor-led wellness strategies to transform interpersonal, communal and state violence. She believes in the abolition of the PIC (Prison Industrial Complex) and the MIC (Medical Industrial Complex), systems that continue to use scientific racism to criminalize People of Color and Indigenous practitioners and our traditions as extensions of state control.
Jes Kelley (she/her) is RG's Political Education Manager. She is interested in the version of reality where all beings have what they need to thrive. She is a Southerner with a crooked smile, a propensity for bad jokes and a deep yearning for collective healing. She was born into whiteness and poverty and carries a lifelong dedication to challenging racism and classism in herself and the institutions that surround us.
Yahya Alazrak (they/them) comes to Social Justice work out of a deep sense of love for their family and community and a need for our collective liberation to be possible. Keenly interesting to them is how we build meaningful equity alongside agency; they feel like relationships across difference are a key part of making that happen. Philadelphia, un-ceded Lenni Lenape territory, is where they live and love. Outside of Resource Generation, they are very involved in their cooperative housing community, the Life Center Association (LCA) and sit on the board of Philly's social justice foundation, Bread and Roses Community Fund. When they close their computer, they can be found cooking for friends, being overly-confident at board games, or lost in thought in their car before getting out at their destination.