WEBINAR: Leveraging Investments in Support of Social Justice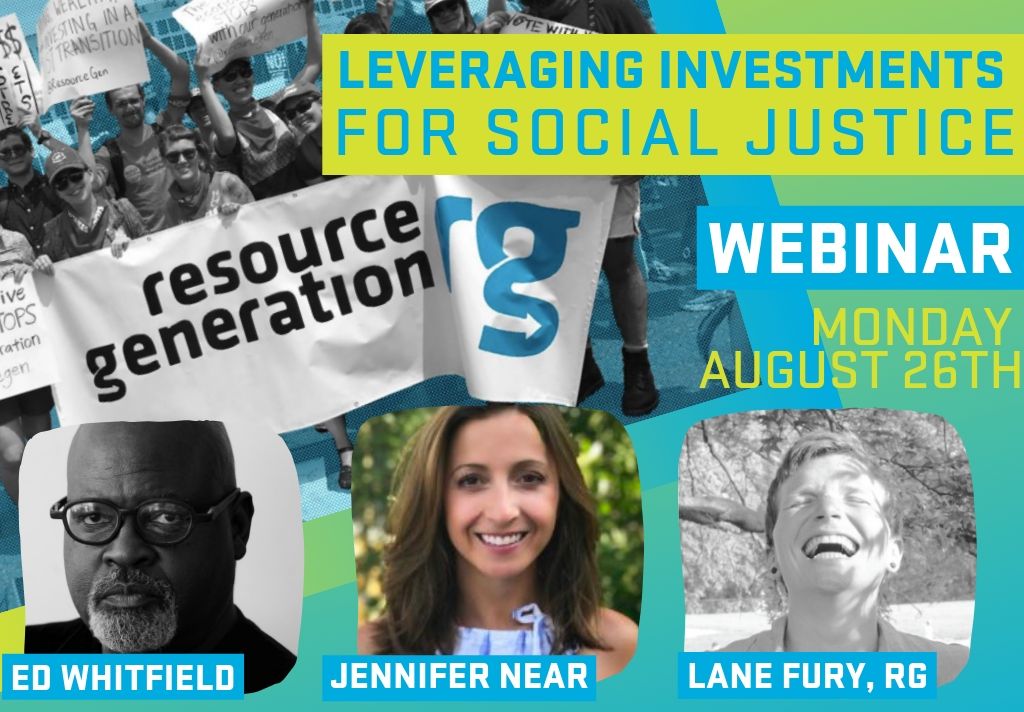 The webinar will explore how to leverage invested assets to support social movements and to redistribute land, wealth and power. The webinar will feature Ed Whitfield of the Fund for Democratic Communities and Jennifer Near of Justice Funders, with RG's Lane Fury facilitating. The call will serve as an introduction to core concepts in social movement investing, and equip participants with a starting place from which to further explore how to leverage their invested assets. 
Ed Whitfield (he/him) is originally from Little Rock Arkansas and was a long time social justice activist from the Black Student Movement and the Black Power Movement before becoming involved in cooperative development and philanthropy. He now spends most of his time trying to help communities build self-reliant economies to meet their needs and elevate the quality of life. Ed is Co-Founder and Co-Managing Director of the Fund for Democratic Communities (F4DC) and serves on the board of the Seed Commons: A Community Wealth Cooperative and the New Economy Coalition (NEC) while chairing the board of Southern Reparations Loan Fund (SRLF), a network of Southern, place based loan funds that are part of Seed Commons. Ed spent 9 years as Board Chairman of the Greensboro NC Redevelopment Commission while at the same time working full time in industry as a machinist, electronics technician and then an electronics specialist before becoming involved with the cooperative movement and the world of democratic non-extractive finance. Ed has begun writing recently about comprehensive approaches to community economic development and the need to build "liberated zones."
Jennifer Near (she/her) As Program Director for Maestro – Justice Funders' leadership development program for philanthropic executives – Jennifer's role is to facilitate philanthropic organizations in adopting and accelerating their practice of the Just Transition. She previously served as the Program Director for The Libra Foundation, where she managed the Foundation's social justice grantmaking and worked to align the organization's investment strategy with its human rights mission and the Just Transition Framework. 
Jennifer also recently served as the Coordinator for the Building Equity and Alignment Initiative, where she supported the grassroots-led leadership body in their work to shift the culture and practice in philanthropy and drive more resources to frontline groups in the environmental justice movement. As a philanthropic and organizational consultant, she has worked with a range of social justice nonprofits, networks and foundations, including Transform Finance, the New England Grassroots Environment Fund, and the Old Money New System network.
Jennifer serves on the Board of the Endowment for Health in New Hampshire, a statewide, private foundation dedicated to advancing racial equity and improving the health of vulnerable and underserved residents, and she hosts workshops on racial equity and collective liberation where she lives in southeast NH. Jennifer grew up in central NH and comes from a mixed class background, working and middle class, but she identifies her current class background as middle-class.
Lane Fury (they/them) lives in central Vermont, the ancestral homeland of the Abenaki. As a collective member with Regenerative Finance and a loan officer with the Cooperative Fund of New England, Leah explores alternative and emerging finance strategies to hijack the engine of capitalism toward liberatory economies. They are pumped to join the National Membership Council's Resource Mobilization Committee to think strategically about the relational roles of principled philanthropy and investment as tactics for change while continuing to co-parent the Vermont chapter of Resource Generation. In addition to dismantling capitalism, Leah spends a lot of time pretending they know how to garden, knitting until way past their bed time, and throwing Sacred Flames at hostile dungeon monsters.