By Katherine Wolf and Lena Solow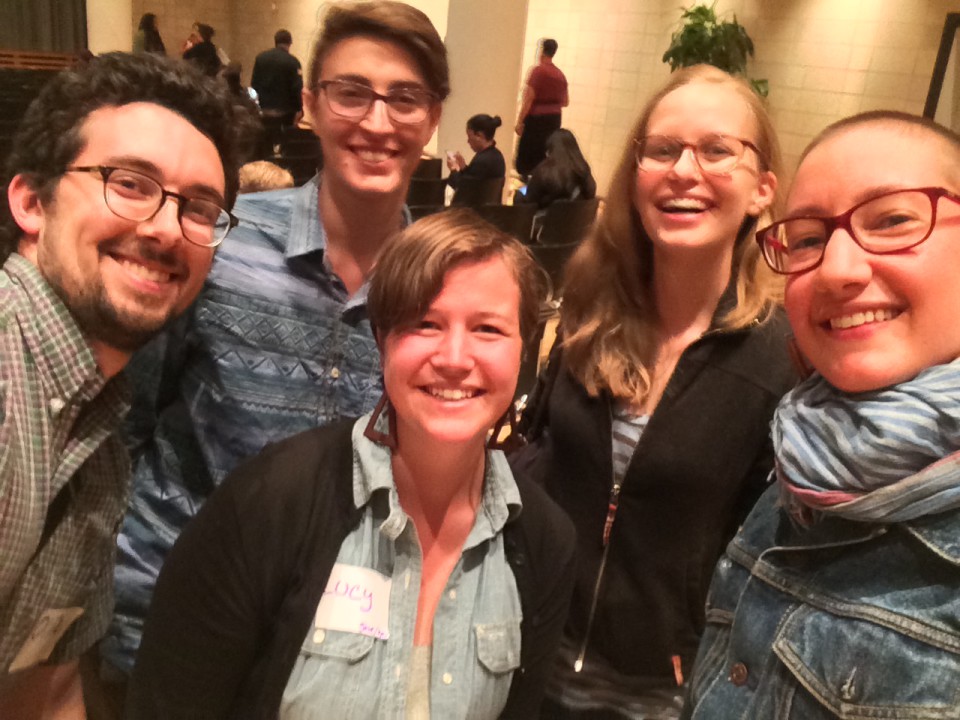 On May 9, North Star Fund convened over 500 New Yorkers at the Let Us Breathe Forum to discuss anti-Black racism and discrimination, support the development of Black leadership, and to brainstorm ideas for sustaining the movement for Black liberation that was ignited after the death of Michael Brown in Ferguson, MO last summer. Attendees included organizers, donors, artists, and educators from across the five boroughs.
Resource Generation was one of the event's many sponsors, and more than a dozen people from our local chapter came out to hear from Black leaders how to stay meaningfully engaged. Though RGers recently surpassed our phenomenal goal to raise $1.25 million dollars for black-led organizing, the work is far from finished.  As people continue to be killed by police and state violence, resistance efforts will need rapid response funding to fuel direct actions, make bail to release protesters from jail, and build long-term organizing power in black communities.  Members of RG's NYC chapter volunteered to help with set up, clean up, event registration and breakout session monitoring. Ian Fuller co-presented a goal report-back on community safety, and one of praxis group attended together and will be doing a debrief at their next meeting.
The plenaries and workshops featured exclusively Black speakers from the city's leading grassroots organizing and philanthropic organizations. Below are some highlights from each session – check it out and watch the full opening and closing plenaries here.
---
OPENING PLENARY: The State of Black-led Movements
Keynote Speaker Rashad Robinson of Color of Change urged organizers to ask the right questions that people in power will be forced the answer.

Mainstream media asks "What is the problem with Black communities" or "What is the problem in Black communities" but Robinson reminded us that similar to instances of sexual assault, the problem can not be the victim!
Question needs to be framed around race-based violence and discrimination, anti-Black racism and racist policing

Robinson noted that, cultural presence does not equate cultural power, and to him, power looks like

investing in Black people, leadership, organizations, voices, and actions
defending Black people's right to organize, vote, and make decisions about their own lives

Arva Rice from the NY Urban League and Lumumba Bandele from Malcolm X Grassroots Movement talked about the necessity for middle and upper class people to get involved with the movement, even if they aren't in the streets. Lumumba pleaded, "What hell are you going to raise from your comfortable place?"
Bandele also pointed out that this current political moment is only one in a long, extraordinary history of black resistance ever since Black folks were sold into slavery.
Andrea Ritchie from Streetwise and Safe noted that this moment is unprecedented because of the way in which violence against women, girls, queer and trans Black people is being spotlighted. She and Opal Tometti from Black Alliance for Just Immigration and co-creator of the #BlackLivesMatter political project agreed that this movement must hold central that liberation is not just about ending police brutality against straight cis-gendered Black men, but about ending all forms of gender- and sexuality-based state violence, such as sexual assault and street harassment. Tometti stated that "ALL Black Lives Matter," and urged the audience to be unapologetic about their whole selves.
---
BREAKOUT SESSIONS
Economic Justice and Security:
Arts, Culture and Healing Justice:
Organizers and artists from the Silvia Rivera Law Project, Audre Lorde Project, and Peace Poets Artists Collective talked about the importance of arts and healing to robust, sustainable social justice movements.
Sasha Alexander of the Silvia Rivera Law Project reminded us that arts and healing are necessary for the survival of all Black people, especially Black trans folks!
Alexander uses the hashtags #BlackTransEverything and #BlackTransLoveIsWealth to spread the radical power of his community through social media.
Cara Page of the Audre Lorde Project emphasized the need for wellness that does not privilege profit over people – we need to support and uplift healers, health workers and birth workers, who are the "communal infrastructure to our collective survival."
Page talked about how there is a long history of healing rituals and healing workers, and that Black communities have the knowledge and tools needed to heal and prosper.
The group emphasized how arts can help us stand for something, rather than just against something – arts help to build the world we imagine, in addition to ending the issues in the world we live in now.
The existing rituals and practices for arts and healing need funding and support!
The participants emphasized the need for intentional, intergenerational safe spaces to collectively identify and heal from trauma, and to reconnect with their roots..
Beyond Broken Windows Policing (note: no RG members were able to attend, but below are goals from the session!)
Connecting the dots between broken windows policing to racial violence; and creating a national conversation and awareness; broken windows enables radicalized policing
Giving more power to the people; creating strategic solutions
Making sure violations stay violations
Building trust between police and community
Becoming part of the political
Precinct meetings, local elections, voting
Focus on police hiring practices and criteria for hiring
Getting people out of the criminal justice system because they are not criminals
Changing perception of black people in america
Goals: Training for organizers, become multi-dimensional in organizing; mobilizing resources; creating diverse leadership; creating space for movement building; and the ability to grow and expand
Creating Community Safety  (note: no RG members were able to attend, but below are goals from the session!)
We need to recognize and look to the organic leadership within our communities that are often most marginalized, particularly, trans people, youth, cultural workers, and our healers.
We need to train community members to take on the role of providing safety and support.
We need to fund and develop black youth development and power.
We need to hold everyone accountable to intervene for community safety and we need to train our community to do so.
We need to treat violence like the public health issue that it is, and not rely on police intervention to heal. 6. We need overall economic empowerment of black communities, and we need to have black-led organizations be able to be autonomous, radical and effective for sustainable change.
---
CLOSING PLENARY: Building, Resourcing, and Sustaining a Black-Led Movement
Mark Winston-Griffith from Brooklyn Movement Center lamented the contradictions inherent in a system where white donors are funding Black organizers.

White donors and foundations seek to fund palatable, mainstream large-scale organizations with a focus on campaign work, which forces Black radical organizations to conform to that mold to receive funding.  
Winston-Griffith also noted that a lot of Black organizing entails long-term base-building and growing relationships, which may look amorphous or seem trivial to funders, but actually grows "the army for when shit pops off." He also noted that a lot of organizing happens outside of organizations,  and thus is ineligible for funding.
Monifa Akinwole-Bandele, from Malcolm X Grassroots Movement, echoed the need for a sophisticated and complicated idea of what constitutes a base, which may not be what white foundations think it is!

In response to Winston-Griffith, Eric Ward from the Ford Foundation shared that movements are strongest when they can be diverse and hold their contradictions. He also highlighted the importance of individual donors, whose contributions come with fewer strings attached than foundations.
In a strong poetic voice, Cara Page from the Audre Lorde Project argued that we need to think beyond funding movements and fund Black radical traditions. She called in the names of Black feminist "architects of resistance" and implored the audience to dream, create and (re)connect with their memory and their roots.
J Mase III, poet, educator and founder of Awqward told a story of being put through several bureaucratic and logistical obstacles by a white-led organization who promised to give Awqward funding, only to in the end decide that it was too risky. They insisted that funders must trust organizations to determine the appropriate usage of funds, and to not demand a "sob story" in order to be convinced of an organization's worthiness. J Mase III described how if their organization has extra money in the bank, they will help someone who approaches them for rent money, no questions asked, by sending in a check that same day.
---
WHAT'S NEXT?
What can we, as young people with access to wealth and class privilege, do NOW to support Black-led movements? Below are some thoughts – please share your ideas in the comments!