Webinar: API Cross-Class Solidarity in the Era of COVID-19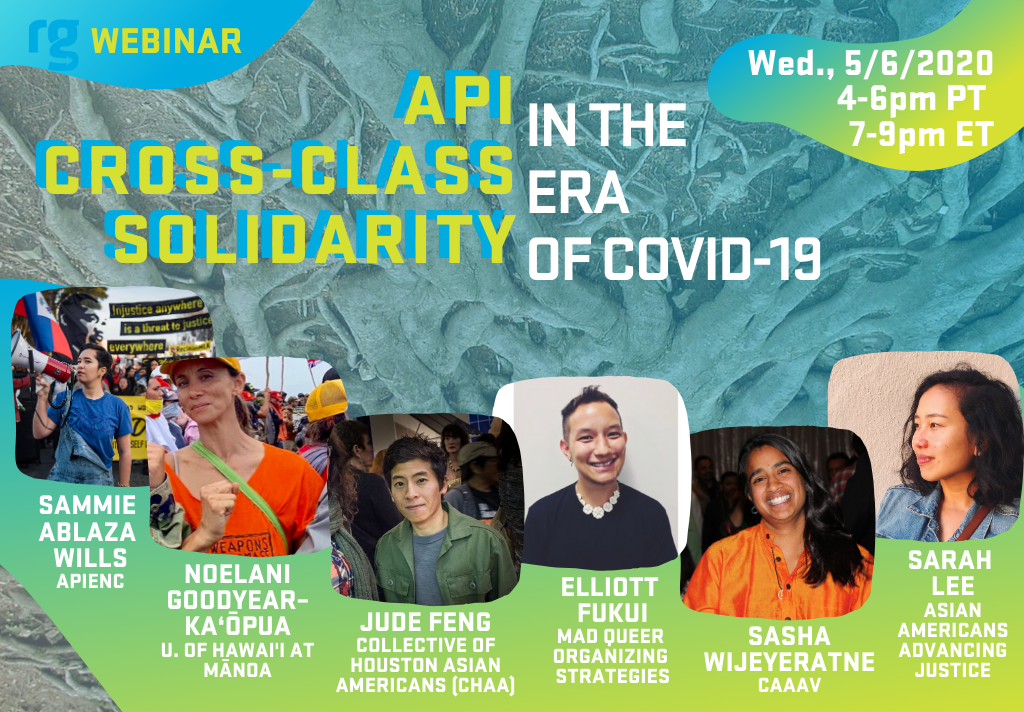 On Wednesday, May 6th from 7-9pm ET/4-6pm PT join us for our webinar, API Cross-Class Solidarity in the Era of COVID-19. 
Resource Generation is offering this webinar to create a safe space for API (Asian and Pacific Islander) people, especially our base of API young people with access to class privilege and wealth, to address the current context and conditions we are facing, and ways we can move in solidarity with other impacted communities grounded in our shared histories and mutual aid. This webinar will feature API grassroots organizers working with poor and working-class API communities around the country.
The recording of the webinar is available here. 
SPEAKERS
Elliott Fukui, Mad Queer Organizing Strategies
Elliott currently lives in California, and has been an organizer, trainer and facilitator for nearly 20 years across different movements, working with organizations, collectives, friends and family. Elliott came to community organizing through his own lived experiences of violence and oppression, having spent much of his adolescence being forcibly shuffled in and out of psychiatric facilities, day treatment programs, and special education classrooms due to his psycho-social disabilities. He also comes to this work as a survivor of childhood sexual abuse and hate violence. He went non-med compliant at 16 years old, and began the long journey of learning how to survive as a mad queer and trans low income survivor of color in a deeply misaligned and oppressive world. You can learn more about Elliott's work at madqueer.org.
Sasha Wijeyeratne, CAAAV
Sasha is a queer, South Asian, Sri Lankan with organizing roots and homes in Los Angeles, Philadelphia, Madison, and DC. Before becoming the Executive Director of CAAAV, Sasha was the Organizing Director at the National Queer Asian Pacific Islander Alliance, working to build the power of LGBTQ API communities towards a world where all queer and trans people of color can thrive. The core of Sasha's work is a belief that we have what we need to win, that the margins of our communities will lead us towards liberation, that we can transform ourselves and our people to build real power, and that we can must organize towards a  world without borders, prisons or binaries. Sasha has also been part of a variety of organizing and political education projects including: South Asian Youth Movement, No Dane County Jail Coalition, VigilantLove, Asians for Black Lives, LASSI: Los Angeles Solidarity Summer Institute, Queer South Asian National Network, and more.
Sarah Lee, Asian Americans Advancing Justice
Sarah Lee (she/her/hers) is a daughter of Chinese migrants from Hong Kong, Venezuela, and Canada. For the past five years she has organized with immigrant, faith, and API communities at the intersection of criminal justice and immigrant rights. She currently works at Advancing Justice – Asian Law Caucus as a community advocate in the Criminal Justice Reform program, leading campaigns to disentangle local law enforcement from ICE, and anti-deportation efforts for Southeast Asian communities in California. During the COVID-19 pandemic Sarah has focused her efforts on decarceration and stopping ICE transfers from county jails and state prisons.
Sammie Ablaza Wills, APIENC
Sammie Ablaza Wills (they/them): Sammie is an enthusiastic, queer, non-binary Pilipinx organizer passionate about supporting people in reclaiming their inherent power and dignity. Their political journey started with witnessing xenophobia against their family, fighting budget cuts in public schools, and learning about trans Pilipinos fighting colonization. It's from these knowledges that Sammie has worked to trained hundreds of young, trans, queer, Asian people to lead from values of abundance and interdependence. Originally starting at APIENC as a Summer Organizer, Sammie has served as the Program Assistant, Community Organizer, and now Director. Their current role of Director involves supporting all those at APIENC, ensuring the organization stays a stable one rooted in abundance, and uplifting the next generation of organizers through APIENC's Leadership Development program. Outside of their organizing work, Sammie enjoys spending time with friends, telling stories, making song parodies, and lifting weights. They believe that anything can be turned into a chant and brought onto the streets (literally and emotionally).
Noelani Goodyear–Ka'ōpua, Associate Professor of Political Science at University of Hawai'i – Monoa
Noelani Goodyear–Ka'ōpua (Pronouns: ʻo ia / she) is Kanaka Maoli (Indigenous Hawaiian), who was born and raised in Hawaiʻi. Her genealogy also connects her to Southern China and the British Midlands. Noelani has been organizing in the Hawaiian independence movement for over 25 years, including being a co-lead of Lā Hoʻihoʻi Ea – Honolulu and a co-creator and facilitator of the Movement-Building for Ea community organizers' trainings. She serves on the non-profit boards of community organizations doing land- and ocean-based cultural resurgence work, including the Kānehūnāmoku Voyaging Academy, which trains Hawaiian and other Pacific Islander youth in Indigenous sailing and navigation practices. A professor of Indigenous politics, Noelani's research has involved documenting, analyzing and proliferating the ways people are transforming imperial and settler colonial relations through Kanaka Maoli political values and initiatives. Her most recent book, Nā Wāhine Koa: Hawaiian Women for Sovereignty and Demilitarization (UH Press, 2019) is a collaboration with four activist women elders who played key roles in catalyzing the contemporary Hawaiian movement.
Jude Feng, Collective of Houston Asian Americans (CHAA)
Jude Feng (pronouns: he/him): Jude Feng is an organizer, educator, and facilitator whose parents immigrated from Taiwan and whose life and work are in Texas. As someone with extensive organizing history in (predominantly East Asian/AsAm) faith spaces, he moves from the belief that justice work is the healing of our collective spirituality and that transforming relationships, at all levels, is how we breathe deeper into our liberation. He's lived in Houston over the last 10 years, working across various movements and initiatives. Presently he's active as a co-founder in the Collective of Houston Asian Americans (CHAA), a group committed to building a community / political engagement space centering queer Asian Americans and their other intersectional realities. He's also the Director for Justice and Equity in Project Curate, a collaboration of folks from different communities, privileges, and oppressions working together on how to build deeper solidarity across those communities and experiences. 
Get registered below for the webinar on Wednesday, May 6th:
***