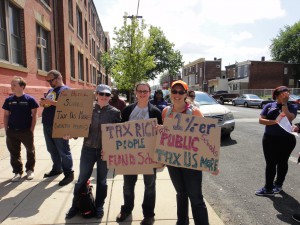 On May 17, members of Philadelphia's RG Chapter turned out to the 60th anniversary of Brown v. Board of Education rally to demand more funding for public schools, charter school accountability, shutting down the school to prison pipeline and returning schools to local control. Heather, a member of of this chapter who was at the rally, says that the chapter is starting to work on the fight for fair funding for public schools.
"We were slightly worried before we showed up–is this the right place for us, our message," Heather says. "The other folks there were mostly union members, and a handful of student and parent groups. But we went for it, and we were surprised by how well we were received. One of the first people who saw us came up and took our picture, and heartfeltly said, 'That's the best sentiment I've seen in years.'"

You can read more about the march here but that's not all!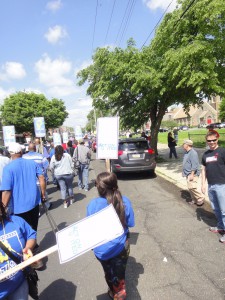 RG's Philly chapter was honored by the Bread and Roses Community Fund's Tribute to Change on . This annual event honors leaders in the community who are making significant contributions to movements for social change.
Our RG chapter was selected for the "Robin Hood Was Right" award for its work around shifting the balance of power in Philadelphia by advocating for taxes on the wealthy and critiquing the current role of philanthropy in public education.
Read more about RG Philly's work, and the other fabulous Tribute to Change honorees,here!