5-Year Strategic Framework (2022)
Mission
Resource Generation organizes young people (18-35) with access to wealth and class privilege in the U.S. to become transformative leaders working towards the equitable distribution of wealth, land and power.
Vision
Resource Generation envisions a world in which all communities are powerful, healthy, and living in alignment with the planet. A world that is racially and economically just in which wealth, land and power are shared. A world where young people with access to wealth have helped to build our collective, liberated future.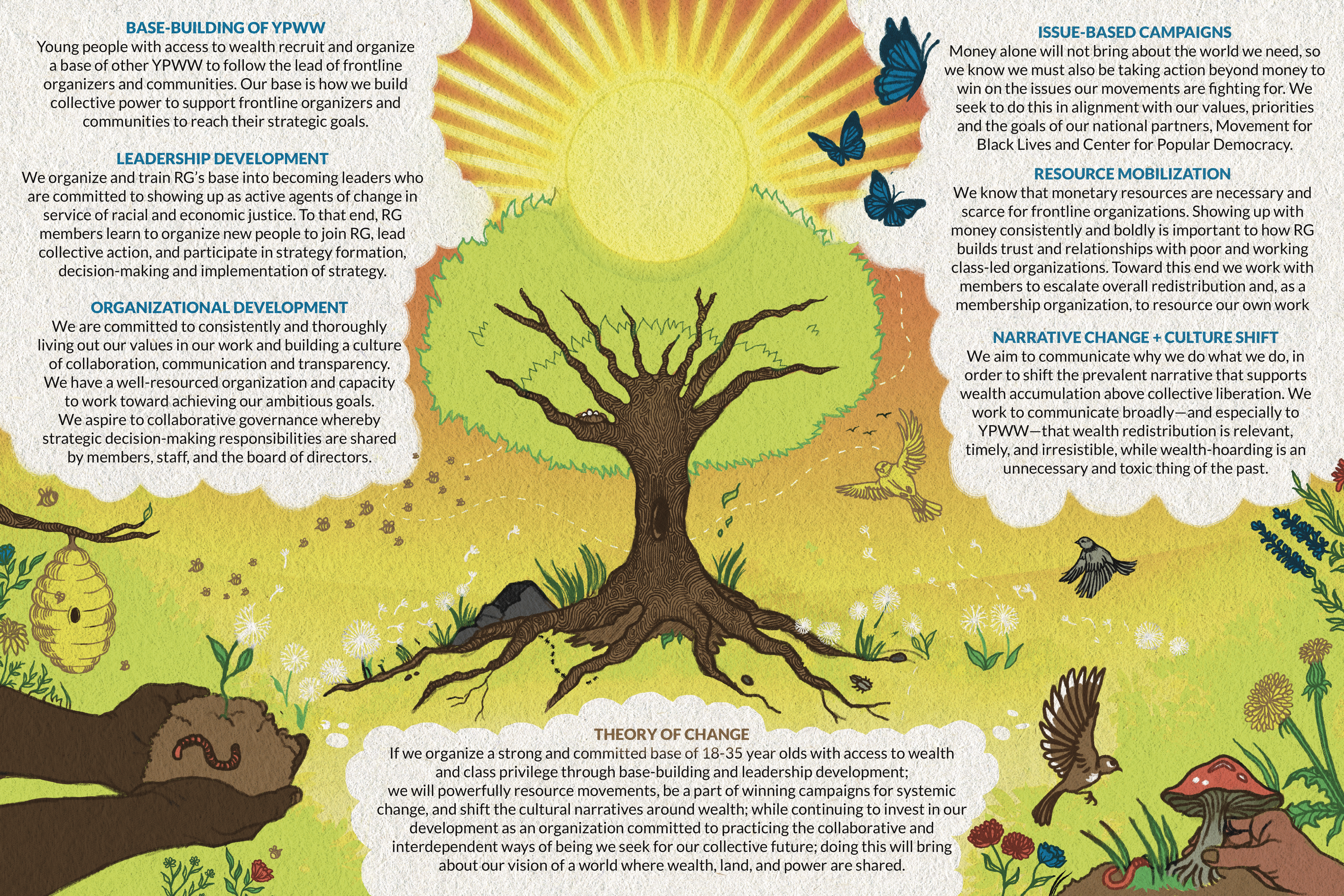 Values 
We hold the liberation of Black and Indigenous people as central to the liberation of all people. We know that attempted genocide and chattel slavery created the initial foundation for massive wealth disparity in the U.S and that the continued exploitation and criminalization of those communities upholds the racial wealth divide. We believe that well-resourced Black and Native Left organizing is a critical part of how we all get more free.
We believe social justice movements need to be led by communities most directly impacted by injustice. As young people with access to wealth, we choose to undermine the pattern of funders dictating the work and instead choose to follow the leadership of transformative social justice movements and communities, led by people who are: poor, working-class, Black, Indigenous, of color, women, disabled, queer and trans.  
We work towards eradicating classism and towards wholeness. We believe that all classes and communities are interconnected & interdependent and that classism has been used to wedge and divide us. We know that much is lost communally in the name of wealth accumulation and that people with wealth have a lot  to gain from returning wealth to the collective and transforming our economy. We know that the current economic system is untenable and we work to build a solidarity economy.
We believe that people ages 18–35, with wealth and class privilege, are at a pivotal stage in life to make a lifelong commitment to social movements. Youth movements and organizing are, and have been bold and visionary. We are building on the legacy of those who came before us, and we are working for a better world for those who will come after. Young people with access to wealth and class privilege need to be organized as protagonists—actively engaging in and seeking out ways that leverage and redistribute our access to power and resources within our control, and redirect resources and power within the networks and institutions we are connected to. We are committed to resisting ageist norms of people acquiring power and holding on to it and constantly doing leadership development to bring about new leadership. 
We believe personal and structural change are deeply connected, and every person has the ability to heal and grow. We are committed to working towards transforming ourselves, our organizations, our communities and society as a whole through our work. We bring our full selves, our experiences, our stake, and our strategic thinking to build cross-class relationships in working for a just and livable world. 
We believe in collective and individual growth, groundedness and interdependence. We know that tensions will arise and we will approach these with curiosity on behalf of our personal and collective wants. We will work to see tensions as generative rather than destructive and finite. We welcome principled disagreement and will strive to keep conflict generative in service of our broader goals and mission.
We believe in the power of collaboration across class, race, and movements. We know that our vision depends on our relationships with communities, organizations and people across our movement ecosystem, with whom we share similarities and differences. Through our organizing work we also seek ways to invite our families, communities, and other people with access to wealth to this work. 
Organizing Model
Base-building of YPWW
Young people with access to wealth recruit and organize a base of other YPWW to follow the lead of frontline organizers and communities. Our base is how we build collective power to support frontline organizers and communities to reach their strategic goals. 
Leadership Development
We organize and train RG's base into becoming leaders who are committed to showing up as active agents of change in service of racial and economic justice. To that end, RG members learn to organize new people to join RG, lead collective action, and participate in strategy formation, decision-making and implementation of strategy.
Resource Mobilization
We know that monetary resources are necessary and scarce for frontline organizations. Showing up with money consistently and boldly is important to how RG builds trust and relationships with poor and working class-led organizations. Toward this end we work with members to escalate overall redistribution and, as a membership organization, to resource our own work.
Issue-based Campaigns
Money alone will not bring about the world we need, so we know we must also be taking action beyond money to win on the issues our movements are fighting for. We seek to do this in alignment with our values, priorities and the goals of our national partners, Movement for Black Lives and Center for Popular Democracy. 
Narrative Change and Culture Shift
We aim to communicate why we do what we do, in order to shift the prevalent narrative that supports wealth accumulation above collective liberation. We work to communicate broadly—and especially to YPWW—that wealth redistribution is relevant, timely, and irresistible, while wealth-hoarding is an unnecessary and toxic thing of the past.
Organizational Development and Collaborative Governance
We are committed to consistently and thoroughly living out our values in our work and building a culture of collaboration, communication and transparency that will ultimately build more trust. We aspire to do this in our internal practices and infrastructure with policies and creating pathways for member engagement such as the National Member Council . We have a well-resourced organization and capacity to work toward achieving our ambitious goals. We aim to share clear, consistent information about RG across our organizational stakeholders. We aspire to collaborative governance whereby strategic decision-making responsibilities are shared by members, staff, and the board of directors.
Theory of Change
If we organize a strong and committed base of 18-35 year olds with access to wealth and class privilege through base-building and leadership development;
we will powerfully resource movements, be a part of winning campaigns for systemic change, and shift the cultural narratives around wealth; 
while continuing to invest in our development as an organization committed to practicing the collaborative and interdependent ways of being we seek for our collective future;
doing this will bring about our vision of a world where wealth, land, and power are shared. 
What: 
From adrienne maree brown, political home is: "a place where we ideate, practice and build futures we believe in, finding alignment with those we are in accountable relationships with, and growing that alignment through organizing and education."
Who: 
How: 
When: