Webinar: RG Resource Survey initial results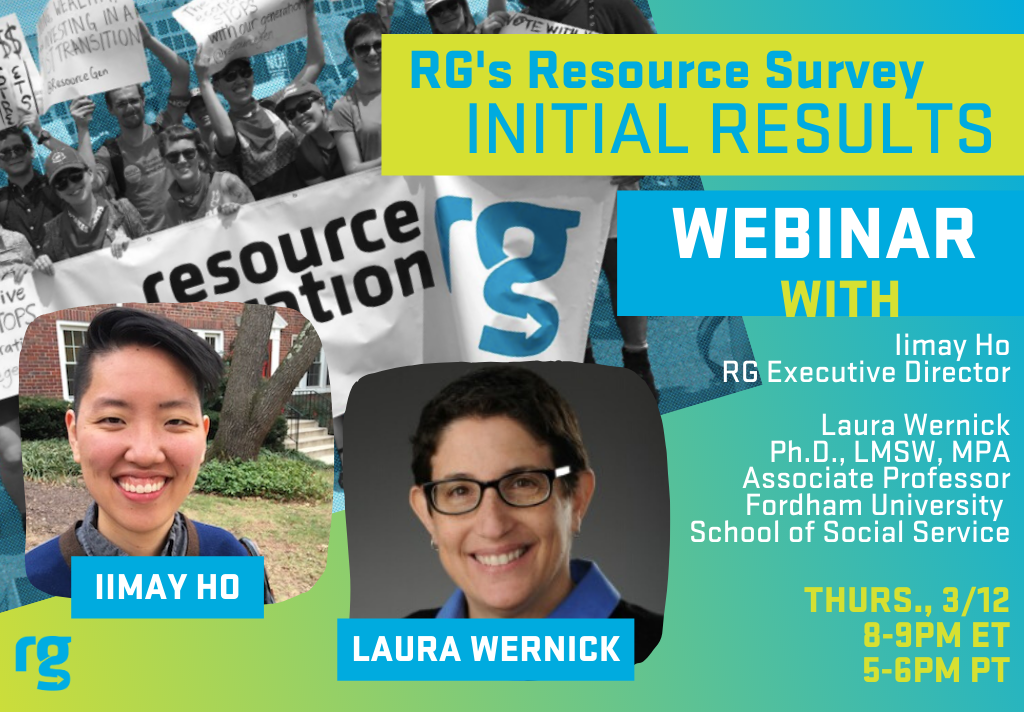 On Thursday, March 12th from 8-9pm ET/5-6pm PT join us for our webinar reviewing some intitial results from our survey of the Resource Generation community.  
Over the past two years, we've been collecting information about the RG community through the RG Resource Survey, originally launched in 2018.
This 1-hour webinar will look at the initial results of the RG Resource Survey, which was filled out by hundreds of RG members and supporters, the vast majority being people who identify as having access to wealth and/or class privilege.
You should check out the recorded version of this live webinar from March if you're interested in things like:
– What are the most significant factors that lead to our members increasing their giving to social movements?
– How do RG programs like Making Money Make Change and others impact attendees?
– Where do RG members give? To what kinds of organizations?
– among many more!
The recording of the webinar is available here. 
The webinar slides which include key findings are available as a PDF here. 
SPEAKERS
Iimay Ho
Iimay Ho (she/her, they/them) joined the Resource Generation staff as Associate Director in August 2014 and became the Executive Director in January of 2017. She holds a vision for collective liberation in her heart and is passionate about creating and implementing strong organizational systems to turn her vision into reality. Prior to Resource Generation, she spent 3 years as the Director of Operations and Finance at The Management Center where she helped move the organization to the next level of performance
Laura Wernick
Laura Wernick (they/she) is an Associate Professor at Fordham University School of Social Service. Dr. Wernick completed her PhD in Social Work and Political Science, and a graduate certificate in Women's Studies at the University of Michigan, where she was also a Postdoctoral Research Fellow. Their research explores and examines innovative models of transformative community organizing. In particular, Wernick examines how these models creatively address issues of power, privilege and oppression at multiple levels to impact social change while transforming people's daily lives. This research agenda has been developed through and is grounded in her practice experience, which has focused on community organizing, organizational transformation and leadership, and participatory action research.
Dr. Wernick's current research includes:
Domestic Worker & Employer Movement for Dignified Care & Justice
Transformative LGBTQI Youth Leadership and Organizing
Youth Leading Community Change: Exploring the Intersections between Community Organizing, Mental Health, and Wellness
Leveraging Privilege: Organizing Young People with Wealth to Support Social Justice
***