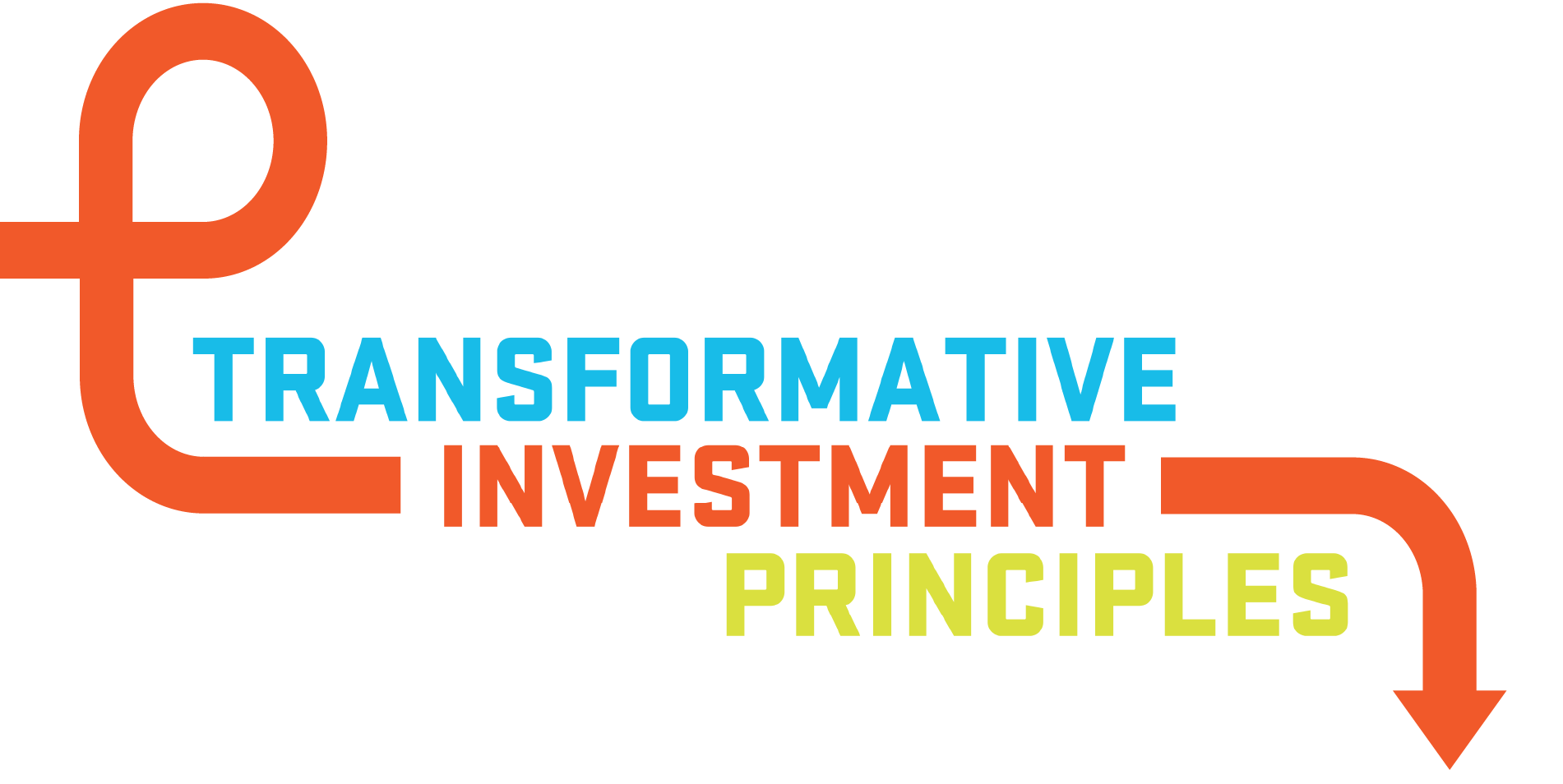 Resource Generation is working to build a world where land, wealth and power are shared equitably. As young people with wealth,  we need to use all the tools in our tool box. We need to radically redistribute AND leverage our resources to build collective wealth and power. We invite RG members to reimagine and shift their investing to be in alignment with these principles.
Resource Generation organizes young people with wealth and class privilege in the U.S. to become transformative leaders working towards the equitable distribution of wealth, land and power. For many years, RG has called for wealth redistribution through giving in alignment with these social justice philanthropy principles. In addition, young people with wealth have a vital  role to play in making values-aligned decisions around investments that share power instead of hoarding it. 
According to RG's 2018 Resource Survey, we know that there are large amounts of invested capital held by our members and their families. Participants reported giving $68M in 2020, but in the 2018 survey (the most recent) RG constituents reported assets of $1.9B individually and $22B in family assets. We ask, specifically as young people with access to wealth, how can we mobilize resources as effectively as possible in service to movements? How can we use our unique leverage as investors to transform the investing industry, reform investment policies that favor the rich, and support self-determination and collective wealth-building and power in BIPOC, and poor and working-class communities? We are answering the call from longtime movement partners to get creative, work in deep partnership and move boldly around investments as a complementary strategy to social justice philanthropy in order to build a world where land, wealth, and power are shared equitably. 
These principles are specifically designed for young people with access to wealth and the institutions young people with access to wealth are a part of (i.e. family philanthropy, donor networks). RG's Giving Guidelines ask that at a minimum, RGers do not make money off of our wealth, and pushes us to boldly redistribute it instead. We are also asked to question and oppose the exploitative and extractive institutions that make it possible to "use the money to make money" and practice regenerative, values-aligned strategies for investing our resources to build a world where land, wealth, and power are shared equitably. 
We are grateful to the many RG members, movement partners and solidarity economy leaders who contributed to these principles, and especially to Emily Duma (RG Board Member) and Taij Kumarie Moteelall (Media Sutra) who listened deeply, responded to a clear ask, and scribed these principles for RG. Here is a blog post from Emily and Taij with more history and context.
1. TRANSFORMATIVE INVESTING RESOURCES A SOLIDARITY ECONOMY THAT WORKS FOR ALL by pulling money off of Wall Street to invest in community wealth building. 
Many historically marginalized communities seek self-determination through control of their economic livelihoods and productive economic activity within and outside of capitalism. Economic justice lives in solutions that foster community wealth building, cooperative "ownership," community care, and mutual aid. Our investments can build long-term relationships and partnerships in economic activity that supports self-determination, and aligns with community wealth building to catalyze and co-create a solidarity economy.
Example: The Boston Ujima Project is building an equitable, community-based local economy led by Boston's working class residents of color. Ujima is a Swahili word, the celebrated Kwanzaa principle for "collective work and responsibility." The Boston Ujima project is working to cultivate this through the first democratic investment vehicle in the United States – a fund currently standing at $3.7 million that is financing small businesses, real estate, artists and infrastructure projects that meet their collectively agreed-upon "good business standards" in Boston's working class, Black, Indigenous and other communities of color. Using a participatory budgeting process in combination with nontraditional underwriting, they put economic development decisions in the hands of community members. Every Voting Member whether they have invested or not, and regardless of the dollar amount, has an equal say in how the fund is invested. Collectively, they are financing an economy that grows local wealth and builds community power for social change. By design, the Kujichagulia pool aims for the highest returns, an inverse of the traditional relationship between "risk" and "reward," what Ujima calls "capital stack equity" or "reverse capital stack." With this practice, Ujima is redefining risk as well as disrupting the social reproduction that occurs with a traditional risk-reward relationship. So the Ujima Fund is redistributive in nature, and grounded in reparations. You can contact them at [email protected]. 
Practice deep listening to understand what is being asked of us. Different types of support are asked for in different spaces within movements for economic, racial, and social justice. We should ask "is the need there for philanthropic grants, gift capital, low- or no-interest loans, or something else?" and then be responsive to those asks. Release judgements that are shaped by our internalized supremacy in order to cultivate the trust and true partnerships that are the foundation of a solidarity economy.
2. REDEFINE "IMPACT INVESTING" to mean investing in those most impacted by injustice, and trusting their leadership.
In traditional investing spaces, "impact investing" includes any investment strategy that considers social or environmental benefits alongside financial benefit to the investor. It is a broad term used in many different ways. We want to be precise about our meaning. To be "invested" in something is to care about its outcome and to understand our interconnectedness. By working to build a solidarity economy in deep partnership with those most directly impacted (people at the intersection of multiple oppressions: people of color, women, poor people, LGBTQ+ folx, etc.), those of us with power in capital markets can reframe "impact investing" to create powerful societal transformation. 
Example: The Buen Vivir Fund is a project of Thousand Currents, an organization that has provided long-term grant support to indigenous- and women-led groups in the Global South who are organizing for food sovereignty and climate justice, and working to build alternative economies. Organizational leaders approached Thousand Currents because they saw the increased use of impact investing in philanthropy and development aid, supposedly spurring "development" while also achieving social and financial returns. Thousand Currents conducted a research study to understand better how impact investment was being practiced, and its findings saw that it generally felt like extractive business as usual with added bottom lines. They were interested in creating an investment fund from scratch that would challenge the pressures and power dynamics inherent to investing as well as the economic norms of the impact investment space, which would then serve as accessible, non-extractive funding to grassroots groups building thriving local economies that support community autonomy, self-determination, and well being. Thousand Currents worked to recruit 9 values-aligned financial investors who collectively committed $1 million to seed the project and 10 grassroots partners to co-design this fund. Everything, from the terms of the investment, to the way financial risk is allocated, to the participatory governance structure, has been co-created by all stakeholders coming together, working to build trust and experiment together. 
Practice being intentional about who is advising us and managing our investments. Pay close attention to who is getting paid (and how much!) to manage our money, and whose advice and labor is not valued with equitable recognition and compensation. Are we "paying" movement leaders who shape our analysis and consciousness as much as we pay those who advise and manage our investments? Are such advisors and managers reflective of impacted communities and/or actively working to transform the system?  If not, switch to different managers and advisors and ask critical questions. How are they explicitly promoting racial justice? How are they cultivating a healthy and equitable workplace for their employees? Whose voices, direction and leadership are they following?
3. REDEFINE "RETURN" to mean "returning to right relationship" to people and planet. 
The term "return on investment" describes a transactional relationship almost exclusively used to mean financial returns. It also implies that the investor who already possesses money deserves more money, while the party in need who is being "invested in" is responsible for the return. Right relationship means living in harmony with land, each other, to spirit and to ourselves. Using this frame, our investments become opportunities to center broader social returns over individual financial returns. Our investments are grounded in, and prospers  through harmonious relationships rather than an abstract system that is inherently exploitative. 
Example: Seed Commons is a national democratically-controlled network of 25 locally-rooted, non-extractive loan funds that brings the power of big finance under community control. Seed Commons helps communities invest in businesses that meet community needs and that also have shared ownership and cooperative structures that allow a transition away from extraction and to community control for community benefit.  The network's approach is based on the model, experience and infrastructure of The Working World, the oldest and largest of the members, which has been successfully investing in cooperative enterprises internationally for 16 years. Across the country, members of Seed Commons have deployed more than $15M in over one hundred cooperative projects nationwide, representing many thousands of borrowers. Seed Commons has aligned the terms for its investors with the non-extractive terms they extend to their borrowers; it is written into the loan agreements for both borrowers and investors that lenders/investors are only paid back out of revenues that the investments generate. Seed Commons and its member loan funds serve as active partners in the loans they make, deeply involved in the success of the businesses, because they have a motivation to ensure that projects are successful, or in other words, to make sure that "finance is only used as a tool to create real, lasting wealth for those it serves."
Practice diagramming our portfolio. What are the returns (beyond financial) that we are creating with our investments? Which types of returns (ecological, social, etc) would we like to prioritize instead? Then, shift our investments accordingly.
4. REDEFINE RISK to visibilize who has been placed at "RISK" in order to accumulate wealth for investors, and who is assuming risk to make a new future possible. 
Within the field of investments, "risk" is often narrowly defined as to the investor's risk of losing money. When we see investment as a tool to build a new liberatory future in which land, wealth and power are shared equitably, we then understand that as investors we can assume more risk, and gain much more in the end. In right relationship, amidst beloved community, all of our needs are met. Even if we risk the majority of our financial investments, we will still have power and privilege. We must reckon with the question of what makes us all more secure. Does true security come from wealth or does it come from a sustainable planet and interdependent communities where people care for each other and share resources equitably? By investing our resources to ensure everyone has enough to thrive, we also get to be part of this collective thriving. 
Example: The Renaissance Community Cooperative was a community-owned grocery store in Greensboro, North Carolina. It was opened in a food desert, after the community had tried for 18 years to attract a conventional grocery store. The RCC offered fresh, healthy food to the neighborhood, but ultimately had to close down due to overwhelming competition from corporate chains and dollar stores. Working with the Southern Reparations Loan Fund (a founding member of Seed Commons), transformative investors had structured the terms of their loans to assume more of the financial risk. In a traditional investment, investors get paid back first, and if there are not enough funds available, they would be able to take control of the store's physical assets. In this case, the loan terms were non-collateralized and the debt could be paid off last. This allowed the RCC to close with dignity and provide their workers severance. The RCC created so many powerful returns beyond financial ones, and investors assuming more risk helped shift the power dynamics embedded within society. 
Practice understanding what security means to you and how to distribute security as an investor. In finance, "security" has multiple meanings: a security is a word for an equity investment (as in the "Securities and Exchange Commission") or a debt investment or options to purchase investments; security is a word for the collateral or assets that a lender makes claim to until debt is repaid (as in a "Security Agreement"). Take time to journal – what about your financial "securities" contribute or inhibit a sense of safety and security? Does true security come from wealth? What does real security mean to you, and what steps could you take to make your financial "securities" feel more in line with this authentic sense of security? Example: if climate change makes you feel insecure could you invest financially in community-controlled energy infrastructure? 
This new understanding of investing calls us into deep, transformational practice.
5. A RETURN TO RIGHT RELATIONSHIP REQUIRES REPAIR at the personal, interpersonal and structural levels. 
Once we step boldly into relationships across socially constructed divides, some of our deepest work begins.  Shifting from a transactional approach to investing to a transformational approach calls upon us to heal and build solidarity. In doing so, we repair extractive relationships with people and the planet that has yielded massive wealth accumulation alongside extreme harm and devastation. Our goal is to be more than just  socially "responsible" in our approach to investing. Rather, it is to be socially restorative and regenerative. Repairing harm inflicted upon people and the planet through a history of state sanctioned violence and extraction of resources is integral to harmonious relationships across class, race, sexual orientation, and gender.
Example:  The Path to Freedom: Solidarity Economy Exchange (PTF) is designed to return extracted resources to historically oppressed communities, namely Black, Indigenous and LGBTQIA+ people. The first iteration is inspired by the words of Sonya Renee Taylor and centers Black Women Creative Entrepreneurs. Sonya calls upon us to trust Black Women: "If you want to find the path to freedom, follow a Black Woman." PTF is currently mobilizing $1M each for 10 Black women to scale their visions for a solidarity economy. Developed by Media Sutra, in partnership with the Wealth Reclamation Academy of Practitioners (WRAP), PTF is a model for reparations and community stewardship of land, wealth and power. Concentric circles of co-conspirators pour resources into a centered community. Identity-based caucuses deepen into their own healing to practice and embody new ways of being in right relationship across race, class, gender, etc. Participants then co-create brave spaces to activate resource mobilization and transformative storytelling. PTF employs deep listening, co-creation, and a willingness to move through generative tension that leads to truth and repair. PTF harnesses the power of the arts and culture to uplift a narrative shift strategy to influence a national reparations policy. You can contact PTF through [email protected] and [email protected]. 
Practice building meaningful, long term relationships across lines of power and privilege by first engaging in personal healing from generational trauma, internalized oppression and internalized supremacy. Then heal and transform at the interpersonal level by co-creating and/or accessing cross-class and cross-race spaces that center healing, trust and solidarity building. It is important that folks with institutional power and those who are oppressed work through their own trauma and triggers first, and then come together to collectively practice sharing power and resources. This deep interpersonal work requires a level of readiness to prevent further damage and harm.
6. RECLAIM OUR INVESTMENT STORY to move towards repairing relationships and sharing land, wealth and power. 
Understanding the harm done to accumulate wealth, and our (or our family's) role or complicity in it, is an essential step in owning our truth as a source of personal power.  Our financial system is intentionally complicated and abstract in order to: (1) systematically deny access to women, people of color, poor and working class communities, LGBTQ folks and other marginalized groups; and (2) hide the dehumanizing, harmful, and inequitable nature of investments. Transformative investing is rooted in remembering and reclaiming the truth of our (and our family's) investments in order to meaningfully co-create new stories by making tangible shifts in our investments that center sharing power and resources. 
Example: Chordata Capital is an anticapitalist wealth management firm that partners with people with inherited wealth to move their investments off of Wall Street and into community-controlled investments that center racial justice. When Chordata begins to work with new clients, they sit down and ask the client to share the story of their family, identify how wealth was accumulated and think through ways they might be able to take responsibility for this history as they shift their investments going forward. 
Practice analyzing your 'money story' through an investment lens. How has your family used investments or debt to reach this moment? Research sources of wealth through your family stories, census records, and other documentation to understand the process of accumulation. For 'wealth wages' folks (or people with wealth that comes from income instead of inheritance,) reflect on the economic valuation of labor: what system makes this work required? What work supports the possibility of this work?
7. RECLAIMING LEADS TO REIMAGINING new possibilities for the equitable distribution of wealth, land and power.
When we name and reclaim the truth of how we got here, it gives us an opening to shift into right relationship through repair. From that grounded base, we begin to reimagine the future. We should always ask ourselves "what is the world that we want to live in" and are our practices reflective of that world and/or moving us closer? Investment can fundamentally be about providing the resources necessary to actualize visions, and can be a tool for catalyzing collective radical imagination. Often, the radical imagination emerges most brilliantly from those who are at the intersection of multiple oppressions and experience the most acute exploitation, and is often stymied by those who enjoy the greatest privileges. Therefore, the process of imagining the future must center those most impacted while simultaneously building solidarity across divides.  
Example: Movement Generation Justice and Ecology Project (MG) inspires and engages in transformative action towards the liberation and restoration of land, labor and culture. Together with frontline groups across the Climate Justice Alliance (CJA), they helped lay out a Strategic Framework for a Just Transition to a Regenerative Economy rooted in the praxis of BIPOC groups over centuries. The widely adopted framework is shared in a beautiful zine that calls on us to "build the new" in simultaneously visionary AND oppositional ways that also  "stop the bad". This means stopping, starving, and divesting from current extractive systems, while reinvesting in our power by feeding and growing regenerative solutions. They see this framework being applied in as many different contexts as possible — from our families to organizations to sectors of economy– and ask us all to take time to think, using the Pillars of a Regenerative Economy, about what the world that we want looks like. From that vision, they invite us to take on the critical work of navigating the contradictions of transition to ensure that the transition is just. You can contact them at [email protected].
Practice sitting down and journaling for 15 minutes. What is your vision of a future in which we have fully created local, loving, living, linked, participatory economies rooted in reflective responsive relationships to each other and to the places we live? Channel Octavia Butler, N.K. Jemison and other visionary science fiction writers. Think through a world without wealth inequality, where we all have what we need. Maybe we're in space, but we're thriving, connected, supported and accountable to each other. Share your vision with another RGer, or a movement comrade. Check for resonance, and continue sharing so that a collective vision emerges– especially with impacted communities. Start thinking about what we need to do now to make this vision a reality through co-creation in community. 
8. LEVERAGE OUR POWER TO SHIFT POWER by using our unique vantage point and positionality in coordination with movements.
When we align our investment practices with the collective vision we create with movement partners, we will take bold action together as unshakable co-conspirators. We will use our hearts, minds, shares, and proxy votes to resource a solidarity economy that works for all. Our investments are not just another form of money and wealth, they are a form of power.  We have positional power to impact company decisions and to influence publicly elected decision-makers. Our unique storytelling increases the visibility of campaigns and values, and pressures business practices towards justice.  We will use our positional power and organize collectively through investment campaigns for structural change that impacts businesses, workers, the communities they are in, and our planet.  Our power can serve as leverage to shift the center of gravity of that power. It is our responsibility to rewrite the rules that have unfairly benefitted wealthy people through extractive investments, and blaze a new path forward in deep solidarity with impacted communities. Together, we will fight for policies that are not extractive and predatory.
Example: Current shareholder organizing stands on the shoulders of movements like divestment from South African apartheid, the Boycott, Divestment and Sanctions, and many more. One contemporary example of investors leveraging their power in close coordination with activists is the #ForceTheIssue Campaign, in which Adasina Social Capital (formerly RISE) led investors representing $54 billion in assets to issue a statement in support of publicly traded companies ending the practice of forced arbitration for employee sexual harassment claims. Forced arbitration requires workers, as a condition of employment, to sign an agreement that they will only settle disputes with the employer through private arbitration – with no judge, no jury, and almost no government oversight. Research has demonstrated that arbitration rulings favor employers and disproportionately impact women, African American, and low-wage workers. The investor pressure has worked – in the last two years, over 300  public companies have swiftly ended this practice in response, impacting over 10 million workers.
Practice connecting with organizations like Corporate Accountability to take coordinated action through shareholder activism. Shareholder activism leverages the power of stock ownership to influence a corporation's behavior to create justice-oriented change from within. This most often happens through dialogue with management and filing and supporting shareholder resolutions. This work is most powerful when done in close partnership, so work to figure out what strategic campaigns are currently underway and how you can connect with and support that work.
9. EMBODYING SOLIDARITY BUILDS THIS NEW ECONOMY where we all get to thrive.
As we return to each other,  healing divides and embodying new ways of being, we must also return extracted resources. We build a solidarity economy through the deep practice of standing with and resourcing each other. Through practice, new ways of being, doing and having become embodied. We shed old skin and are transformed. We shift from analysis to practice. We do not need to wait until we have it all figured out to be in solidarity with impacted communities. Leaning into solidarity can be a risk, so safety planning is imperative. As we enter cross-class and cross-race spaces we must always identify ways to keep each other safe. It is a journey of learning and unlearning, falling down and getting back up, progress over perfection. We can simultaneously transform personally to undo the ways we have internalized supremacy as young people with wealth and transform relationally by showing up and staying in it– especially when our conditioning tells us to run.  Let's lovingly hold ourselves and each other accountable so we don't unintentionally recreate the same divides we seek to transform.  We will change systems and the world when we are willing and ready to be changed and embody our boldest vision.
Example: WILDSEED Healing Village is a Black and Brown-led, queer and feminine-centered intentional community, ecological farm, and healing sanctuary on 181 acres of land and water in the mid-Hudson Valley. It is comprised of a collective of people committed to stewarding this incredible resource as a permanent safe space for the sustenance of our movement community, and a site of belonging for people historically disenfranchised from land. The vision of WILDSEED was shared by many– including folks with financial resources and others who dreamed of owning land and building a sanctuary for impacted communities. The vision was manifested through a powerful partnership across class and race where an RG member purchased the property for a community of changemakers of color as an act of reparations and to create self and community determination. You can contact them at [email protected]. 
Practice stretching out of your comfort zone to build new connections, learn, heal and grow.  It will be hard and people might get triggered because we all carry generational trauma. This is where centering activities like breathwork and meditation will be helpful. Restorative justice practices are helpful to engage in when there are breakdowns in the midst of building authentic connections across lines of power and privilege. It will happen, and just like we warm up and build muscles as we stretch in a workout, let's do the work to warm up and build muscles as we stretch into "right relationship."
10. JOYFULLY DANCE OUR WAY TO ABUNDANCE FOR ALL
This work of understanding what got us here, healing ourselves and our relationships, and co-creating a solidarity economy is hard and can be heavy. Let's remember to center joy every step of the way. We may not experience the fullness of what we are calling in or actualize our most radical visions in our lifetime, but there will be many wins throughout the process. Let's be sure to celebrate those wins. This in itself allows us to experience what we most want– a world where joyful abundance is the norm and we are all free. We can experience this in sacred rituals and dance parties. So, let's go ahead and give ourselves the chance to live like the future we want is possible today. Sing, dance, create, love, play and rejoice. We deserve it. Everyone deserves it.
Example: In her new book, "Pleasure Activism: The Politics of Feeling Good," adrienne maree brown draws from Black feminist luminaries to teach us how embracing what brings us joy is central in organizing against oppression. In an interview with Colorlines, she expresses: "I often quote the Zapatistas who say, 'We're trying to build a world in which many worlds fit.' In order to do that, we need to feel what our goals and needs are inside of that world on an individual level and on a collective level. I don't think we can really feel for the collective if we can't feel ourselves."
Practice establishing a community of care where you check in with each other and hold each other accountable to prioritizing and making time for the things that truly make you feel alive, joyful and experience pleasure. Celebrate successes, and create practices of gratitude together. Go out and do things for fun or just play. Research shows that playing helps to spark creativity. The solidarity economy needs us to be whole, happy and creative. Celebrate successes, and create practices of gratitude together. 
1 NAMING INSPIRATIONS IN THIS WORK: (incomplete list in progress) Movement Generation; New Economy Coalition; Boston Ujima Project; Grassroots Global Justice; Climate Justice Alliance; Seed Commons; Chordata Capital; Adasina Social Capital; Justice Funders; Thousand Currents / Buen Vivir Fund; Regenerative Finance; Edgar Villanueva; Nwamaka Agbo; Standing in Our Power; Old Money, New Systems; Media Sutra; Wealth Reclamation Academy of Practitioners; RUNWAY; Kindred Southern Healing Justice Collective; adrienne maree brown; Lane Fury; Jessica Norwood; Sonya Renee Taylor; Divestment campaigns that have shifted power (i.e. BDS, Anti-apartheid organizing, etc)