RG Student Organizing Fellowship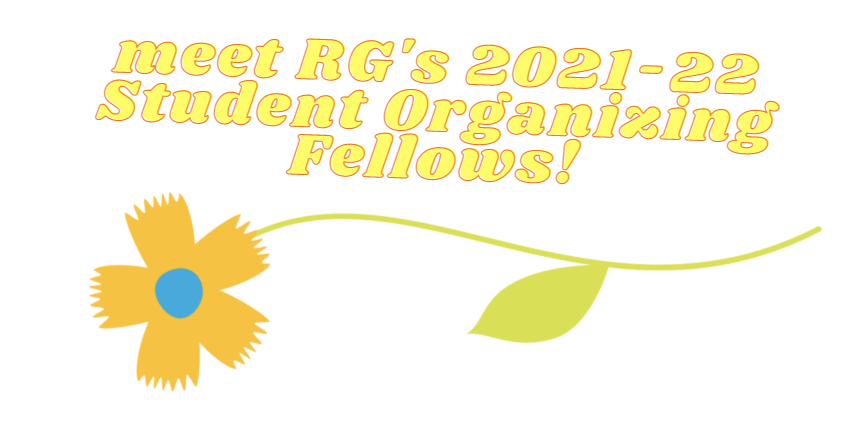 Meet RG's 2021-22 Student Organizing Fellows!
The Resource Generation Student Organizing Fellowship is a 10-month, stipended leadership role created to support, deepen, and expand RG's work on campuses across the country.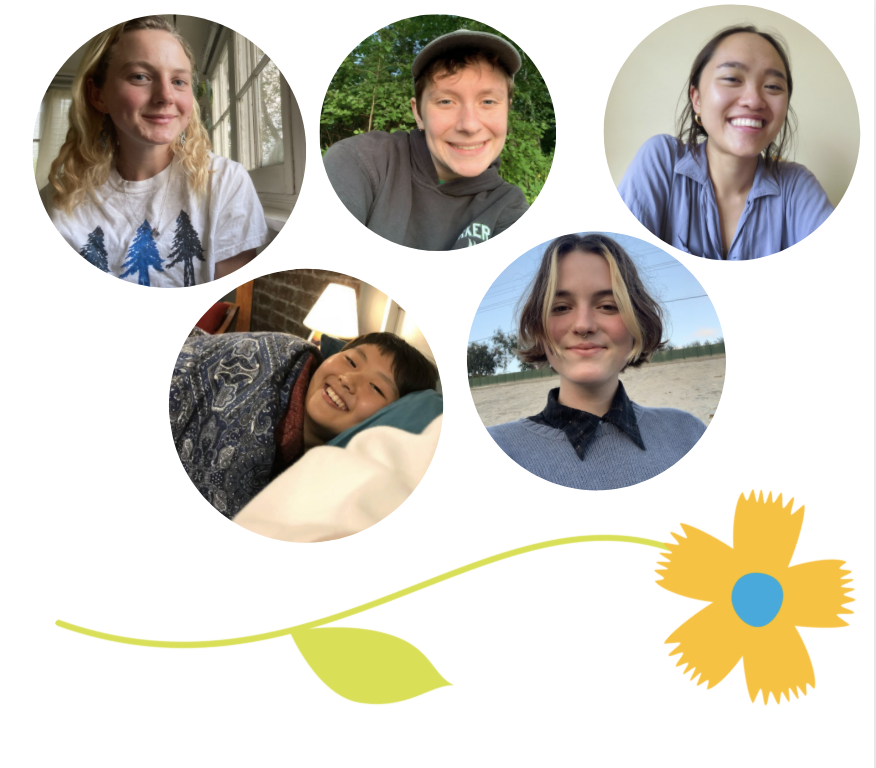 [Pictured from left to right above]
Brita Mackey (she/her)
Brita (she/her) is one of the 2021-22 Student Organizing Fellows! She is originally from Cambridge MA, but is now based in Colorado Springs, CO, on Apache, Cheyenne and Ute land. Brita is currently a senior at Colorado College where she is studying political science and philosophy. She is especially interested in questions of collective forms of identity, national sovereignty and colonialism, and racial and environmental justice. 
Brita found her way to RG through student organizing work in climate justice, electoral campaigns and mutual aid fundraising. Coming from an owning-class background, she is very excited about RG's mission to organize young people with access to wealth, and believes deeply in the power of cross-class coalition building to advance a future of collective liberation. Brita enjoys going hiking around nearby mountains, tracking down live music, and cooking yummy food with friends! 
Email: [email protected] 
Emily Wanzer (she/they)
Emily Wanzer (she/they) is a current geography major and history minor studying at the University of Vermont (UVM). They grew up on 1.5 acres in the small town of Littleton, Massachusetts. As a sister and daughter and friend, and a housemate to 5 lovely humans (plus a few bats who live on the porch), they love their community and learning how to create loving relationships in all aspects of their life.
Emily found out about Resource Generation in July 2020 during an internship doing community food justice work with the Vermont Farm to Plate Network & Agency of Ag. For them, RG was a beautiful invitation to more deeply engage with the ways that privilege and history have woven together in different ways to lead them to their life today. Emily's maternal ancestors were Ashkenazi Jews, and their paternal ancestors were early colonial settlers in what is now "New England," the unceded homeland of many Indigenous peoples. Today, Emily has class privilege and feels that their social justice work is grounded in their Jewish and queer identities. They play ultimate frisbee, hang out in their kitchen a lot, and are working on an honors thesis somewhere at the intersection(s) of settler colonialism and eastern white pine trees in place and time. Emily is so excited to bring their energy and intention to the Student Organizing Fellowship this year!
Email: [email protected] 
Olive Siu (she/her)
Olive (she/her) comes from an upwardly mobile Chinese immigrant family and grew up upper-class on unceded Lenape land in New York. She recently graduated from Carleton College in Minnesota, where she studied American Studies and Educational Studies and first got connected with RG through her college's chapter. Olive enjoys baking fruit pies, reading, experimenting with natural dyes, and working as an infant teacher. She currently lives on unceded Ojibwe, Odawa, and Potawatomi Nations land in Chicago.
Email: [email protected] 
Eui Young Kim (she/her)
Eui Young (she/her) is from Seoul, South Korea. She graduated from Yale University with a degree in philosophy in 2021, and is currently working at New Haven Legal Assistance's immigration unit. Eui Young is from a cross-class marriage: her dad grew up working class and her mom is upper class. Her parents are both highly educated and have invested heavily in her own education. Eui Young will go to law school next fall and probably have a high-earning career in the legal field. She plans to redistribute part of her income for the rest of her life. She was introduced to RG at a workshop on campus and got further involved through praxis groups (both in-person and online) and the 2019 MMMC conference. Eui Young aspires to live without guilt, shame, or fear. She likes art museums, movies, food from all over the world, dogs, and being a homebody. Her favorite philosopher is Peter Singer. You can ask her how to pronounce her name the way she says it, or just call her E-Young. 
Email: [email protected]
Eva Hilton (any pronouns)
Eva (any pronouns) joined RG as an Oberlin College student in the spring of 2020. They were born and raised in Los Angeles on Tongva land, moved to Ohio for college, and are currently in the process of moving back to the West Coast. As a white person with an upper-class background, RG quickly became a political and organizing home for them in college, and they feel very aligned with RG's vision of equitable distribution of land, wealth, and power. In their free time, they play and listen to lots of music, read, spend time outdoors, and cook meals with friends. They are an older sister to a younger brother, and their favorite book is Parable of the Sower by Octavia Butler.
Email: [email protected] 
This year's application looked like:
Want to be an RG Student Organizing Fellow? We are looking for 3-5 current or former Resource Generation student leaders who can each commit up to 10 hours per week to national college organizing during the 2021-2022 school year.
RG Student Organizing Fellows can expect to receive organizing training and leadership development through dedicated check-ins with RG staff throughout the school year, as well as through attending RG conferences and trainings. This position will be supervised by Resource Generation's National College Organizer, keithlee spangler (they/them) ([email protected]). 
Applications are open to current or former RG student leaders. Deadline to apply: May 26th, 2021.

Below is more information about the fellowship and application instructions.
—
Student Organizing Fellow Responsibilities and Application Instructions
Note: This stipended fellowship is open to current or former RG student leaders, including undergraduates, recent graduates (in the last 1-2 years), and/or people who are taking time off from school. We believe in cross-class, multiracial, feminist organizing, and especially encourage students of color with wealth and/or class privilege who have been involved with RG to apply.  If you have questions about whether or not this role would be a good fit for you personally, please reach out to [email protected].
Provide dedicated support to current and emerging RG campus groups and student leaders – 10-15 hours/month

Convene regular (monthly or biweekly) support calls for RG student leaders

Design and facilitate college-specific RG trainings (virtually or in-person), resources, toolkits, and curriculum

Support the planning of workshops, open houses, praxis (core program of RG student groups), and other events/programs on college campuses

Offer 1-1 troubleshooting sessions for individual campus leaders around issues such as 

How to build mutually supportive relationships with first-generation/low-income student groups on their campus, 

Multiracial base-building; how to build the leadership of young people of color with privilege in their group, and 

Planning intentional leadership transitions as students graduate or leave the group
Contribute to RG's national college organizing programming & strategy – 6 hours/month

Meet bi-monthly with RG's

Student Organizing Subscope

to develop RG's college organizing strategy

Identify, develop and implement other creative tactics as needed

Give input on 2021 RG College Organizing Goals and 2021-2022 RG Student Organizing Program

Help with recruitment for the next round of Fellows

Support national RG priorities as needed (4 hours/month)

Recruit for national RG programming, including our annual national conference Make Money Make Change, webinars/trainings, and other events

Lead student RG membership drive initiative during RG fall and spring appeals

Manage rollout of Redistribution Pledge on college campuses

Responsible for regular input of data around college organizing, as well as basic administrative tasks such as uploading timesheets

As needed, provide support with assigned special projects that serve RG's larger organizing goals

Commit to their own development as leaders and organizers – 2 hours/month (& ongoing)

Attend biweekly supervisory calls with other Student Organizing Fellows

Complete political education trainings and readings

Commit to regular self-reflection & assessment

Core qualifications and required skills

Demonstrated commitment to social justice and student organizing, which likely looks like 1 year of leadership or committed involvement in a social justice organization or student group. This could be on or off campus, paid or unpaid, and could look like planning events and actions, recruiting members, building relationships, etc.

At least 3-6 months of participation in student organizing with Resource Generation (ideally 1 year or more).

Relationship-building skills with a wide range of people. Excited to talk to people, share stories, to do outreach, to organize!

Creative & self-directed: someone who is persistent, creative, and solutions-oriented no matter what the obstacles are

Excellent communication skills with the ability to meet all deadlines and communicate effectively about progress of work with team members in a remote environment (via email, text, and other channels)

Our ideal candidate would have…

Openness and curiosity about class, classism, and your own class identity

Belief in the role of young people (and young people with wealth) in advancing movements for justice

Strong experience building relationships with poor and working-class led students and first-generation/low-income student groups
Student Organizing Fellows will play a crucial role in generating excitement and commitment from our base of college students across the country to move resources to social justice movements and participate in campaigns for change. Prospective Fellows should be passionate about racial, economic, and social justice; creative problem-solvers; and have strong follow-through. As part of participation in the program, Fellows will receive training around facilitation, fundraising, organizing, and cross-class relationship building, and will be expected to support student leaders around those key areas of Resource Generation's work.
Location: The candidate can be based anywhere in the United States.
Duration: July/August 2021 through mid-May 2022
Compensation: This is a stipended position with a self-choice sliding scale ranging from $20/hour to $35/hour (total range of $8800 to $15,400 for the duration of the 10-month Fellowship). Fellows will receive this stipend payment in three installments. Selected applicants will learn more about the sliding scale stipend during the interview process.