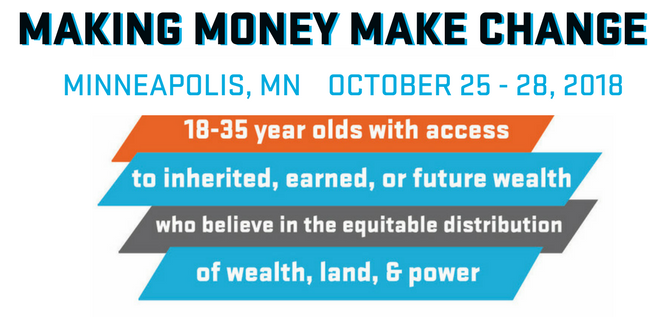 Want to be notified when you can register for this year's MMMC? Sign up for email updates here. 
This four-day conference (October 25-28) aims to generate visions of a future in which land, wealth and power are equitably distributed. MMMC is a confidential space that uses workshops, storytelling and skill building to create a space for young people with class privilege and wealth to explore questions of identity and responsibility in a supportive environment. MMMC programming is dynamic and specific to young people with wealth who are interested in social justice. If you are just starting to think about identity and social change MMMC is a great space for you! It's also a great conference to attend if you have been grappling with these issues for some time, and want to do that work in community. We'll explore a range of topics from creating a giving plan for distributing resources to the dynamics of being in cross-class relationships and communities.
Throughout the conference, participants will support, challenge, and inspire each other to align their resources with their values and work for personal and societal transformation. The days are full of interactive workshops, plenaries, identity caucuses, open spaces, and intimate pod groups.*
MMMC is always a cross-class space. While participants are young people with wealth and partners of young people with wealth, movement leaders, Resource Generation staff and other presenters from various class backgrounds are present and vital parts of MMMC. As such, it's a great opportunity to be practicing healthy cross-class dynamics and to lovingly self-reflect on how class privilege manifests.
Through our local chapters, Resource Generation provides a year-round community with which to organize around ongoing learning, collective giving projects, and issue-based campaigns. MMMC is an excellent access point to our work.
We are so excited to see you!
If you'd like to be added to Resource Generation's mailing list to get announcements about Making Money Make Change or have questions send an email to RG's Retreat Organizer, Jes Kelley at jes@resourcegeneration.org

Who attends
A whole range of people come to MMMC! Participants are individuals ages 18-35, who have earned or inherited wealth (or expect to in the future), which comes from a variety of sources and circumstances. Young people of color with wealth are encouraged to attend as well as partners of people with wealth. MMMC builds a community of peers who support each other in making creative and informed choices about their resources.
For more information about how we conceptualize "wealth," click here.
What do we do at the conference?
Workshops:  MMMC has daily workshops on topics such as Financial Literacy, Campaign Organizing, Social Justice Giving, as well as workshops offered by social movement leaders on current organizing and strategies for change. There will be a total of 10 workshops to choose from over the weekend. Read descriptions of workshops for MMMC 2017 here.
Plenaries: Daily plenaries address topics including the history of racism and wealth accumulation in the US, stories of how Resource Generation members have leveraged their privilege for social change, and "Money Stories"- telling our stories of our class backgrounds and wealth in a group setting.
Fun: Nightly activities like a bonfire, an open mic, and a dance party!
Tentative program details for this year's conference available here.
Here are previous MMMC's schedule* and program*. *Please note that these documents are from 2016's retreat and are available to give you an idea of what to expect this year.
Is this gathering for me?
MMMC offers a confidential environment to uncover your personal relationship to wealth and be inspired by different ways to take action that are aligned with your values and communities.
Do you have or expect to come into inherited wealth? Do you have earned wealth? Or are you the partner of someone with wealth?
Do you want to work with others to create a more just and equitable society?
Are you interested in strategic philanthropy, socially responsible investing and/or effective social change activism?
Do you want to explore how different aspects of identity affect your relationship and access to wealth, such as race, gender, sexuality, and ability?
Are you seeking a supportive community of peers and allies with whom to be engaged with these questions over the long term?
Do you want to amplify your impact by working collectively with other young people with wealth?
Are you ready to stop trying to mask privilege and start utilizing it?
If you answered yes to any of these questions, then MMMC is for you!
Conference organizers and workshop presenters from various class backgrounds participate in the retreat; however, this is not a gathering designed for those who deal with these issues solely from a professional viewpoint or who work with young donors in a financial or fundraising capacity. Some past attendees break it down below. 
Do you identify as a young person of color with wealth?
People of color with wealth sit at a unique and powerful intersection of identities, and there is so much potential to organize together for racial and economic justice. The retreat will host participants from an array of racial and ethnic backgrounds as well as experiences with philanthropy, social entrepreneurship, and movements for change. This is a great space for first time MMMC participants who are people of color to build community with other people of color and to get grounded in this intersection of identities. Though participants' experiences are unique and varied, they are united in a common interest in using resources in support of progressive social change.
Do you identify as a partner of a young person with wealth?
MMMC welcomes partners of people with wealth who were raised poor, working class, or middle class. Through their relationships, partners often find themselves in class transition and as class straddlers, with increasing access to wealth through relationship and family. Partners have a powerful and important role to play in working for wealth redistribution and social change. Partners will be placed in a small group (pod) together throughout the retreat that meets daily for relationship building and mutual support. In terms of content, MMMC is most appropriate and relevant for partners who currently or in the future expect to have interdependent finances and thus some level of access to wealth, or influence over decisions about wealth themselves. If you are unsure of whether MMMC is a good fit for you or your partner, contact Jes Kelley, jes@resourcegeneration.org. Partners of people with wealth are welcome to attend MMMC on their own, or with their wealthy partner.
Caucuses, Open Spaces and Pods, Oh my!
Caucuses are a gathering of people with a shared life experience getting together to talk about how that identity has impacted their lives. At MMMC we'll caucus around lived experience as it relates to systems of privilege or oppression. These spaces are a way for people with a marginalized identity to find and support one another and for people with a dominant identity to reflect and learn with one another. There will be caucuses around ability, race, religious identity, and more.
Open spaces are times set aside for participants to self-organize discussions otherwise not held in MMMC's agenda.
Pods are small assigned groups, based on class background, that meet regularly over the course of Making Money Make Change. Pods provide a space to build relationships, process and reflect on workshops and plenaries, and have enriching and candid conversations about personal experiences with wealth, class, and giving. Pods are designed to make sure no one is isolated at the conference and that there is somewhere for #AllTheFeelings.
Who organizes MMMC?
Making Money Make Change is an annual retreat put on by a Resource Generation. MMMC is sponsored and supported by social change foundations, grassroots organizations, and progressive investment firms.
DO WE HAVE ANY RETREAT POLICIES?  YES, YES WE DO.
You can check out the RG retreat policies that we have developed over the years in collaboration with our Host Committees and community members!