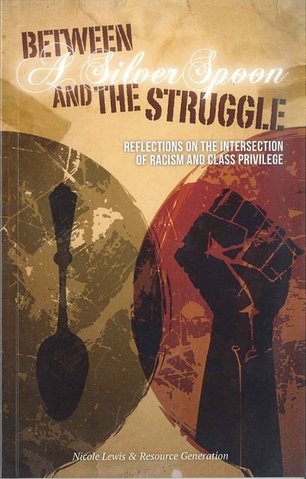 Between A Silver Spoon and the Struggle
By Nicole Lewis and Resource Generation
Through a mix of political analysis and personal reflection, 
Between a Silver Spoon and the Struggle
 explores the nuances and contradictions faced by people of color with wealth. With wit and compassion, 
Nicole Lewis
 takes on the myth of the American Dream, how to identify one's own class privilege, and first steps towards building financial literacy and becoming a donor to progressive social change. Written in the style of a candid field organizer, this slim book is a gem you will want to keep under your pillow, and to read and reflect on questions like, "How much money do I need to have a healthy, sustainable life?," or, "What is my responsibility to my communities?" It's an insightful and quick read for people of all races and class backgrounds, who are interested in understanding the intersection of racial oppression and class privilege more deeply.
Price: $19.90 ($14.95 USD +$4.95 shipping)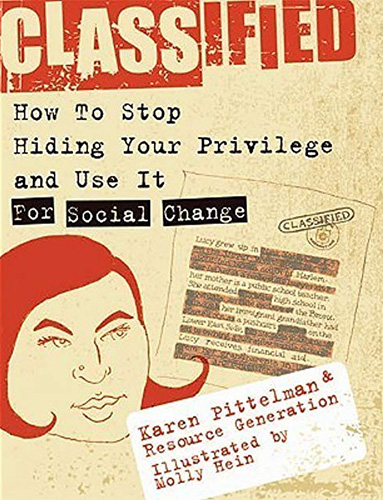 Classified: How to Stop Hiding Your Privilege and Use It For Social Change
by Karen Pittelman and Resource Generation, with illustrations by Molly Hein
The fight for economic justice can draw some stark battle lines. It is often painted as an "us versus them" struggle, with the rich in the role of "them," and the rest cast as "us." Where does that leave young people with wealth who believe in social change? Afraid of being branded the enemy, yet deeply committed to social justice, they are left wandering in a confusing no man's land. Classified is a guide for people with class privilege who are tired of cover-ups, who are ready to dig through the buried files and figure out how their privilege really works. Complete with comics, exercises and personal stories, Classified gives its readers the tools they need to stop hiding their privilege and instead put it to work.
"I love this book." -William Upski Wimsatt, author of Bomb the Suburbs and No More Prisons
Price: $20.90 ($14.95 USD + $4.95 shipping)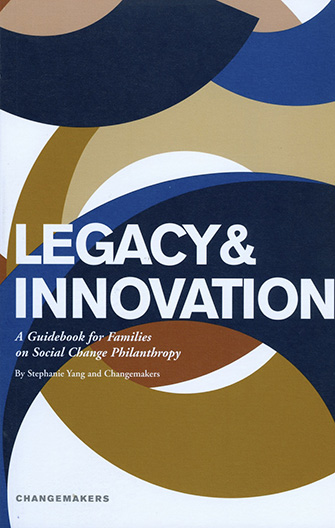 Legacy and Innovation: A Guidebook for Families on Social Change Philanthropy
by
 Changemakers and Stephanie Yang
Practical for grantmakers at all levels, this guidebook provides tools and resources to begin conversations within the family, to deepen existing practices, and to strengthen philanthropic structures. Each section also highlights personal stories from individuals and families as a way to examine how their values of social change practically manifest in their philanthropy.
Price: $16.95 ($12 USD + $4.95 shipping)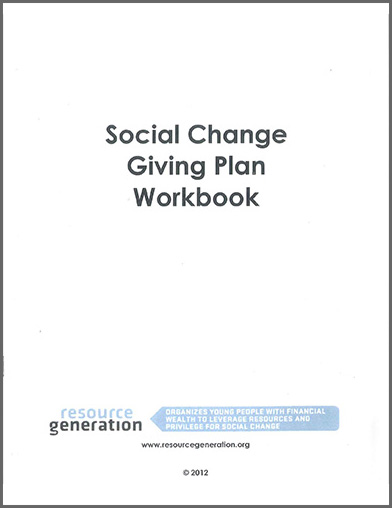 Resource Generation's Social Change Giving Plan Notebook
Thought about giving, but don't know where to start? Been giving for a while and want to be more effective? Wondering about things like shared decision-making, addressing root causes, and being more accountable in your giving?
RG has developed a workbook to help you tackle some of these questions! A giving plan is a map you create to focus your giving (financial resources and time) to movement-building and long-term change connected to social and economic justice. It helps structure your giving so you can be strategic and purposeful in your decisions.
Price: $22.45 ($17.50 USD + $4.95 shipping)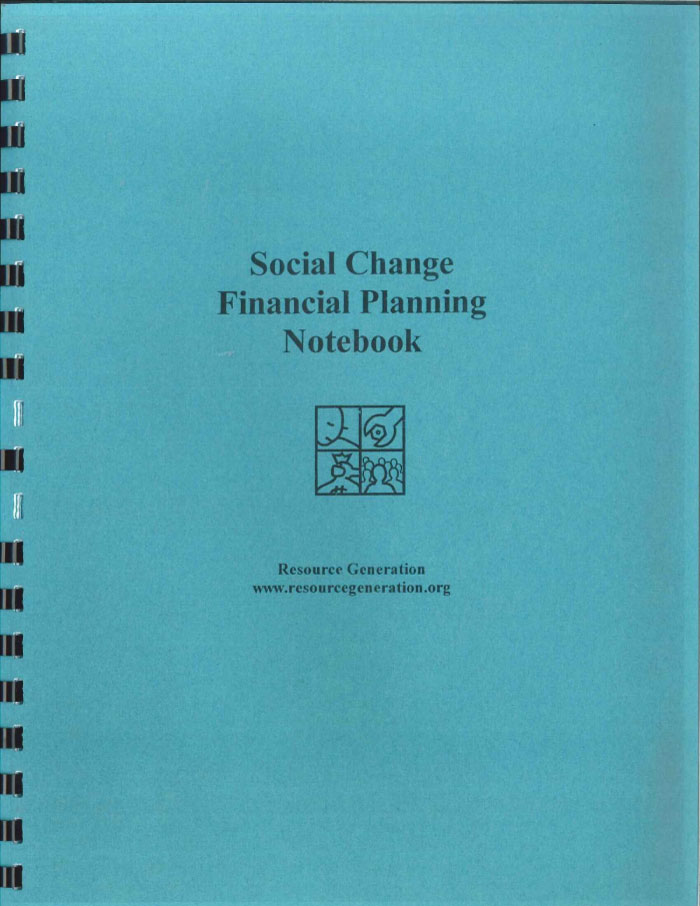 Social Change Financial Planning Notebook
A comprehensive guide and planning booklet to help you set goals, organize and follow through on growing your wealth through socially responsible investments. Recommended for anyone interested in harnessing their resources to make substantive, progressive change.
Price: $25.00 ($21 USD + $4.95 shipping)