COVID and Capitalism webinar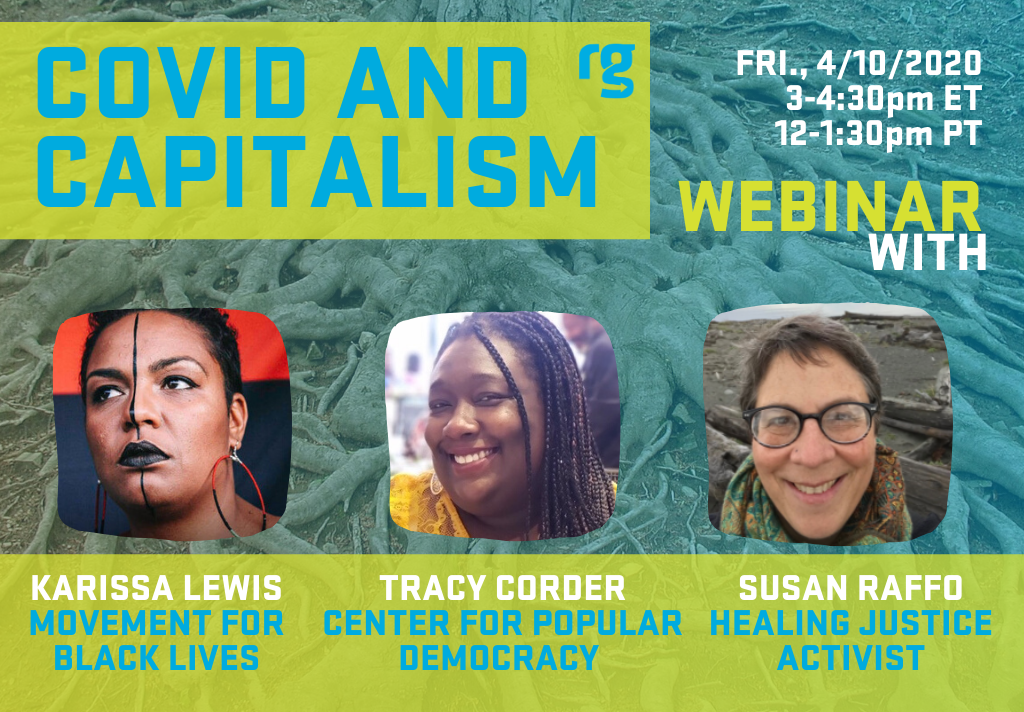 As the coronavirus continues to spread there are multiple global crises emerging simultaneously. There is the virus itself and there is also the economic strain being felt around the world. This, of course, is not new, global capitalism relies on exploited, tenuous labor conditions. However, the scale of financial upheaval is new terrain, join us for a panel conversation on what is being laid bare about capitalism in this moment, what is being made possible and what are the asks for young people with class privilege.
For more analysis in this moment check out the demands for a #PeoplesBailout and M4BL's National Policy demands in response to the COVID-19 crisis. 
SPEAKERS
Karissa Lewis — Movement for Black Lives
Karissa Lewis is the National Field  Director of the Movement For Black Lives. With extensive experience in organizing and activist training, she works to build leadership in communities of color with an emphasis on supporting Black Movements. She is dedicated to creating a movement for social justice that is led by the people most affected. She has organized around issues ranging from gentrification to environmental racism, gang injunctions, and police brutality. She believes centering joy is as necessary as centering strategy, and has committed her life to bringing both to the movement.
Tracey Corder — Center for Popular Democracy
Tracey serves as the Director of Federal Action and Racial Justice for CPD, building deep and close relationships with core affiliates who are focused on driving racial justice work as well as working with other CPD staff to develop effective intersectional campaigns.
She came to CPD from Oakland Rising where she worked as the Field Director for 2 years. There she was responsible for developing short and long term electoral strategy and helping to sustain intentional relationships with partner organizations, elected officials, city staff, labor, community leaders and other key stakeholders in Oakland. Prior to this, Tracey worked as the Deputy Field Director for CO Victory in the 2014 federal midterms elections and served as the Wisconsin African American Vote Director for the 2012 Obama re-election campaign.  She has strong ties to the labor movement through her organizing as the Service Area Organizer with AFL-CIO in Wisconsin.  Tracey has also worked to elect candidates on every level of government throughout the country.
Born in Milwaukee, WI and making her home in Oakland, CA, Tracey is a member of the BYP100-Bay Area Chapter and a co-host of the weekly podcast That's What She Said.  Tracey holds a BS in Sociology and Human Services from Edgewood College and spent 4 years as a Social Worker before formally entering organizing work.
Susan Raffo
Susan Raffo  is a mixed class (poor and working-class when young, transitioning to middle class economically during high school) bodyworker, cultural worker and writer. For the last 15 years, she has focused her work through the lens of healing justice with a particular interest in supporting collective practices of safety and wellness. She has an individual practice and also supports local community-based and grassroots organizations around sustainability and relationship as a core part of organizational work grounded in racial, economic and gender justice. For the last eleven years, she's been part of a small national team building a project focused on the history of the medical-industrial complex and its impact on how we are cared for and how we care for each other. She has lived in south Minneapolis for 30 years and these days lives with her awesome partner, Rocki, and their daughter, Luca. To find out more about her work, go to susanraffo.com