CONSTITUENT MEMBER
Become a Constituent Member of the organization that leverages money, access and privilege for social change.

As a constituent member you receive:
Discounted rates for ally organizations events and publications when available.
Access to member-only areas like our private membership Facebook group. This online community allows you to start discussion threads, ask questions, and build virtual community and resource-sharing.
Blogging rights! Share your stories and work with the RG network.
Invitations to our leadership development programs such a Praxis groups, all-member conference calls, RG Chapter events, retreats, and campaign actions and planning.
Eligibility to join our National Member Council, a member leadership body that shapes organizational strategy and tactics.
Tools for navigating class, money and wealth. Request a free copy of one of our RG publications.
How much are constituent membership dues?
Young people with wealth come to RG from many different situations. That's why we work with a sliding scale for membership dues — it starts at $250 a year, but it should be adjusted to meaningfully reflect your financial situation, your overall giving, and your investment in Resource Generation's collective commitment to social, economic, and racial justice. Your RG organizer or a member of our staff are available to chat with you directly to help guide your decision about what amount makes sense for you.
Here are some helpful tools to think through your contribution:
---
---
---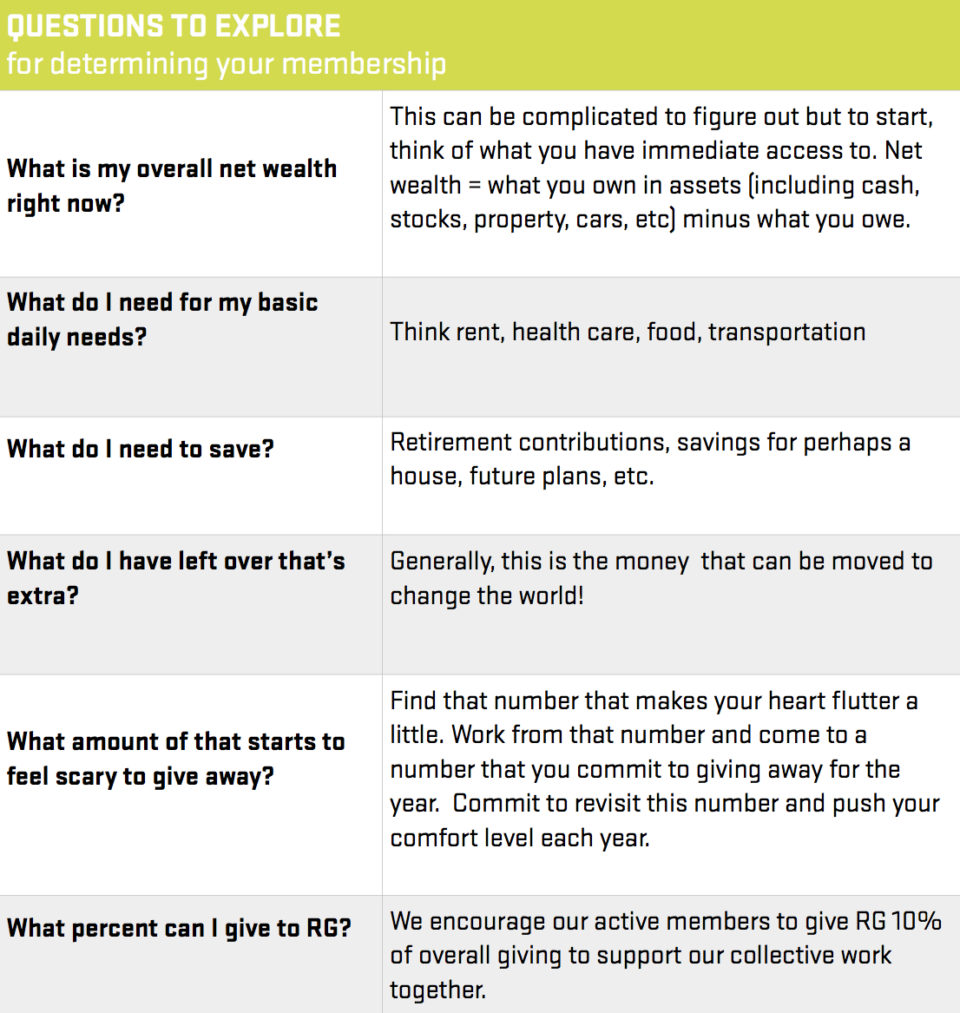 ---
If you identify as a young person with wealth but do not currently have access to wealth–we thought of that! Check out the Stepping Stone Membership to see if it's right for you. Stepping Stone members have access to all Constituent Member benefits at a reduced rate. Contact your chapter organizer or the Director of Development for more information.
At Resource Generation, our members work together with organizers, staff, and in community with each other to figure out giving plans to support RG's work, and the work of the social justice movement. Joining as a member means you will be connected to a community that has been thinking about these questions since 1998!
Not sure if this is you?
Check out our Frequently Asked Questions page or email colette@resourcegeneration.org for additional information.
Please note: Dues only cover a fraction of RG's operating budget. In addition to annual membership, RG constituents, allies, alumni, and supporters are asked to contribute through annual giving campaigns to support both general operating and specific projects and programs. If you hear from us during one of these campaigns let us know how you're engaging with your Constituent Membership!