Table of Contents
Letter from the Executive Director

Highlights

Resource Mobilization

Campaigns

Programs

Local Chapters

New & Emerging Chapters

College Organizing

Organizational Health & Development

Budget summary

Closing
Letter from the Executive Director
2020 revealed the depth of the violence of the intersecting crises of racial capitalism, wealth inequality, and anti-Black racism, as well as the power of solidarity, mutual aid, and building multi-class, multi-racial coalitions to win structural change. 
As a community of young people with access to wealth and class privilege, most of us were buffered from the worst impacts of the COVID-19 pandemic while it devastated poor and working class – and in particular, Black, Indigenous, people of color – communities. We had a clear choice to make, between aligning with the owning class and corporate interests profiting off of the pandemic, or acting in solidarity to create a world where everyone has access to secure housing, food, health, and safety – not just people with money. We chose solidarity. 
We organized our families and our chapters to share their stimulus checks, pledged $68M to social justice movements through our giving pledge, recruited hundreds of more new people to Resource Generation, moved all of our programming online (including our first ever virtual Making Money Make Change) and backed the leadership of our partners at the Movement for Black Lives and Center for Popular Democracy all the way to the ballot box as we mobilized our members through our new c4 sibling organization, RG Action. 
We ended the year with over 1000 dues-paying members, a huge milestone for the organization, and a reflection of how many young people with wealth were looking for a political home to organize and take collective action with during such a challenging year. I extend a warm welcome to all of our new members, and a reminder to us all that our role as a multi-racial community of young people with access to wealth committed to the equitable distribution of wealth, land, and power is to divest from racial capitalism and white supremacy — and to be doing this work year-round and for the long haul.
As we enter 2021, Resource Generation is powerful, impactful, visible, and financially healthy. We are in a strong position to welcome new leadership as I transition out of the organization this summer. I am so proud to have had Resource Generation as my political home for the last seven years. RG has taught me that our role in movements has to be about more than any single individual, candidate, or organization, and it also is about more than mobilizing from a place of guilt or shame. Instead we must organize to transform the conditions that make it possible for wealthy people to take refuge in wealth hoarding and systems of supremacy. To do this we act in solidarity with poor and working class-led movements who are building a world that is equitable and just, where we can all thrive.
Reading this report filled me with a mix of pride and resolve. Look at what we can do when we act together, aligned around a transformative vision…and this is just the beginning.  
With gratitude, 
Iimay Ho 
Executive Director
Resource Mobilization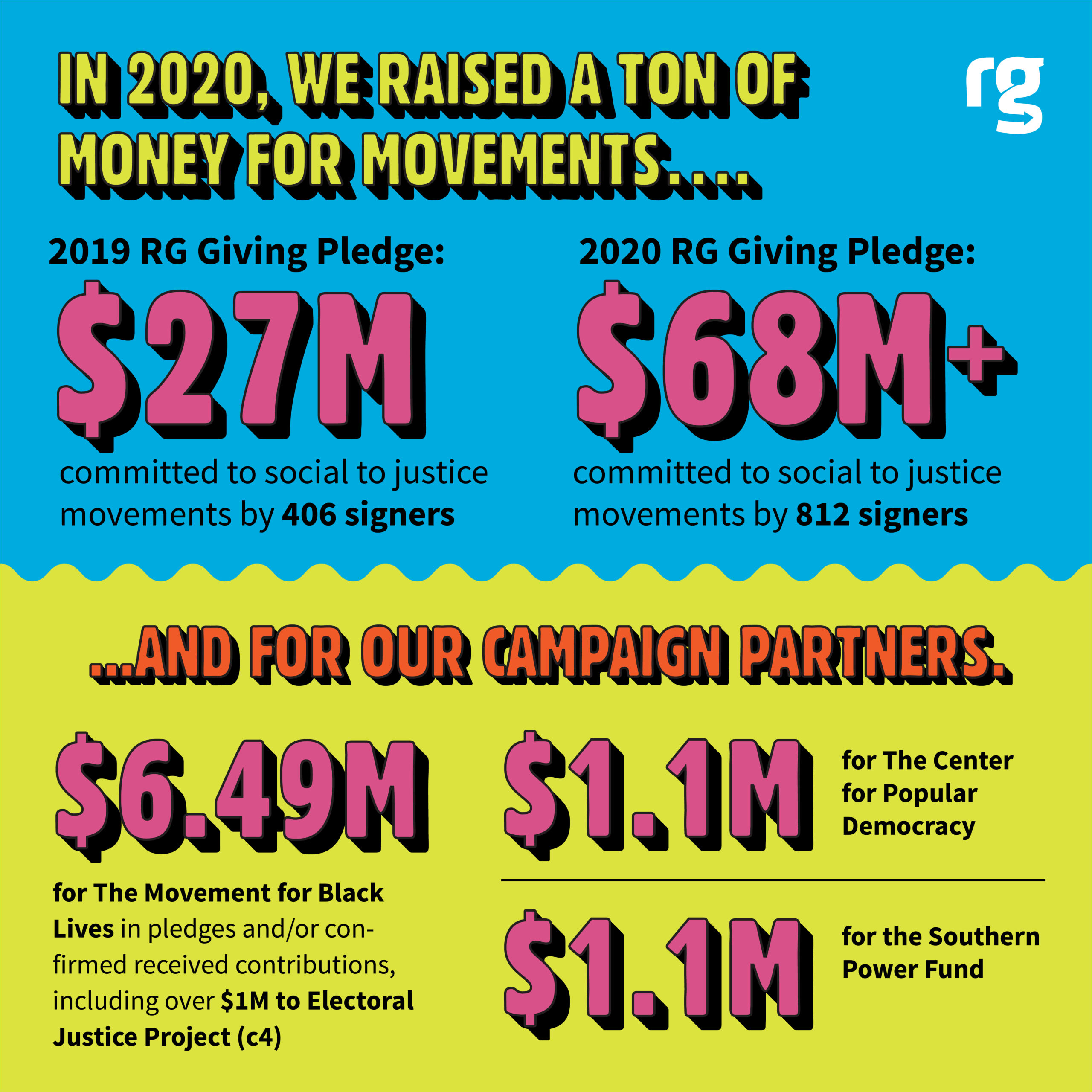 Raised $68M+ in 2020 Giving Pledges

for social justice movements from

812 signers

Including $6.4M to Movement for Black Lives national network and affiliates and $1.1M to Center for Popular Democracy and affiliates

$1.1M to Southern Power Fund

Many members escalated their redistribution, with support from our Giving Guidelines

52% (over half) of people who filled out Giving Guidelines section said they are now giving at least 10% of net assets (or net income, for those with wealth through income)

2.6x as many people are escalating their redistribution (giving more than 10%) in 2020 as were in 2019

Our median Giving Pledge signer moved from "Start the Journey" to "Begin to Spend Down" on RG's Giving Guidelines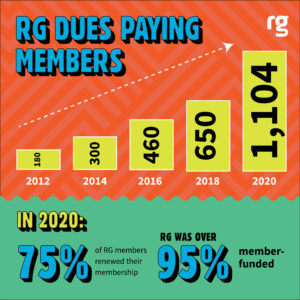 Ended the year with

1,104 dues paying members

– the first time in history we have had more than 1K!

75% renewal rate

481 new members
Campaigns
RG led on the #ShareMyCheck campaign to encourage individuals with wealth and class privilege to redistribute their stimulus checks. We had over 90 organizations sign-on to use shared language and framing and over 1300 individuals commit to redistributing their checks.

Our members mobilized virtually, in car caravans, and safely in-person as a part of the uprisings for Black Lives. 

We skilled up on how to do issue based legislative visits. 

Finally, we launched RG Action (RG's c4/electoral wing). Stay tuned for more in 2021!
Local Chapters
Bay Area Resource Generation (BARG)

fundraising campaigns moved $4,818,816 to 260 organizations, including over a million dollars for 84 grassroots organizations as part of Coronavirus crisis response. The chapter supported their campaign partner Mujeres Unidas y Activas (MUA) and the Oakland Rising Coalition by collecting signatures for Prop 15 and conducting GOTV for the March Primary. BARG ran five praxis groups with 45 total participants, and welcomed 144 new members to the chapter this year.

The

RG Boston chapter

has over 100 dues-paying members for the first time! It moved $150K on its rapid response fundraising email list, over $40K as the lead sponsor of the annual Celebration of Grassroots Organizing (formerly Lobster Feed), and over $80K for Mass Redistribution Fund as part of the #ShareMyCheck campaign. The Boston campaigns team continued to organize as part of the Unmasking Fidelity campaign, alongside Community Labor United (a CPD affiliate) and several other grassroots organizations, engaging members through a political education session in the fall and signing on as a sponsor of the MA COVID Response Alliance.

RG Colorado

moved more than $50,000 in rapid response to the COVID crisis.

RG Chicago

leadership team grew from 2 to 13 leaders, and has been holding biweekly meetings to build community and move resources to local liberation orgs.

The

DC Chapter

held a successful mutual aid campaign in the spring and summer, raising $125,000. The chapter also grew its membership and leadership team.

RG Los Angeles

engaged their members through 1:1 conversations, monthly chapter meetings, praxis groups (including Jewish and POC praxis), and a chapter Slack. The chapter held mutual aid calls during COVID, which were spaces for local and national organizations to share about their work, and raised over $176,000 in 2020. The chapter also raised $27,600 in a chapter-wide giving circle to distribute to local social justice organizations. 

The

New York chapter

adapted national programming to create a local 4-week "Mini-Praxis," a collaboration between working groups that built relationships and oriented over 40 new RG NYC members to the chapter.

The

RG North Carolina Triangle Chapter

launched a new fundraising listserv, continued to deepen relationships with local organizations including Handewa Hemp Farms, raised over $50,000 for the Southern Power Fund and over $50,000 for the Movement for Black Lives nationally & locally. 

RG Philly

continues to support the Philadelphia Community Bail Fund through multi-year pledges to maintain three paid staff roles, which have supported the fund in bailing out hundreds of people caged in Philadelphia jails who were unable to pay bail.

RG Portland

held a cycle of praxis sessions and consistent monthly chapter meetings where members had discussions about reparations, how much is enough, and ways to show up in defense of Black lives. 

RG Seattle

stayed connected to members through Virtual Happy Hours and mutual aid calls where members would share space with local organizations and make commitments. RG Seattle also raised

$97,000 for Queer the Land, a local collective land ownership project.

RG Twin Cities

supported a variety of efforts in response to the George Floyd Uprising. The chapter is also formalizing its land tax policy to proceduralize their commitment to indigeneous sovereignty and will continue holding monthly "New to RG TC" welcome spaces before it's monthly meeting.

The

RG Vermont

chapter grew it's leadership team, deepened base-building strategies and formalized campaign partnerships with the

Vermont Workers Center

and

The Root Social Justice Center

. 

The

Western MA

chapter hosted several COVID-related giving circles and raised over $50K for local mutual aid organizing. They also grew their rapid response fundraising email list, and moved over $40K to local organizers and social justice organizations. 
New & Emerging Chapters
RG Ann Arbor

aka RG A2, the newest chapter in the Midwest held a successful praxis group, moved 12k through the first round of #sharemycheck and launched winter solidarity campaign for the upcoming rounds of stimulus checks! 

RG Atlanta

hit the ground running this year after launching as an official chapter in January of 2020. They doubled in size over the course of 2020, participated in the national #sharemycheck campaign in April, ran a mini-praxis group locally, and collaborated with other Southern formations in Nashville & Austin to hold workshops on organizing family and making a giving plan. They helped mobilize our national community to support southern organizing work by fundraising for the Southern Power Fund and other local and statewide efforts.

The

Connecticut chapter

launched with a powerful vision and leadership team, 15+ dues-paying members, and a budding campaign relationship with

Make the Road CT

(a CPD affiliate). They co-hosted a fundraiser for one of MTR CT's youth/transit justice campaigns.

Groups of RGers started meeting in Nashville, Tennessee and Austin, Texas. While not yet official chapters, these groups got a lot done this year! Our Nashville crew held several study circles, organized folks to move $12,000 total of their stimulus checks to Worker's Dignity and held an open call about the Water Bear Collective, a Black Land and Liberation Initiative. Our Austin crew met regularly over the summer and raised over $17,000 for Communities of Color United, a coalition of local organizations working towards racial equity.
College
Graduated our first-ever Student Organizing Fellowship (congratulations Harshita, Rose, and Shira!)

Over the course of 2020, had RG activity at 20 different colleges and universities, including Barnard, Bennington, Brown, Carleton, Harvard, Oberlin, Smith, Stanford, UC Berkeley, University of Virginia, Yale, and more

Innovated with digital spaces during the pandemic

Ended the year with 80+ student dues-paying members and Giving Pledge signers

Hired a full-time College Organizer (welcome Keithlee!!)
Organizational Health & Development
We kept the relationships, culture, and alignment at RG strong amidst all the uncertainty of the year with virtual staff and board retreats, open mics, and celebrations. 

We decided to permanently shift to a 32 hour work week after first experimenting with reduced hours in response to the pandemic. This has supported the team with their personal and community care practices and has increased our sustainability, while also helping us be clear about our organizational priorities.  

We implemented a variety of other new practices to support staff during the COVID pandemic, the current climate of anti-black racism, police brutality, and state-sanctioned oppression and violence, including:

Unlimited paid sick days, which are not deducted from our existing Paid Time Off (PTO), until the coronavirus is resolved.

Waived our monthly home office budget cap and encouraged staff to purchase any additional home office supplies needed to help make their home office as comfortable as possible.

Began providing staff an opt-in $500 monthly wellness stipend or reimbursement for health and wellness needs (therapy, caretaking, household expenses, etc) without requiring receipts or proof of purchase.

Hosted 1-2 virtual group wellness sessions a month from experienced healers, focused on mind and body practices.

With the help of RoundSky Solutions, we implemented Collab, a cooperative meeting, decision-making, and collaborative project management process that cultivates shared power and decentralized leadership. This new model helped us make decisions more quickly as we rolled out multiple rapid response plans in response to the pandemic and uprisings. It will also help us support the integration of the new National Member Councill and include member leaders in shaping our strategy and goals in 2021.

We adopted an Indigenous Land Tax Policy and distributed a total of $10,500 to 11 indigenous-led organizations.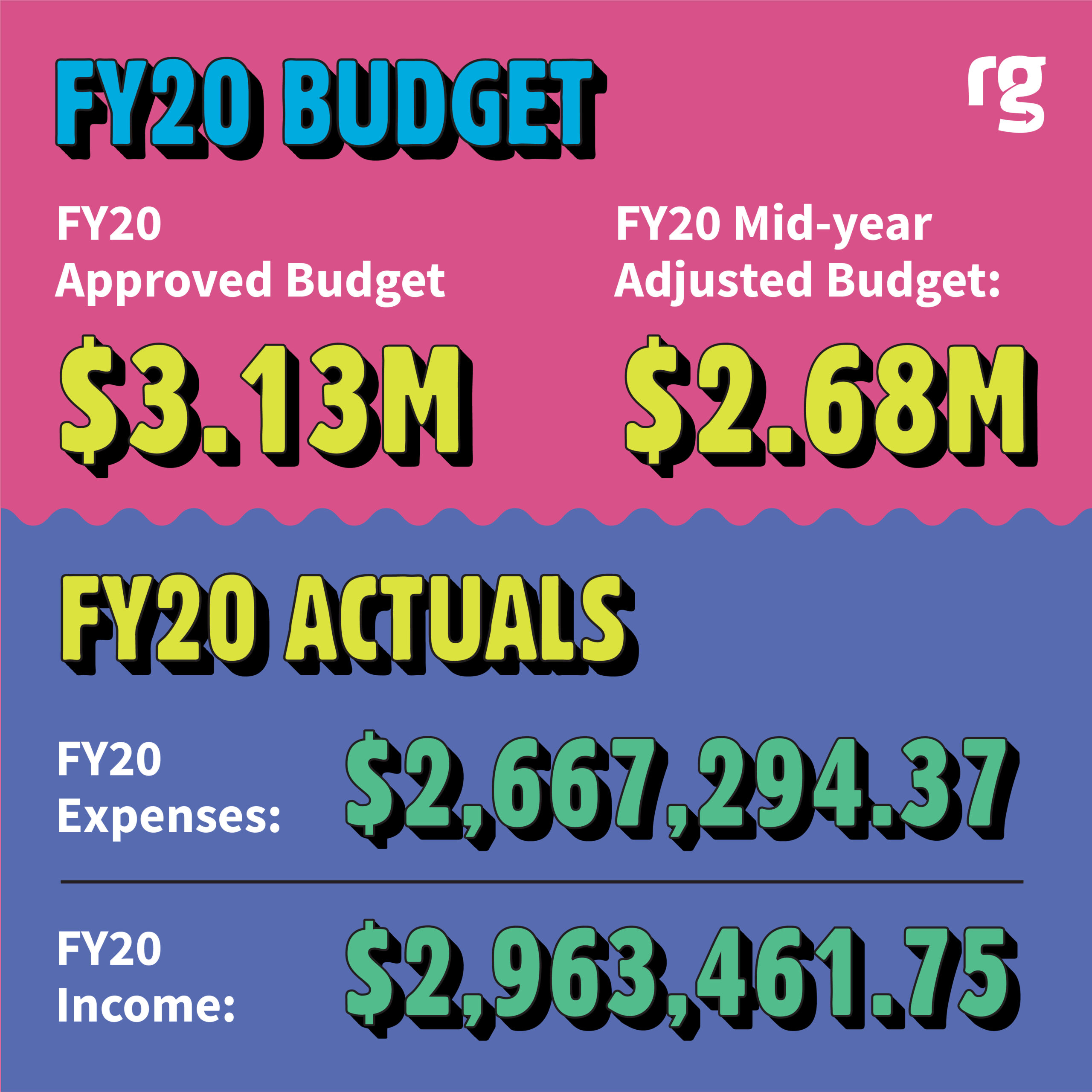 Link to more detailed financial statements here.
Closing: Thank You & Onward
To our members, alumni, organizational partners, staff, board, and everyone else in the broader RG & movement community: thank you so much for all the ways you showed up in the work this year. We could not have had the impact we've been able to have without every single one of you. 
Please don't hesitate to reach out if you have questions about our work. And if you're not already, consider becoming a dues-paying member of Resource Generation today.
Toward the equitable distribution of wealth, land, and power in our lifetimes,
Adam Roberts
Membership Director
March 2021