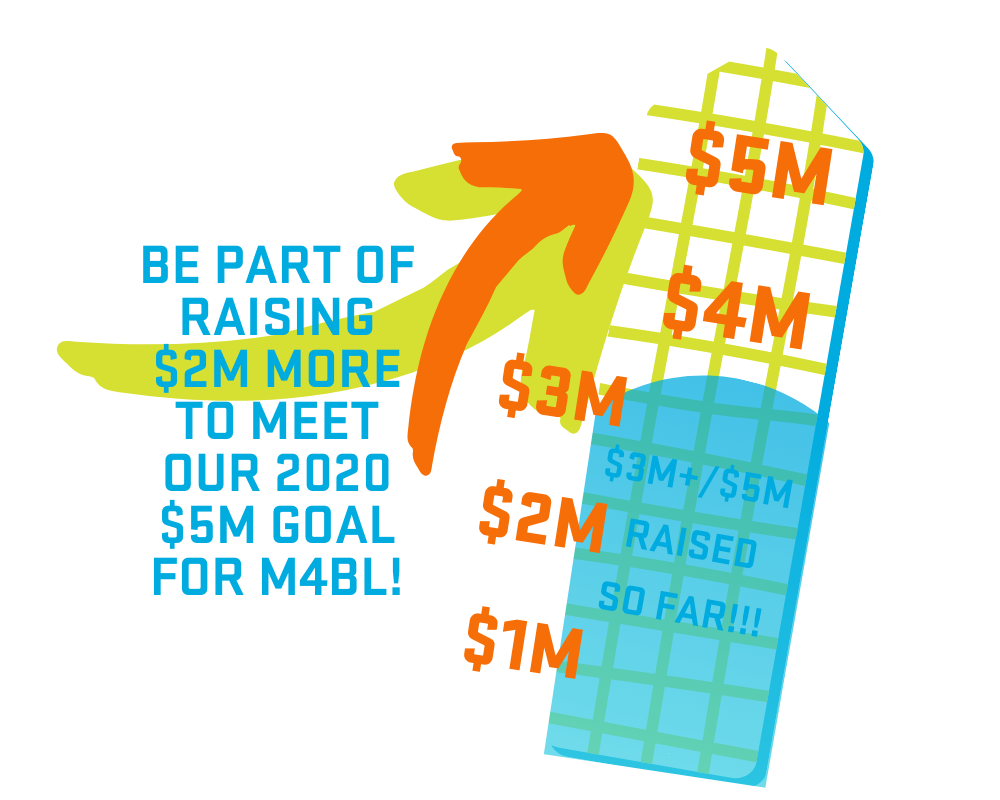 When we say we want to end racial capitalism and practice wealth redistribution, it means following the demands of Black people to defund the police, invest in Black communities, and fund a generation of Black Liberation organizing. 
We want Black-led liberation organizing to win. We want poor and working-class movements leading the fight for the equitable distribution of wealth, land, and power to win.
In response to Black organizers demanding "fund us like you want us to win," RG is committed to moving $5M in wealth from our community to the Movement For Black Lives network and raising $1M to support the Black-led Southern Power Fund. 
We are challenging our community to give big to both of these powerful organizing networks 🙂
How to give to Resource Generation's national campaign partner Movement for Black Lives 
For RG members and Giving Pledge signers, we suggest considering an amount equal to 10% of your overall giving and/or matching or exceeding your membership dues to RG.
We encourage you to give in alignment with social justice philanthropy principles, such as being transparent (letting them know who you are and how/when they can expect the funds), giving to general operating expenses, and committing to multi-year giving. 
If you have any questions or run into issues, reach out to your chapter organizer or RG Campaign Director, Yahya Alazrak (yahya@resourcegeneration.org). 
Be a part of moving $5M to the Movement for Black Lives
Step one: Make your online contribution (501c3) here at RG's M4BL National ActBlue Page

For checks:

Make checks payable to "M4BL Fund" and mail to:

M4BL Fund ℅ Alliance for Global Justice 225 E. 26th Street, Suite 1 Tucson, AZ 85713
Got questions about how to make other kinds of contributions, i.e. stock, DAF, wire transfers? Please reach out to yahya@resourcegeneration.org – thank you!

Step two: Have you signed RG's Giving Pledge? This is helping us track this fundraising campaign and be accountable to our campaign partners.

Yes, I've already signed RG's Giving Pledge and am making a new contribution for this campaign that wasn't reflected in my earlier giving pledge

–>  Awesome, please update your M4BL pledges on another form we made specifically for you. Please note only use this form if you've already filled out a 2020 RG online giving pledge.

No, not yet. Where can I do that?
Be part of moving $1M to the Southern Power Fund by end of September!
Give to Center for Popular Democracy (CPD)
By check:

Center for Popular Democracy | 449 Troutman St, Suite A, Brooklyn, NY 1123

Got questions about how to make other kinds of contributions, i.e. stock, DAF, wire transfers? Please reach out to yahya@resourcegeneration.org – thank you!
For questions about support to CPD nationally email Kelsea –  knorris@populardemocracy.org