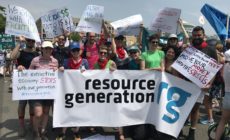 Our big fall fundraising and membership goals are to raise $100,000 and get 150 new members by the end of the year.
As Resource Generation (RG), we organize young people(18-35) with class privilege and access to current, earned, or future wealth to become transformative leaders working towards the equitable distribution of wealth, land, and power.
Supporting RG through membership dues helps increase funding to social justice, especially the types of grassroots organizations unlikely to get funding from mainstream philanthropy because their mission is too radical, too visionary, and too challenging to the status quo. Our members give on average sixteen-times more money[1] to social justice than they did before joining RG. A lot of of our members increase their giving by a lot more than that, too.
Will you join our community of 500 other young people with wealth as an RG member or increase your membership dues today?
Through dynamic organizing, praxis groups, political education, chapter events, conferences, local campaigns, and being in community with each other, our work as an organization helps grow our membership of young people with wealth taking action toward the equitable distribution of wealth, land, and power. Since our founding in the … Continue reading »