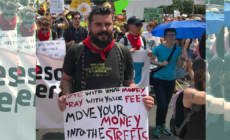 I'm writing this in the midst of the reality of the Senate tax bill sinking in. I'm writing this as someone who personally has benefited from tax evasion and wealthy people hoarding wealth. I'm writing this as an anarchist who doesn't believe that the state is interested in our liberation. I feel mad with waves of heat in my body; I feel fired up for change.
Here's what I know.
My dad has made a lot of money over the years in Morocco passing through his trading of plastic raw materials as agricultural products (taxed much lower in Morocco). This loophole has let my dad undercut a lot of plastics importers and make a lot more wealth trading than we used to as just manufacturers.
When I ask why, he points to government corruption.
When I ask my 17-year-old brother what he thinks the biggest issue facing Morocco is, he says, government corruption. When I follow up and ask "what about poverty? do you think poverty should exist?" He says, "Without poverty, we couldn't be rich, poverty has to exist."
I cannot explain to you the myriad ways my heart broke hearing that. Because of his youth, because he's my … Continue reading »