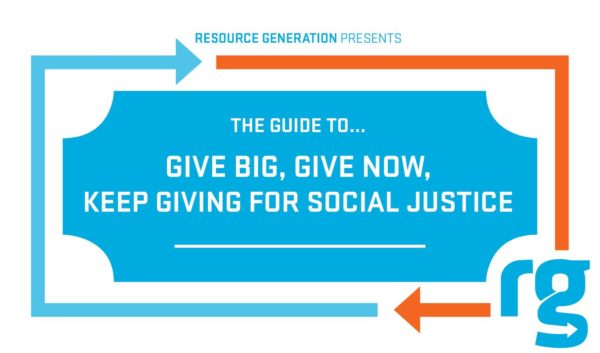 By Jessie Spector, outgoing Executive Director of Resource Generation

Will you join me and thousands of others to give big and bold to social justice now and for the next 4 years?
All around the country and the world, people are feeling a sense of fear and scarcity. Upper class and wealthy people will probably be buffered from the worst of the impact of a new administration, though to different degrees depending on race, immigration status, religious affiliation (or perceived affiliation), gender expression, and sexuality.
So this is our time to ask, how can we stretch and take risks, especially with giving?
Resource Generation is proud to release this "giving guide" in response to the growing movement of wealthy people who want to support social justice organizing. For almost 20 years, Resource Generation (RG) has been organizing young wealthy people to leverage financial resources and access to power for social change.

Trump's billionaire cabinet-elect has interests and policies that will continue the consolidation of wealth and power in the hands of a few. In contrast, Resource Generation shows there is an alternative movement of wealthy people: those who believe in equity and equality, who see the "American Dream" not working for most people, who understand that extreme, racialized wealth inequality is unstable and unhealthy for everyone – including the wealthy!

Rich people can use what we have for good: wealthy people have a key role to play as activists and as financial supporters of progressive social movements.

It is time to critically examine what's stopping us from taking risks with our giving.
Ask yourself: Can I really not afford making extra donations this year? Why can't I seem to find the time to take my money out of a Big Bank and open an account at a local credit union? Would I seriously suffer, or even feel the impact, if I increased my giving for the next 4 years?

Resource Generation, with other donor networks and advisers, are here to support and challenge each other to figure this out. I am asking myself these questions and I ask you to rise to the occasion of them with me!
As outgoing Executive Director of Resource Generation: I pledge to give 10% more this year and for the next 4 years to social justice organizing. Within this overall giving…
70% is increases or new donations to frontline organizing groups, in the areas I have lived or am familiar with, as well as in communities in the South, Midwest, and rural areas I might not be directly connected to, but whose leadership is crucial and has been historically underfunded.

20% is for social justice foundations: they have lasting infrastructure and nuanced knowledge about the network of grassroots organizations in their area. I know their decision-making structure matches up with my values and it allows me to support a lot of organizations without choosing them all myself. See the giving guide for more on what social justice funds are.

10% is for solidarity organizing, like Resource Generation and others who are doing the important work of bringing people with all types of privilege into social justice movements, with all that we have and can leverage.
No matter if you're a seasoned donor or brand new to terms like "social justice," we hope this guide inspires and challenges you to start giving, increase your giving, and sustain your giving.
Please share this resource widely. We hope it can be helpful to friends, colleagues, parents, old Facebook friends, and anyone else who is motivated to support justice, equity, and peace.

Special thanks to Holly Fetter and Zeke Spier for collaborating on the content of this guide.

Scroll through the guide below or download as a PDF here.

 
--
Resource Generation (RG) is the only organization in the U.S. organizing young people with access to wealth toward the equitable distribution of wealth, land, and power. 
As a result of becoming a member of Resource Generation, our members end up giving away 16-times more money to economic and racial justice organizations than they did before. Learn more and support our work by becoming a member here. If you need help figuring out your class background, check out our definition of wealth and/or fill out this intake form to have one our national organizers get in touch with you.