Dear RG (Resource Generation) guys,
This is gonna be awkward. No two ways about it. Im gonna be writing about feelings, money, our relationships, and how I want us (you and me!) to be closer. I wish it could be all music videos and photo shoots but I gotta get some things off my chest.
I really like you. We are real good guys. Funny, thoughtful, (good-looking), doing the best we can to live our lives fully aligned with our values, and helping build this movement of young people with wealth working for justice and a better world. If you ask  me, we are pretty rad.
Despite how much I like you, we are few and far between. Since the beginning of Resource Generation, this organization has been led by women. It was founded by a group of women in Boston almost 15 years ago and since then the vast majority of our leaders, whether staff, board, members or allies, have been smart, powerful women. This is awesome!
And, for a while now, I've been frustrated with the lack of guys in RG (I'm talking particularly to cisgendered guys here. PS. I just learned what that term means too). When I got started with RG 9 years ago, I was more than happy to be primarily organizing with kick-ass women. I got to show my feelings! Be sensitive! Get close! And I loved (and still do) how queer friendly RG spaces were (and are).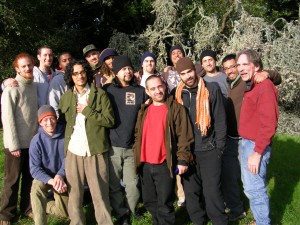 In the years since, I've been reminded that I want more.  I've been reminded (by these guys, the guys in the photo to the left, and others) how much I love guy community. Like the skateboarding crew of guys I was a part of in middle school or the gang of guys I made forts and had sleep-overs with in elementary school. The guy community that's more four-square than frat parties, more about having fun than homophobia.
Back to RG…I want more guys involved. I want more guys who I can process through the particular experience of being a young guy and having (or being born into) wealth and wanting (economic) justice. I want us to talk about what's great and what's shitty. What we love and what we hide (or avoid showing the women in our lives). I get excited about these conversations and growing a stronger crew of guys in RG cause we got some shit to figure out.
As I'm sure you are aware, wealthy guys (like some of us and many of our dad's) run the institutions that makes the rules for our economy, schools, health care, housing…almost every aspect of our lives. We (like them) are encouraged to see ourselves as the smartest and best equipped to lead everything we are a part of, and to seek money and power as the best measures of our success rather than (and at the cost of) real relationships, community and closeness. Some of us buy-in to these messages, some of us run away, some rebel and all of us have a lot to figure out and un-learn if we want to have the lives and world we know is possible.
It's clear that getting more guys involved in RG (acting against the messages that tell us to man-up, figure it out ourselves and go it alone) is a big challenge. And it is clear that there is a huge opportunity as well. We've got an organization that has been led by women since it's founding and has a history of amazing guys that have been important contributors and leaders since the beginning (Shout out to John, Jamie, Sam, Billy, Cal, Greg, Chad, Andrew, Kenny, Mark, Jason, Milano, Bill, Burke, Sam, Nigel, Matt and many more!). We've got a chance to be one more group of guys re-defining masculinity in the 21st century and creating a unique space to figure out how class and wealth intersect along the way.
So how are we going to do it?!
I don't know.
And I think it starts with opening the conversation (which I'm awkwardly attempting right now) and building real relationships with each other.
I want us to band together, get to know each other well, kick-it outside of meetings, go to a sports game or a dance club, and start building our internal community of guys committed to bringing more young men with wealth into this organization and project.  I want us to help each other figure out how to bring our full selves to the table, with all our energy, questions and experiences, while continuing to back the leadership of women and trans people in this community.
I want us to no longer see ourselves as the exception, the unique guy who figured out how to be down with the amazing women organizers of RG, but as one of many, many, many men with and from wealth (alongside our allies from all class backgrounds) who can and should get involved in making the world right, working for justice for ourselves and our many communities.
I think that if we can start to see ourselves as more than just individuals, but as a crew (or team, or gang, or brotherhood) of guys taking on this project together, and supporting any new guys who walk through the doors, we will have the chance to create incredible change in our lives and in the world.
And from there, who knows.
If you want to get involved, have an idea or are already doing some community building or organizing with young wealthy men in your life, let me know. Be in touch.
I'd love to hear from you, trade notes and build together.
Much love,
Mike Gast
Co-Director, Resource Generation
mike@resourcegeneration.org