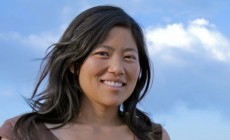 Farhad Ebrahimi – RG alumni member and long-time major supporter of RG – on strategy and movement-building with his  foundation. Lots of juicy nuggets and modeling of social justice values and transparency in philanthropy. This post originally appeared at Medium. Read on!
Vivian Huang, Campaign and Organizing Director at Asian Pacific Environmental Network
Philanthropy isn't necessarily known for making long-term commitments. It is, however, known for making big announcements. At the Chorus Foundation, we've just made a big announcement about a set of long-term commitments, and I'm really excited to be able to share the good news with you today. To borrow from our official statement for a moment:
The Chorus Foundation is pleased to announce that it has identified three frontline communities to receive eight years of grant support to speed a just transition to a regenerative economy that works for people, places, and planet.
These communities—in Alaska; Richmond, California; and Buffalo, New York — serve as inspiring examples of how communities across the country are building a new economy based on the principles of broadly shared economic prosperity, democratic governance and ownership, and climate justice.
Our commitment to each community is, at minimum, $500,000 per year … Continue reading »
Posted in:
Class Privilege
,
Donor Organizing
,
GIving
| Tagged:
alum
,
Alumni
,
funding
,
giving
,
Impact
,
philanthropy
,
racial justice
,
Social Change
,
ypww