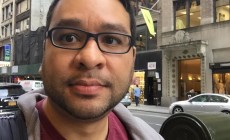 by Faisal Alam, RG Events and Operations Associate
As the newest staff member of Resource Generation (RG), I was asked to write a blog post to introduce myself. Not knowing quite what to write (I have so many stories to tell!), I thought about the many identities I hold and their relationship to the work of RG. I'm a queer Muslim of Pakistani descent. I'm an immigrant from a middle class family background and now part of the working class in America struggling to make ends meet. I'm South Asian and a person of color.
Before the age of 10, I had lived in 3 countries on 2 continents (Germany, Saudi Arabia and Pakistan).  When I was 10, my family moved to a small town in Connecticut.  I grew up in a predominantly white town and in an upper middle-class neighborhood.  The US Census Bureau says the town is 92.1% white and median household income is $84,339.  It didn't take long for me to realize that I was "different." I was a 1.5 generation South Asian immigrant, Muslim and queer.
I learned about being the "other" very early on. Outside of the racism, xenophobia and Islamophobia that I experienced growing … Continue reading »