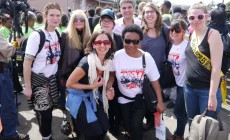 This post is a part of the blog series and RG campaign, "It Starts Today: Moving $1 Million to Black-Led, Black Liberation Organizing." Click here for more info on the campaign.
What can we as Resource Generation members do to show up for Selma, Alabama and the U.S. South, 50 years after the height of the Civil Rights Movement shook our nation? With rampant rollbacks of hard-won civil rights victories – most notably the gutting of the Voting Rights Act; a dramatic lack of funding for grassroots organizing; aggressive attacks on immigrants; stalwart segregation; and high poverty rates, how can RG members engage in meaningful, accountable, cross-regional funding that supports the South and the rest of the country?
The delegates (missing Robyn (volunteer) and Lily (volunteer-delegate)!
These were the questions we held as a Resource Generation delegation to the 50th Anniversary of Bloody Sunday and the Voting Rights Act in Selma, Alabama, organized by the Alabama Coalition for Immigrant Justice (ACIJ). We still don't have all the answers, but we did come away with concrete action steps, in response to our goals:
to seed long-term relationships between donors/funders and grassroots organizers in the South, by giving to a growing…
Continue reading »