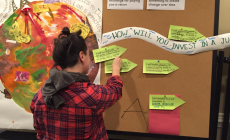 This story originally appeared on the Regenerative Finance website. 
Wowzers! Regenerative Finance just got back from Resource Generation's annual conference Making Money Make Change (MMMC) and we are feeling inspired to act, excited to follow-through on commitments and challenged to dig deeper in confronting racism in our economy and in our lives.
This year Regenerative Finance partnered with Resource Generation on the Igniting Action booth. The purpose of the booth was to allow participants (who spent 4 days exploring how to leverage their access to resources towards a just and equitable world) to ground their learning and commit to taking action in the world!
Through this exercise we tried to demystify finance and show the ways it distances us from our complicit participation in the extractive economy. When we draw connections–from mountaintop removal to luxury gated communities to prison labor–we can better understand what we mean when we say "extractive." Similarly, as we imagine and visualize the economy that we want and need, we can take inspiration from the work that many are already doing, and set bold goals to help us get there. We were thrilled to partner with Resource Generation on this project, as their recently released … Continue reading »