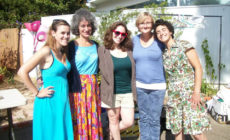 By Emily Bookstein
RG member and RG Portland chapter leader
What guidance would you give to a room full of fundraisers about how to ask you for money?
That was the question I tried to answer on a "#RealTalk with Major Donors" panel at the recent Allied Media Conference in Detroit. AMC is a conference led by people of color and queer and trans folks, a space for artists and organizers from marginalized communities to share their stories. By contrast, I'm a white cis woman from an upper-middle-class family. Because I've been involved with RG for four years, I've publicly shared my 'money story' many times over. But if I was going to speak on a panel at AMC, I was anxious to share my story in a way that would be useful.
So, during the panel, I told the audience to remember that asking me for money is in service of my personal liberation — liberation from isolation and insecurity created by whiteness and class privilege.
I admit, in part I thought it might simply make folks feel better about asking donors like me for money. After all, … Continue reading »