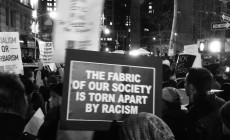 This post is a part III of a three part blog series and RG campaign, "It Starts Today: Moving $1 Million to Black-Led, Black Liberation Organizing." Visit our campaign webpage.
Written by Lily Andrews, bex kolins, Jason Rodney, and Jen Willsea
Young Black leaders in Ferguson and around the country have mobilized every day since August 10. If you are reading this and haven't spent time on the ground in Ferguson, imagine for a moment what might change for you if you did. If you decided that you too would say "This stops today¹." One young Black leader in Ferguson said he lost both his jobs because he decided it was more important to be building a movement in the streets². How might your conviction change if you were surrounded by peers taking that level of risk? How would your relationships deepen if you spent every day together moving through policed land demanding justice? How might that shift your perspective about what is possible?
At Resource Generation, in just 3 months (Oct-Dec 2014), individuals gave over $200,000 to support frontline organizing efforts in Ferguson, Missouri.  Half of this money purchased housing and work spaces; a vehicle; … Continue reading »