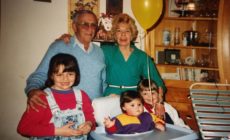 By Maria Myotte, Communications Director
I was born in Colorado into a white, working-class family, and for most of my life, was raised by my Dad and helped to raise my two younger siblings. My family had housing stability, consistent food, and safety, but we went through a few stretches of turning to free lunches and food stamps. I hated leaving the assigned seats of desks in classrooms to navigate social hierarchy of the lunchroom. And I resented my Dad for not caring enough about me to avoid sending me to the free lunch line and the bottom of the social heap. Now it's literally amazing to me that a tiny human with just a few years on Earth could so effortlessly deploy the logic of internalized classism against her family. 
I'm only beginning to realize how deeply that internalized classism — my own and my Dad's — runs throughout our relationship. I'm realizing now that it's absolutely part of the reason I left Colorado to escape to New York.
I've been in New York City for the last four years, where … Continue reading »