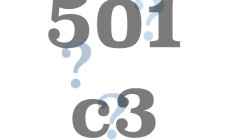 I saw all the announcements about RG becoming an independent 501(c)(3) nonprofit. Why are we talking about this again?
Great question. I may be a little biased as an operations geek, but I think it's helpful to pull the curtain back and share with the RG community why we make certain decisions about our organizational development. We've also gotten some questions about the context for this transition so wanted to share more. If your eyes glaze over reading this kind of stuff, feel free to skip!
What is a 501(c)(3)?
Let's get the legal jargon out of the way first:
Section 501(c)(3) is the portion of the US Internal Revenue Code that allows for federal tax exemption of nonprofit organizations, specifically those that are considered public charities, private foundations or private operating foundations.
In plain terms, "501(c)(3)" is a tax code, but it is often used as shorthand to refer to nonprofits and foundations. If an organization applies for and receives designation from the IRS as a 501(c)(3) then they are exempt from paying federal income tax. The overwhelming majority of 501(c)(3) organizations in the US are nonprofits.
Why did RG become our own independent 501(c)(3) nonprofit?
For … Continue reading »