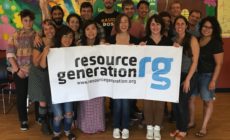 We are excited to announce we are launching our search for our next Chapter Organizing Director!
The heart of our organizing is community, and one of the primary ways we build this community together is through our chapters! Can you imagine Resource Generation before chapters? In our early years, RG focused on national retreats, and over time we realized the power of building strong local chapters that take action together. We now have 17 chapters across the country who are the foundation of our work – organizing praxis groups, training leaders, showing up for local partners, giving together, and building strong relationships.
Mobilizing resources is one of the primary ways young people with wealth can leverage their unique access on behalf of social movements.
Sarah Abbott has spent the last six years building our chapter organizing model. Sarah will be taking on a new role with our organization as our Resource Mobilization Director. This role will help us better understand, organize and coordinate the ways our base moves money as a community. Sarah will step into this new position starting on September 1, 2017, which means we are beginning the search for a new Chapter Organizing Director!
We are … Continue reading »