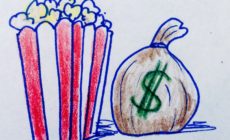 by Rachel Adler, RG Member
Every few months, I'll make up a batch of my famous caramel corn and invite the Philly chapter of Resource Generation to my house for an hour or so on a weekday evening.  A few of them will show up, and we'll sit on the couch and catch up for a while.  Then we'll pull out our computers and our wallets, and for a while the only sound will be the typing of our credit card numbers and the cha-ching of our credit card balances rising.
I know what you're thinking.  But no, we're not shopping for our matching RG Philly chapter bejeweled and money-spangled jumpsuits.  Actually, this is a casual low-stakes giving party, and we're clicking send on donations or loans.  We're moving money in ways that are small, low-stakes, meaningful, casual, and to be honest, pretty fun.
I started moving money every month, usually about $300, pretty soon after I joined Resource Generation.  In contrast to annual giving, monthly giving allows me to be flexible and responsive with decisions about where to move money.
Here's the process I usually use: over the course of the month, I keep a short running list of … Continue reading »