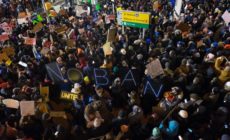 We stand with our Muslim, refugee, and immigrant neighbors, friends, family, and co-workers against Islamophobia and racism, pledge to stand with them now, and show up for them in the future.
In response to the Trump administration's racist and Islamophobic Executive Order banning immigration and refugees from Muslim-majority countries, thousands of people across the country turned out at airports, places of worship, federal buildings, city landmarks, and marched down streets to protest the unconstitutional and immoral Muslim ban and stand in solidarity with Muslim Americans, immigrants, and refugees.
Many more acts of protest are continuing to take place across the country -- Yemeni-owned corner stores (bodegas) went on strike yesterday in New York City, mass deletions of Uber will cost the global corporation billions (the CEO just stepped down from his position on Trump's economic advisory council due to public pressure), and Sally Yates, the acting Attorney General, was fired for standing up to Trump's bigotry by refusing to enforce the Muslim ban. During Trump's first week, he also signed an Executive Order to increase the border wall along the U.S.-Mexico border and further militarize its border patrol agents.
Right now, there is major momentum against Trump's Muslim ban and … Continue reading »