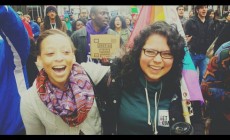 Hey RGers! My name is Kirin Kanakkanatt (she/her).  I joined the team as a National Organizer earlier this month. I am from Ohio and based in Brooklyn until May 15th, when I will make the trek out west to join Iris Brilliant, our Family Philanthropy Organizer,  in the Bay Area. I am so excited to begin as the chapter organizer for Seattle, Portland, Denver/Boulder & New Orleans!
In the spirit of RG's tradition of organizing through our personal stories, I wanted to share my money story. As a queer first generation South Asian cis-femme, my experience is situated at the intersections of race, class, gender and sexuality.  I grew up brown & queer in a predominantly white & heteronormative area. I grew up an immigrant in a town of settlers.  I grew up middle class in the middle of America.  
My understanding of my family's class background, for most of my life, was that we were upper middle class. It wasn't until the recession hit in 2008 that I began to understand that while my parents earned enough to situate us in upper middle class, we were solidly working middle class.
As it turns out, assimilation is expensive and will … Continue reading »